Mickey's story will pull on your heartstrings. Mickey, a black-and-white tuxedo cat, was dumped at the shelter while she was pregnant. After she gave birth, she became extremely ill. Mickey was so sick, she wouldn't eat. For a new mother, being healthy is important because she has to nurse and feed her entire litter. Mickey was at the shelter for five days and had caught an upper respiratory infection.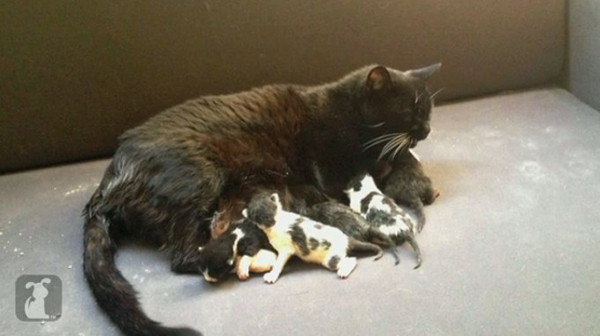 Mickey's foster dad Ryan, who volunteers with Cats at the Studios, took Mickey to the vet. Unfortunately, the upper respiratory infection was so severe that it was passed onto the kittens through her milk. The kittens had to go into emergency care, where they needed to be bottle-fed and tube-fed because they were too ill eat on their own, and Mickey could not care for them. Mickey spent an entire week in and out of hospitals and hooked up to IVs. Mickey, heartbroken without her litter, didn't even want to eat and seemed to have lost the will to live. Both the kittens and Mickey were fighting for their lives, and it was unclear if they would make it. Mickey did get better after a few days, but unfortunately her kittens were not strong enough.
Mickey was devastated by the loss.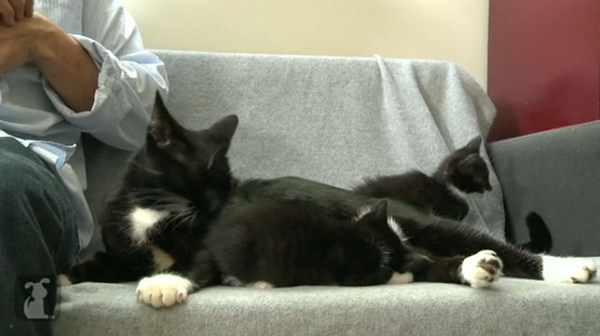 A week later, the rescue got a call that a motherless litter needed help. This litter was left at the shelter without their mom, so the rescue brought Mickey and the new kittens together. It was like the universe was answering prayers. These kittens needed a mom, and Mickey needed something to fill the hole in her heart left by the loss of her babies. Oddly enough, these kittens looked exactly like Mickey. Mickey cleaned them and groomed them, and her motherly instincts immediately took over. Mickey was born to be a mother.
Mickey took care of those kittens as her own, and now she is looking for her own forever home. You can check out her adoption profile here.
Do you have a Tail of Hope or Survival? Visit The Pet Collective Website to tell us your story and for more amazing Tails of Hope and follow us on Twitter @PetCollectiveTV.