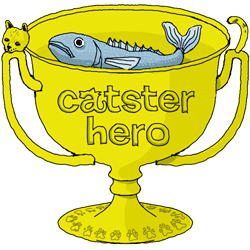 Editor's note: The idea of eating cats and dogs is disturbing to those of us who see them as companion animals. Though the images are not graphic, this story and its photos might upset you, but we believe that putting an end to the cruel dog and cat meat trade is an important cause to write about and support.
Catch sight of Huru and Yulu snoozing together in their plush kitty condo at The Washington Animal Rescue League and you'll probably assume they're just another pair of cute cats up for adoption. But listen to their story and you might just be convinced they're the luckiest cats in the world. That's because not too long ago, Huru and Yulu were trapped inside a Chinese slaughterhouse with hundreds of other frightened felines, destined to die and become someone's dinner. If it weren't for a kind-hearted man named Peter Li, their horrible fates would have been sealed.
As China policy specialist for Humane Society International, Li traveled to Yulin, China, in May to engage with local animal activists and document the activities leading up the city's fifth annual summer solstice lychee and dog meat "festival," a barbaric event held every June that honors the new season by slaughtering thousands of terrified dogs and cats and serving them as meals.
Most animals victimized by the dog and cat meat trade in China are strays or stolen pets. Although the trade is on the decline, approximately 10 million dogs and 4 million cats are eaten there annually.
According to Li's colleague, Adam Parascandola, HSI director of animal protection and crisis response, Li spotted the cats as he was walking out of a slaughterhouse, where he had just rescued two small dogs. (Read an interview with Adam Parascandola on Dogster.)
"Peter had an AP photographer with him who shot a really powerful picture of a cat hanging on the wall of a holding cage," explains Parascandola. "Peter said he couldn't leave the cat there, or the second cat, who was that cat's buddy. … So he talked to the butcher and managed to get the cats from him."
Filthy and traumatized, the fortunate kitties were quickly whisked to safety and into the arms of an HSI contract staff member, who agreed to foster the cats until their passage to an emergency placement partner in the U.S. could be arranged. The feline pair was cleaned, fed, and loved as they recovered.
Eventually, a chunkier Huru and a sleeker Yulu were put on a plane for Washington, D.C., and the Washington Animal Rescue League, where on Aug. 18 shelter officials joyously greeted the darling duo. Within minutes of arriving, the weary cats climbed their cat tower, huddled together on the circular platform, and fell asleep.
Since then, the charmed felines have settled into their new situation quite well, says Matt Williams, chief communications officer for the rescue group.
"They (arrived) in surprisingly good shape after all they had been through," Williams says. "They are resting comfortably, eating well and being seen by our veterinarians and behaviorists. We will give them a full check up, vaccinations, run tests, and once we clear them they'll be up for adoption."
Although the fuzzy white-and-black male and the delicate orange-and-white female get along very well, they aren't bonded and can be adopted out separately if necessary, Williams says. Thanks to all the international publicity the cats have generated since their rescue, it's likely that these cats will find homes quickly.
While one might expect Huru and Yulu to be shy or even terrified of humans after their traumatic experience in Yulin, the cats are sociable and very sweet. According to HSI officials, both wore collars when they were found, indicating that they were possibly stolen pets, so they possibly once were beloved companions accustomed to interacting with humans.
Hulu and Yulu have joined the ranks of furry ambassadors for the growing movement against the dog and cat meat trade in Asia, a movement HSI continues to champion alongside local and international animal activists.
One might question bringing animals into the U.S. under any circumstances with so many homeless cats and dogs already looking for homes, but Williams explains that animals rescued from well-publicized international cases help U.S. shelters and animals because they increase public interest and also adoption rates.
"These cats … become ambassadors for us," says Williams. "The interest they generate brings people to our shelter who might not have come otherwise, from Washington, D.C., Maryland, and the surrounding region, and they get to meet all of the animals we have available for adoption. In addition, Humane Society International uses these cases to bring awareness to problems."
All animals throughout the world deserve a second chance at life, and Huru and Yulu are no exception. Because no matter where in the world they come from, cats are cats and dogs are dogs, and all are equally worthy of finding safe and loving forever homes where they can live out their lives in safety and peace.
If you live in the D.C. area and believe Huru or Yulu might be the right cat companions for you, or if you'd like to visit the other animals at the Washington Animal Rescue League, visit the group's website. Visit Humane Society International if you'd like to donate to help end the cat and dog meat trade.
About the author: Lisa Plummer Savas is a freelance writer, journalist, devoted dog mom and animal activist. In an effort to help make the world a more compassionate place for non-human species, she is especially focused on using her writing to spread awareness about animal welfare and cruelty issues. She lives in Atlanta with two spoiled German Shepherds, one very entitled Pug, and a very patient, understanding husband. Read more of her work by visiting her blog and website. You can also follow her on Twitter.