My family adores cats and loves Halloween. Over the years, my daughter and I have enjoyed dressing up in cat-themed costumes, but were sometimes stymied when it came to creativity. Sure, we went with the basic cat costume, and I even went as Bast, the Egyptian cat goddess, one year — but that's about it.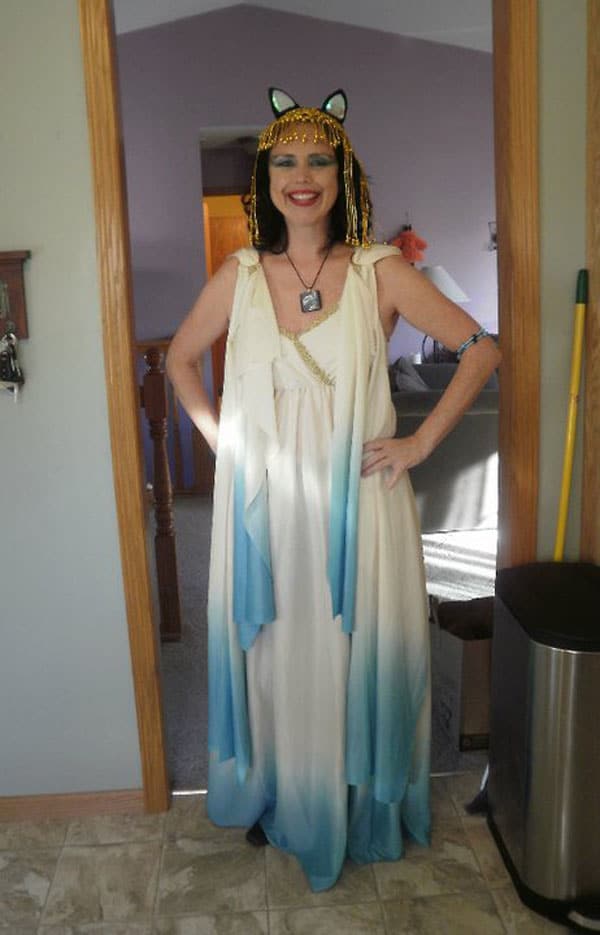 Do you also find yourself stumped when Halloween rolls around? No worries — I've done a little research for you. Here are 8 unique cat-themed costumes for the whole family. For instructions or additional information about the costumes (if available), click the "Photo Source" link under the photos.
1. Maru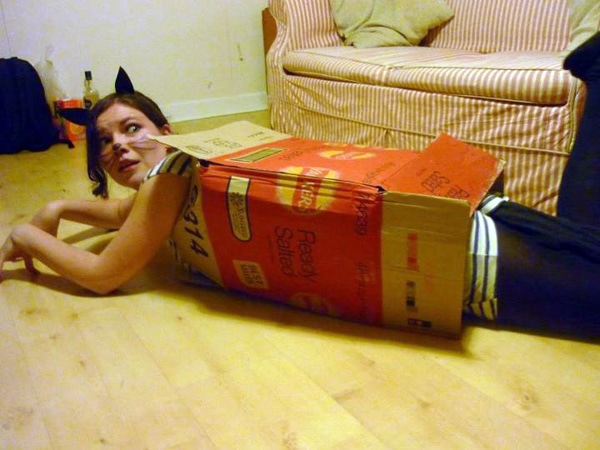 Everybody loves that silly YouTube sensation who dives into a box and slides across the kitchen floor. This creation of this costume is pretty self-explanatory and totally easy to make. Just be prepared for everyone to ask you to do your best Maru impression.
2. Frosted Flakes box and Tony the Tiger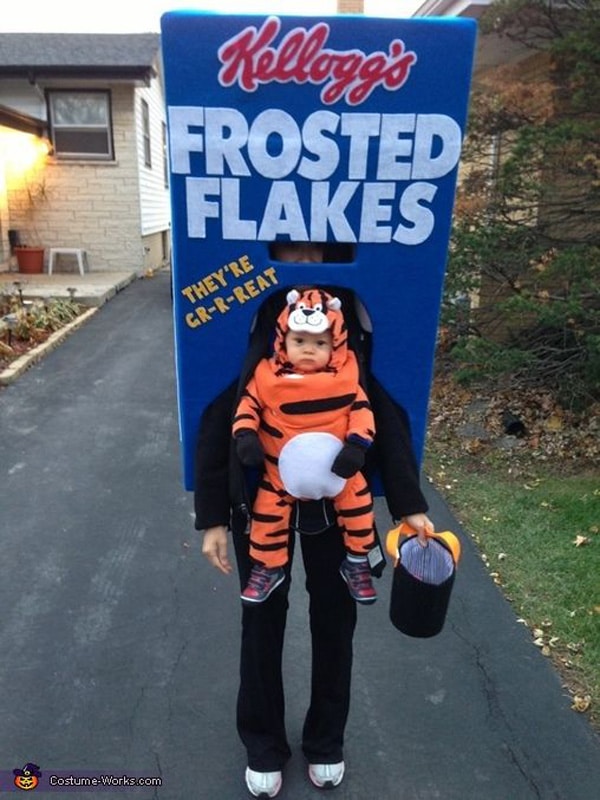 This one is grrrreat! I laughed so hard when I ran across it online because I've never seen this combo costume. It's perfect for a parent who wants to take their little one trick-or-treating, but doesn't feel like pushing a stroller all night.
3. Taco cat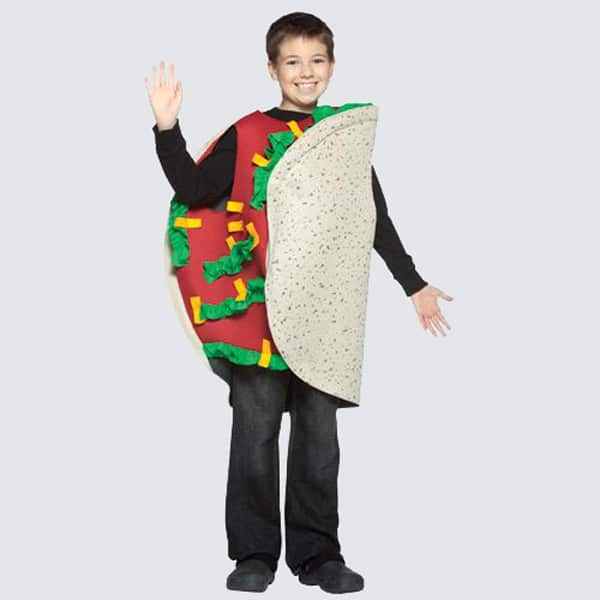 I love Taco Cat. I mean really, a taco that's also a cat that's also a palindrome? Yes, please. I couldn't find an example of a Taco Cat costume online, but did find this taco costume, which can be easily modified with some cat ears and drawn-on whiskers. The pictured costume is a pre-made one, but I think crafty folks could easily whip something like this up with foam, colored fabrics and a glue gun.
4. Breaded cats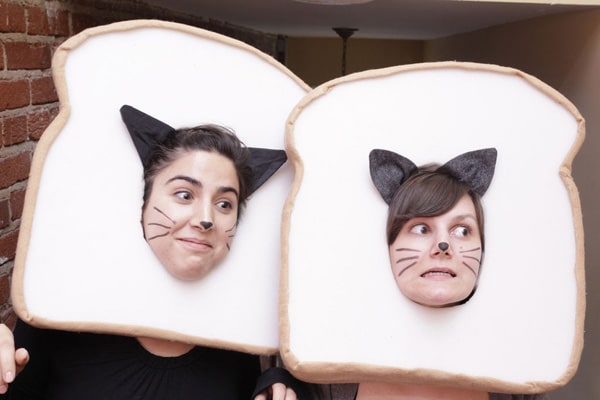 If you have a Facebook newsfeed and like any cat pages, you've likely seen a "breaded cat" meme or 12. Yes, it's exactly how it sounds: cats with their heads poked through pieces of bread. This phenomenon is also known as the "in-bread cat." As a costume, the look is easy to recreate with foam, cat ears, and an eyebrow pencil — and it'll work for any age. Now stop loafing around and make this costume!
5. Litter box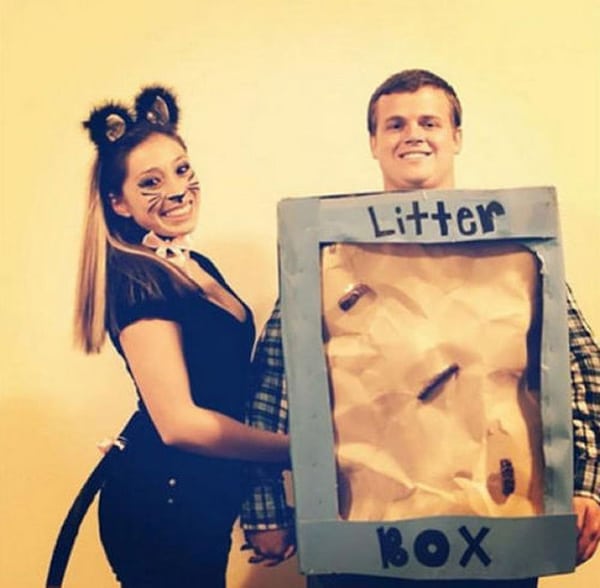 I found a couple of examples of litter box costumes online, and this one seemed the easiest to create. Cardboard — check. Tan-colored paper — check. Marker — check. Chocolate candy molded to look like cat turds — check!
6. Keyboard cat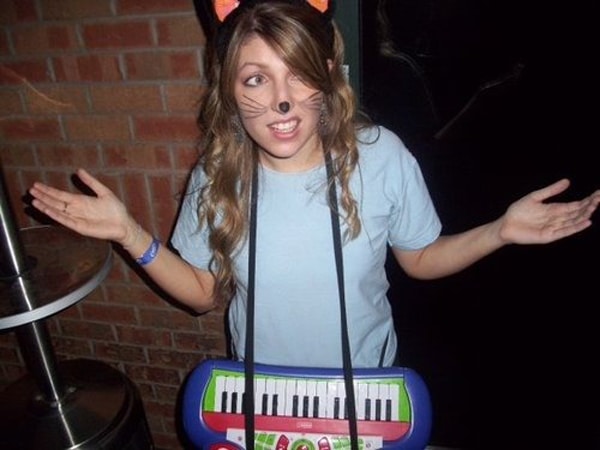 Keyboard Cat has stood the test of time and would be a fairly easy costume creation — and also an excellent excuse to buy one of those toy keyboards. Especially the one that's shaped like a cat.
7. Puss in Boots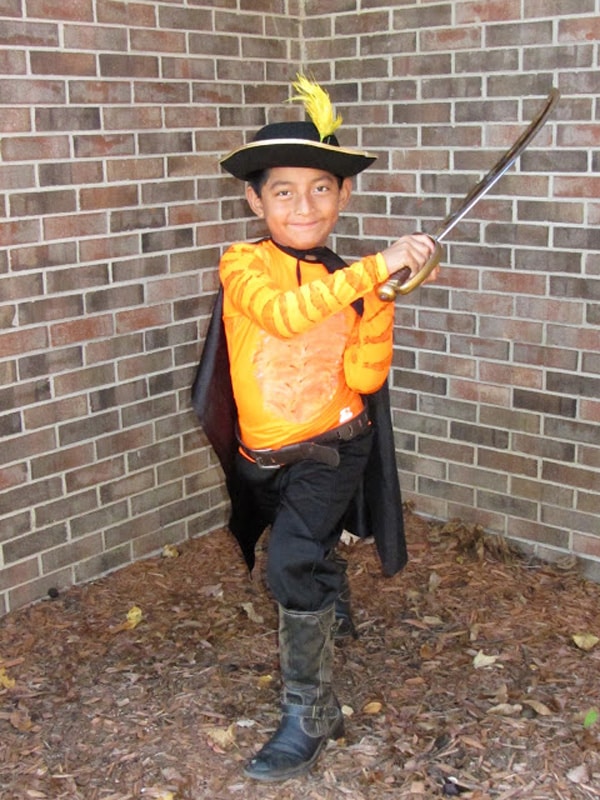 Throw a hand-drawn cat face on this and you've got a DIY Puss in Boots costume that's full of character. You probably don't want to give your child a real sword, though. Just sayin'.
8. Cat in the Hat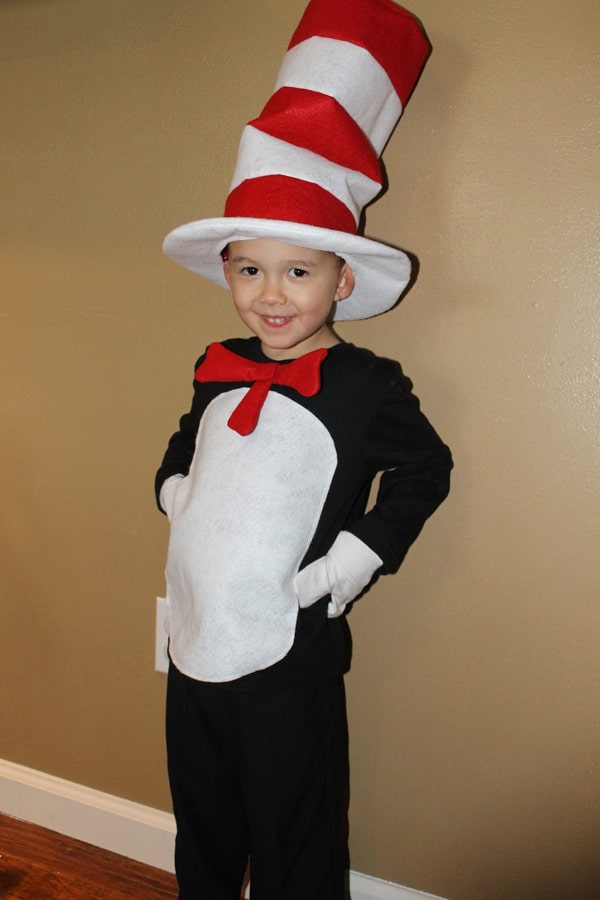 For you Crafty Cathies (or Carls) out there, give this storybook costume a go. You could also use store-bought gloves and bow-tie of some sort. That's probably what I'd do, but I'm not a Crafty Cathy like some of you are.
Do you have any fun ideas for cat-themed Halloween costumes? Tell us about them in the comments!
Read more about cats and kids:
Read More by Angie Bailey:
About the Author: Angie Bailey is an eternal optimist with an adoration of all things silly. Loves pre-adolescent boy humor, puns, making up parody songs, thinking about cats doing people things and The Smiths. Writes Catladyland, a cat humor blog, Texts from Mittens (originated right here on Catster) and authored whiskerslist: the kitty classifieds, a silly book about cats wheeling and dealing online. Partner in a production company and writes and acts in a comedy web series that features sketches and mockumentaries. Mother to two humans and three cats, all of which want her to make them food.