Winters in Minnesota can be, um, kinda chilly. I grew up in the south, where a simple dusting of snow meant the whole city shut down in a panic, and bread and milk leapt from the shelves. Now I live in a place where you're considered a giant baby if you don't drag your butt into work, despite blizzard-like conditions. I'm still not used to it. Sure, I have the appropriate clothing and everything, but I just never seem to feel really warm.
My cats are Minnesota cats and have found ways to weather the winter season. They're heat-seeking beings anyway, but the colder temps definitely send them looking for ways to feel just a little cozier.
Here are five of the ways my cats react to winter weather.
1. They hijack the heating vents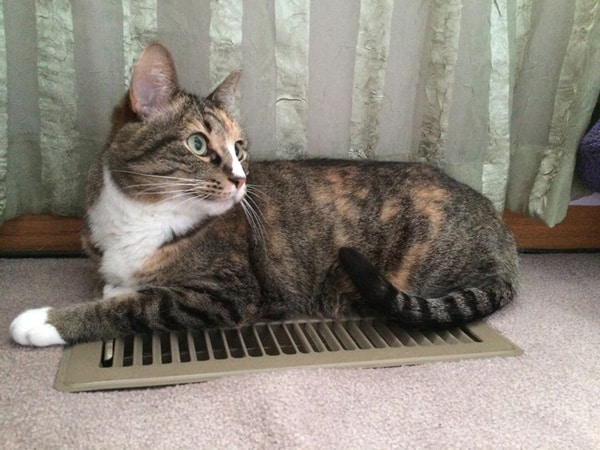 Phoebe is a total vent-jacker. She's even been known to plaster her entire body against a vent, absorbing all the incoming warmth. This doesn't seem quite fair, does it? I think she should start pitching in on the monthly electric bills. She's not especially fond of that idea.
2. They seek extra snuggles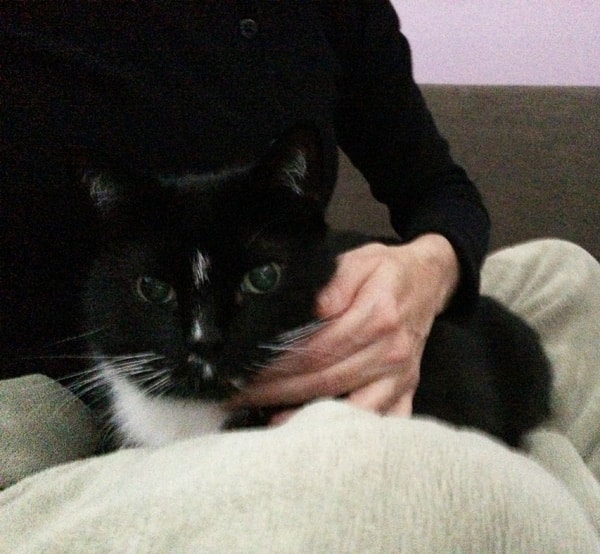 Chilly cats and humans often find each other when it's cold, and they come together for extended snuggles. I know this is what happens under my roof. We both enjoy the extra body-heat, and bonus: I'm always up for an extra kitty-cuddle. I mean, who isn't? Win-win!
3. They enjoy new outdoor views
When the snow starts falling, my cats flock to the windows to take in the peaceful outdoor scene. Sometimes, if the flakes are falling just right, the backyard looks like a giant snow globe. It's completely mesmerizing — I can see why they like the view. And then there are winter animals to ogle. We have woods behind our house, and the kitties get glimpses of deer, foxes, and rabbits. So much cooler than the chipmunks of summer, who mock them from outside screen door.
4. They zone in on warm laundry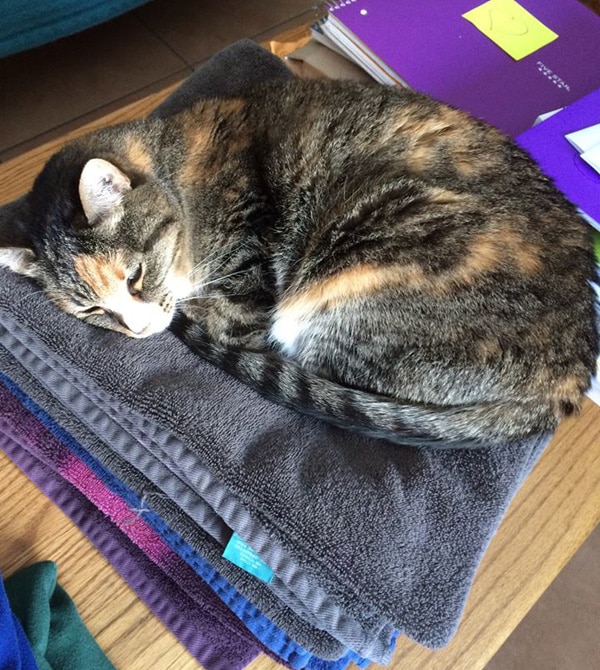 Warm laundry is a year-round cat-magnet, that's for sure; however, when the temperatures drop, the cozy, fresh-from-the-dryer towels and clothing are extra attractive. During the winter months, I make sure the cats are aware of important things like warm stacks of towels … like they need a signal telling them fresh laundry is is the vicinity. Kitties have some serious laundry-radar.
5. They go undercover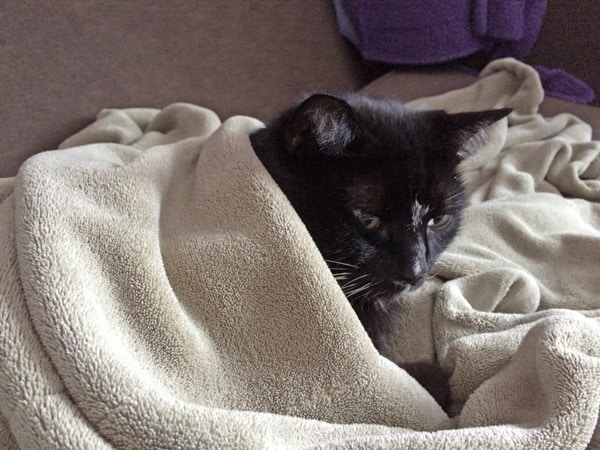 Many kitties like to burrow under blankets, but when there's a chill in the air, my cats dive headfirst under anything remotely comfy — fuzziness is a definite bonus. When I see one of my cats crashed on top of a blanket, I sometimes cover them up so they'll feel especially comfortable. I sometimes feel like I'm tucking a little toddler in for the night. Cute! Well, I think so, anyway
How do your cats react to winter weather? Tell us in the comments!
Let Catster make you laugh:
Read more by Angie Bailey:
About the Author: Angie Bailey is an eternal optimist with an adoration of all things silly. Loves pre-adolescent boy humor, puns, making up parody songs, thinking about cats doing people things and The Smiths. Writes Catladyland, a cat humor blog, Texts from Mittens (birthed right here on Catster) and authored whiskerslist: the kitty classifieds, a silly book about cats wheeling and dealing online. Partner in a production company and writes and acts in comedy web series that features sketches and mockumentaries. Mother to two humans and three cats, all of which want her to make them food.