When you have lived and breathed the same space as your cats for many years, you may find one day that you are consciously or subconsciously wearing the same stripes or spots or Siamese pattern and colors as your furbaby.
We already know what they say about dog owners — how they tend to resemble their dog after being companions for a long time. I believe that this universal truth also applies to humans who are owned by cats. However, (some of) us cat lovers tend to go further overboard than dog lovers when it comes to accessorizing with our furbabies and "catifying" our homes. That's not a bad thing. Here are some tips on catifying your home and yourself.
1. Catify your home
If you are a true catlady or catlord, your home will already have been adorned with enough cat stuff to fill up a dump truck. Many of those things will, no doubt, match your own cat's fur pattern, and you will probably have your walls full of pictures or even paintings of your babies.
Like myself, you will either have things custom-made to match your kitties, or you may find stuff randomly in the shops or on the Internet that resembles your cat, like the fridge magnet and decorative plate you see in the picture below, whose kitties look exactly like my tabby twins Spider and Lugosi:
There's also this china cup and trinket box with a Spider lookalike sitting next to a crystal ball:
And a cup sporting a double of my ginger girl Ruby:
The same goes for furniture — one day I came home with a rug from IKEA and only saw how it perfectly matched Lugosi and Spider's tabby fur color when they were sitting on it.
Somebody recently offered to do a pencil drawing from a photo of my three rascals, and the end result was just wonderful:
Catify your clothes and hair
If you are owned by a Siamese cat, you might find yourself one day to have a flair for light grays and blues, or even subconsciously shop for things in those colors without knowing you're doing so. If you are owned by a Persian, you may notice that you have a tendency to like and wear fluffy things adorned with long fur.
My cats are tabbies, so naturally I tend to like stripey things quite a lot. I never used to in the past, but I seem to buy clothes with stripes without noticing until later that they actually match my cats. That goes for furniture, too.
My best friend is owned by a beautiful shaded golden Persian called Janelle. When I first met her, her hair was an almost white blonde. However, over the years, it appears that she has adapted more and more to match Janelle's fur color.
Catify your cat's toys
Sometimes you may even go so far as to buy cat toys that look just like your cat. See this photo of Ruby with all her little ginger "friends":
Catify your nails
Whether you have a tabby striped or spotted cat, British blue, Siamese, or black or ginger Persian, you will find hundreds of colors to match your cat. If you don't have the patience or creative ability to paint cat designs onto your nails, you can also get some fabulous nail transfer stickers, which are very easy to apply. Or you could go for those stick-on nails, of which there are many different cat designs, too. In the photo below I have applied a gold color, topped by a black crackle varnish, creating a nice tabby cat effect — see my toes matching Spider's little paws.
If you have a black cat, you may want to match his color with pretty nail transfers. I got these in Tokyo.
Catify your car
Cars can be catified with stickers, sun shades, seat covers, rugs, nodding cats or hanging cats with suckers to stick on windows. Even though I have not (yet) "tabbified" my car with stripes all over, I have all of the above, plus a cute cat on my rear window with a moving tail sticker on the rear wiper — of course, for me it had to be a tabby. Get a similar one here.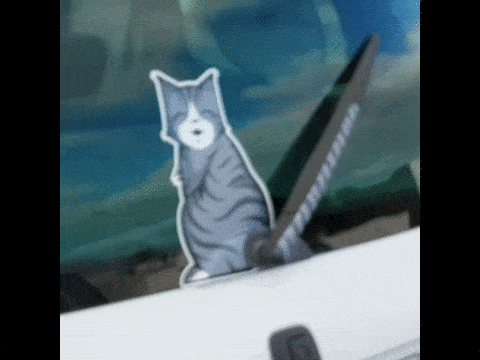 Catify your brain
Lastly, you will probably have cats on the brain. You think, dream, live, and breathe cats every minute of the day, and before going to sleep "cats" is your last waking thought. No wonder you are subconsciously buying things that match your cat.
My theory is that our kitties do have the telepathic powers that we always suspected they had, and they use these to manipulate us to do all of the above without us consciously knowing it.
Have you catified the things in your life? Tell me in the comments.
Read more by Barbarella Buchner:
About the Author: Barbarella Buchner — Ailurophile. Geeky Goth Girl. Ex-Musician Singer/Songwriter. Photographer. Web Designer. Fibromyalgia + RA Sufferer. And totally mad. She originally hails from Hannover (Germany), then moved to London, and since 2004 has lived on the tropical island of Lanzarote, together with her tabby twins Lugosi & Spider, and ginger queen Ruby Akasha. Apart from being an avid hobby — and sometimes even paid. — photographer, she works as a freelance web and graphic designer and occasional Catster contributor. She designed and maintains her local cat charity 9 Lives Lanzarote's website.