When I took my calico cat, Phoenix, to the vet in March, I received some unsurprising news regarding her health.
"Your cat is too fat," the vet said, while Phoenix ("Fifi") cowered on the scale. "Ideally, this cat should weigh nine pounds, at most."
The scale read closer to 13. I had noticed Fifi's belly growing rounder, like a balloon swelling beneath her skin, which swayed from side to side as she walked — no, she was starting to waddle because of this obesity.
Her interest in play had also waned. She used to perform stunning acrobatics, twisting and contorting her body in midair to capture the feather toy between her teeth. Now she would barely swat at the ersatz bird before plopping down on the floor and grumbling, Marge Simpson-style, as though annoyed and exhausted by the mere notion that I would try to interact with her in a manner that did not involve putting food in a dish.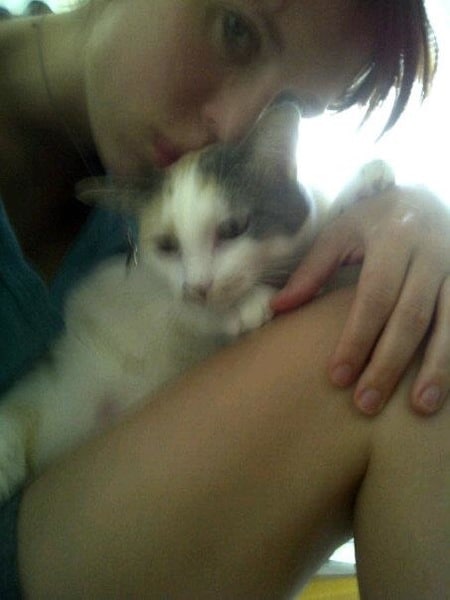 Yep — my cat was too fat; that much I knew. Aside from related consequences like diabetes and arthritis, the vet mentioned one complication I hadn't considered.
"How's she doing with cleaning herself?" the vet asked, as she lifted Fifi's tail to inspect her behind.
"Um, fine?" I said, unaware that I needed to be monitoring my cat's bum so closely.
The vet confirmed that Fifi was, in fact, doing a better-than-expected job at keeping her backside tidy. She did, however, warn that inadequate grooming was something I'd need to look out for, as poor cleaning habits can cause urinary tract infections — not to mention unsightly dingleberries.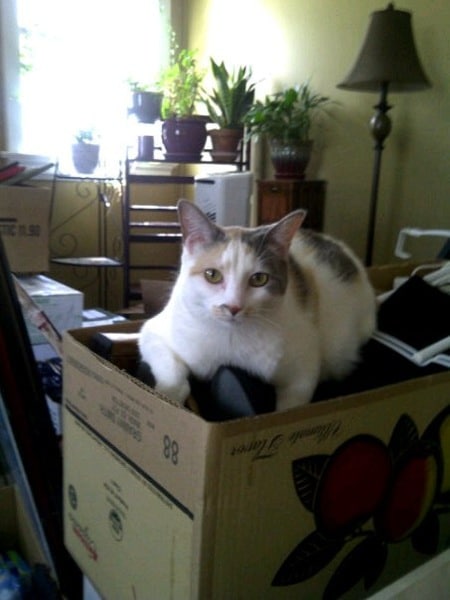 And it was almost like the vet had jinxed me. You know how when someone you know buys a new car, or you learn a new word, and suddenly you see that car or hear that word everywhere? Odds are those cars and words have been everywhere the whole time, but now they've been thrown into sharp relief and you can't NOT notice them.
Well, that was my experience with the poop crusties on my cat's butt.
I first noticed the baked Alaska-esque brown crests on Fifi's white fur in bed, of course, when I was too tired to do anything about it. So I ignored it, hoping it would go away.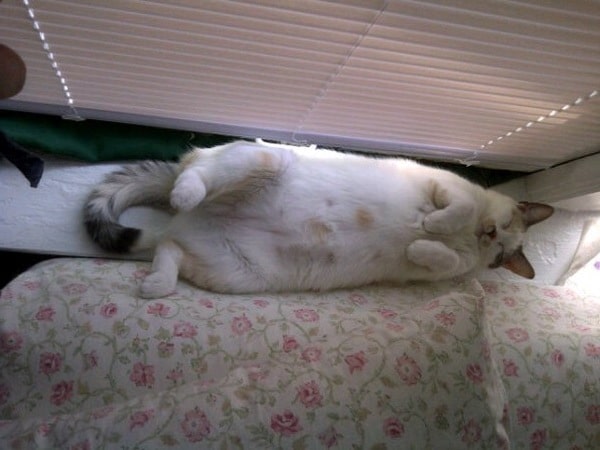 Unfortunately, it got worse. I went on vacation to Mexico for a week and left my cats at my parents' house, where they were off their low-calorie diet. When I returned to pick them up, the poop crusties had intensified. They had doubled — maybe even tripled. They were clearly planning a large-scale takeover of my cat's rear end.
The worst part: It was all my fault. I was the one who did not do my research and thought free-feeding my cats was just fine. I did not play with them enough, and I probably gave them too many treats — not to mention let them lick out one too many cereal bowls. And now these brown poop streaks were calling me out: guilty.
Once I got done berating myself for being the Worst. Cat. Parent. Ever. (in that special way only a recovering Catholic can), I started looking at the bright side. At four years old, Phoenix is still relatively young. Other than her weight problem, she is healthy. And I possess all of the skills and knowledge necessary to get her back to her fighting weight.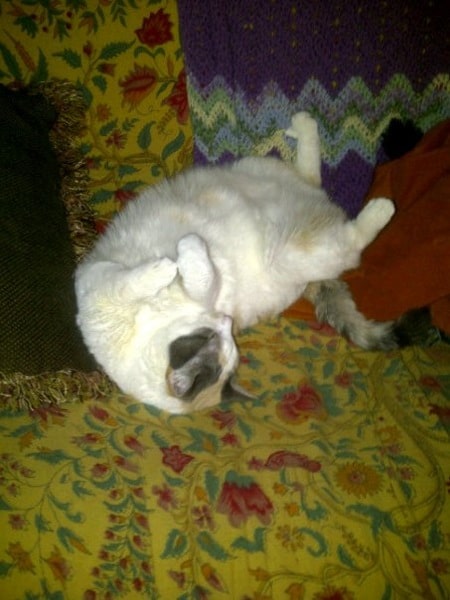 For starters, at my vet's recommendation, I am putting her (and Bubba Lee Kinsey) on a strict low-calorie diet consisting of 50 percent wet food and 50 percent dry using the nutritional guide found here, courtesty of the Association for Pet Obesity Prevention. I am going to insist upon play time, no matter how half-assed, every day before work.
And I am going to trim Fifi's damn butt hair, because dingleberries aren't good for anyone.
Like many humans, a lot of cats lead sedentary lifestyles and eat far too much — and the only ones to blame are the humans. I might have let Fifi become unhealthy, but I'm not going to let her stay that way.
About Angela: This not-crazy-at-all cat lady loves to lint-roll her favorite dress and go out dancing. She also frequents the gym, the vegan coffee joint, and the warm patch of sunlight on the living room floor. She enjoys a good cat rescue story about kindness and decency overcoming the odds, and she's an enthusiastic recipient of headbutts and purrs from her two cats, Bubba Lee Kinsey and Phoenix.
More by Angela Lutz: