Cat-related fashion for men can be a foppish minefield. While you might want to declare your feline infatuation to the world through your clothing choices, you also want to avoid walking around with a hat topped with cat ears or some form of skewed Hello Kitty design. Also, you don't want to be that guy wearing a T-shirt with a picture of a kitten on it saying "Adopt Me" — so last season.
Luckily, we have the riches of the Internet! With a bit of savvy navigation you can secure some natty cat tees — and with a little refining you can delve beyond the world of large and lurid prints of cats into a zone of altogether more elegant images. Here's seven acceptable cat T-shirts for men (links to purchase are in the title). Wear them with pride.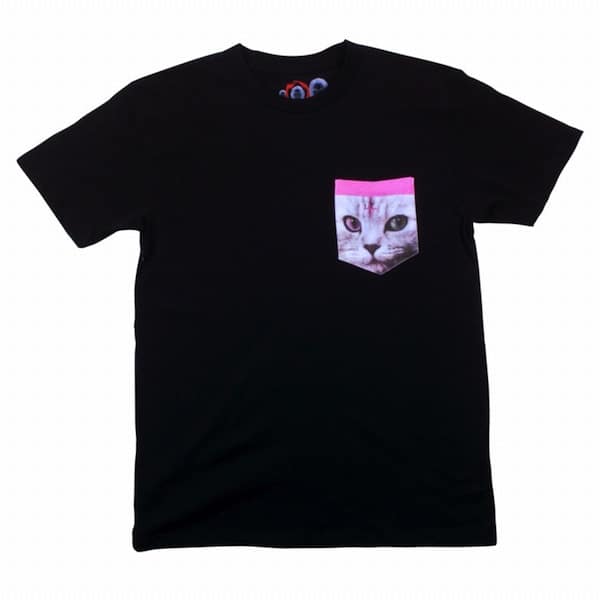 The brainchild of Odd Future rapper, producer, and cat-obsessive Tyler, The Creator, this black tee introduces a hip dimension by virtue of a cat face that fronts up a very utilitarian pocket. The coy look on the cat's face suggests it's about to sneak out a sly wink.

This tee passes the test on two levels: First, the gray striped tabby is sensibly hidden away at the bottom of the shirt, so you're not walking into the room and giving off an immediate stench of "Crazy cat guy." Secondly, the addition of a captured mouse nods sagely to the hunter-gatherer history of all of mankind.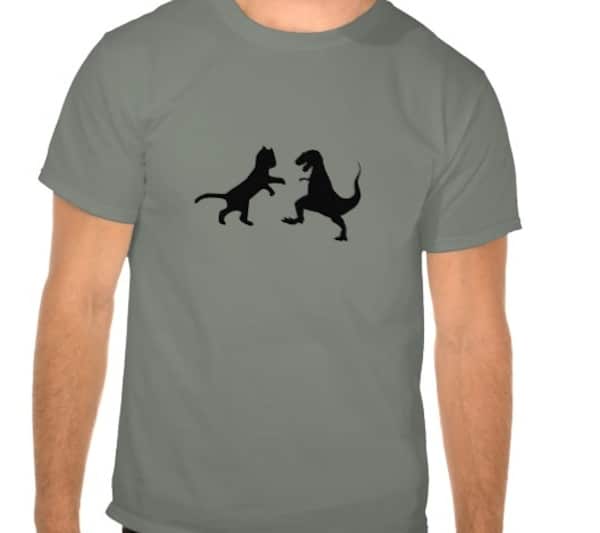 Cats and dinosaurs? There's only one winner here, and that's the tee. Silhouetting keeps things tempered. Clearly a conversation starter.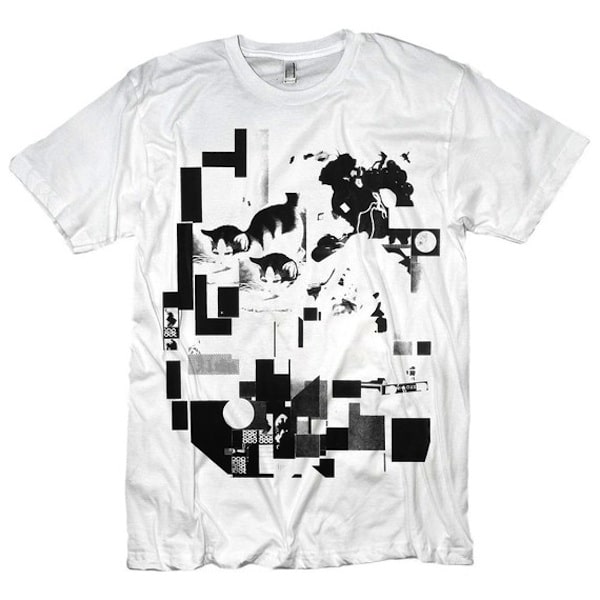 I used to own this shirt, which is allegedly inspired by the Dada art movement. To be honest, I bought it because I thought the cat looked a little like my then-current cat, Moo. Unfortunately, the T-shirt didn't really wash too well. There are simply no guarantees in the high-stakes world of cat T-shirts.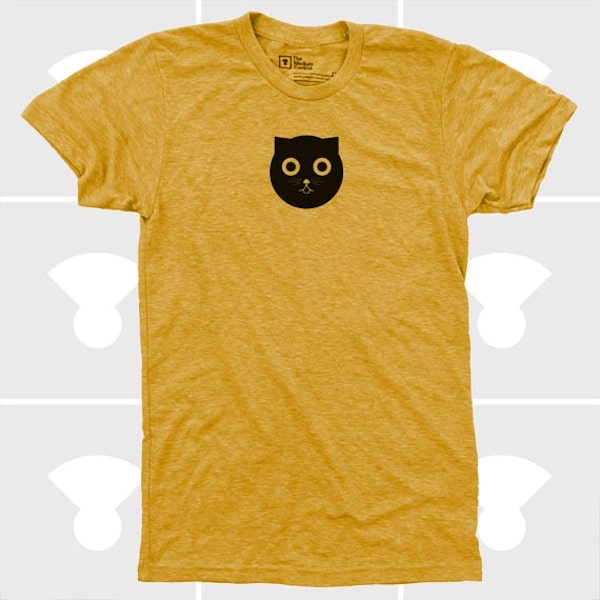 I'd sport a Watson shirt at a push. He's apparently the cat of this T-shirt's designer, a money-focused individual who thinks nothing of pippin' out his puss, as it were. On the plus side, the design is simple and monochromatic. On the downside, Watson may well be an owl.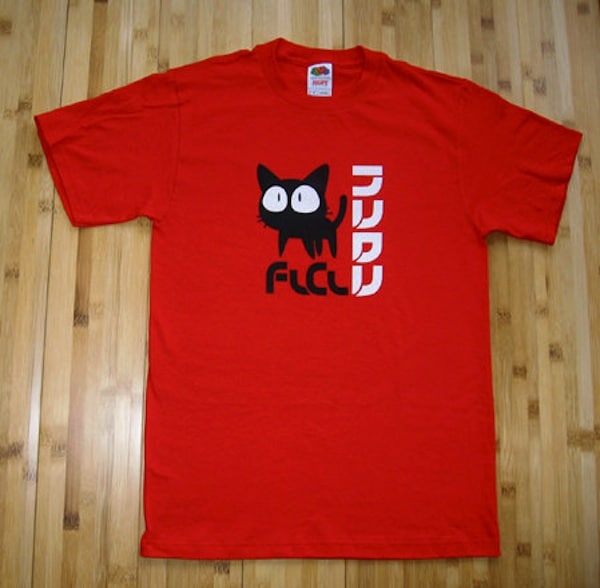 I'm pretty sure there are some copyright shenanigans going on here, as this seems to be a black cat nabbed from the Japanese anime Fooly Cooly (which, the record should show, at one point has a character break out into the words from Tiffany's "I Think We're Alone Now"). Anyway, consider it this season's cartoon cat to show off.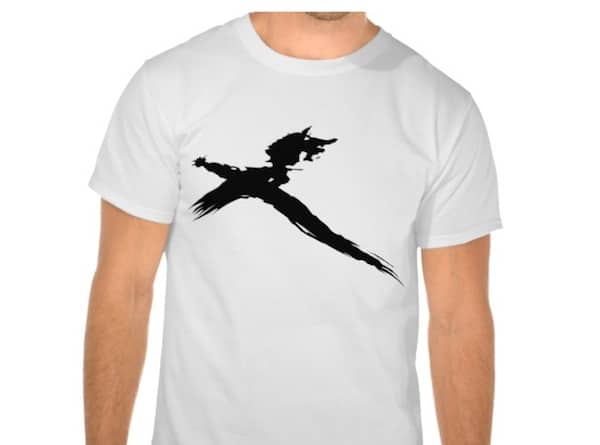 Abstract is key here, as it keeps the catbird, whatever the hell that is, looking like a smear rather than a badly Photoshopped pic of an actual cat. Consider it the Magic Eye of the cat T-shirt range.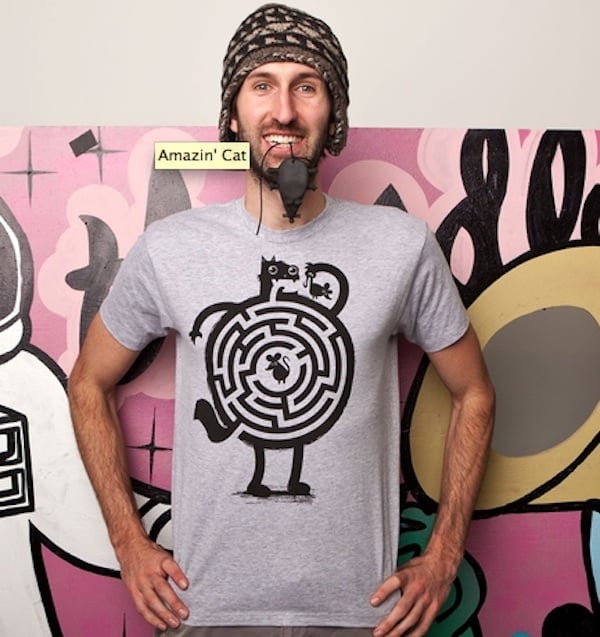 Disregard everything I previously said about keeping it simple — this T-shirt-turned-maze-turned-cat-homage wins. Although in fairness, you can beat the puzzle by simply taking the first right.
About Phillip Mlynar: The self-appointed world's foremost expert on rappers' cats. When not penning posts on rap music, he can be found building DIY cat towers for his adopted domestic shorthair, Mimosa, and collecting Le Creuset cookware (in red). He has also invented cat sushi, but it's not quite what you think it is.
Read more on cat style and cat guys: