Cats have been used for centuries to help with pest control, and the cats residing at the lavish gardens at Philbrook Museum of Art in Tulsa, Oklahoma, are no exception. What is the exception for these cats (Acer, Perilla and Cleome) is that their role expanded to so much more — patron greeters, writers, therapeutic healers, inspiration for literary works, social media stars and ambassadors of art and history.
Founded in 1938 when Waite Phillips gifted Tulsans his 72-room mansion and surrounding 23 acres of grounds as an art center for the city of Tulsa, Philbrook now serves over 160,000 visitors annually and was recently named "the most beautiful place in Oklahoma" by House Beautiful Magazine. It was in 2007, with the introduction of Acer, a handsome black-and-white shorthair, and his sister, Perilla, a pretty patchwork calico, who were rescued as kittens, and a few years later, Cleome, a darling black-and-white shorthair, that people began coming to Philbrook for the art and gardens plus to meet with the trio who reside on the grounds.
Prior to COVID restrictions, when people could freely interact in the gardens, it was not uncommon for one of the cats to photobomb a photo session or even crash a wedding. According to Assistant Director of Communications and Audience Relations Jeff Martin, Acer once climbed on the back of a girl who was lying down for a senior photo shoot, and she ended up using one of the images as her senior picture. (Acer has since retired due to health issues and is happily living with a staff member.)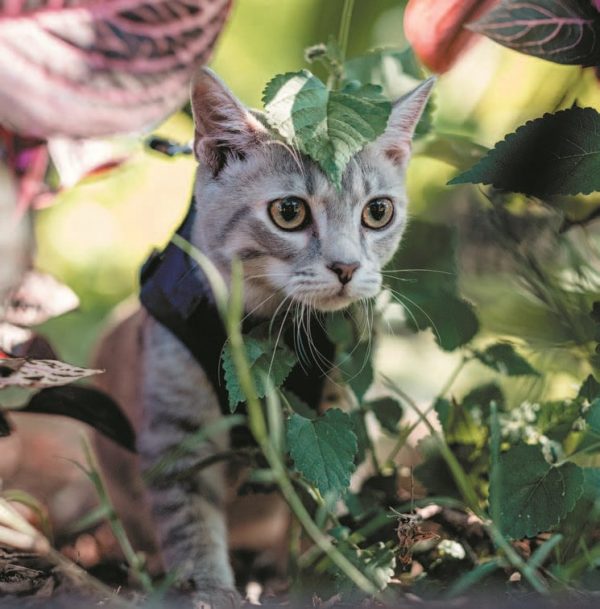 Paw Pals
When the museum was forced to close to the public out of COVID concerns, the staff set out to find creative ways to continue bonding with the public, coming up with an idea they had no idea would go viral. During a virtual staff meeting, Jeff says "Diane (Shen) in our development department suggested a pen pal idea in which people could write to the cats." Liking the idea, the museum put out a call for friends of the Philbrook felines to drop the quarantined kitties a note, with the promise the grateful cat would respond in kind. Special stationery was created for Perilla and Cleome, along with personality profiles for each. About six volunteers were tasked with writing the responses, with each person assigned a specific cat. Jeff elaborates: "Perilla is a relatively chill cat — she's kind of a home-body who likes to be pampered and have things brought to her. Cleome is much more active and quite the hunter, although she's pretty shy." They then sent the simple message out: "The cats are lonely and would love to hear from you. Write them a letter, and they'll write back."
People shared the program on social media, and Philbrook was flooded with letters from every state in the country, the United Kingdom, Hungary and Canada. It received letters from children, adults and adults writing in the voice of their cat. Cat toys, drawings, decorated envelopes and more arrived. But Jeff says, the most memorable letter was from a 35-year-old prisoner who wrote a poignant and heartfelt letter to Perilla.
"Dear Perilla," he writes. "How are you? Lol. Do they feed you well? I know it probably seems weird to see a grown man writing to a cat, but prison is a lonely place and I wanted to hear my name called at role time, just one time… Thank you for listening, Perilla. You've brought something of my old self back to me and I look forward to reading your letter…"
Feline Ambassadors
The program has since closed, and the museum is again open to the public, safely distancing guests. Although Perilla has since retired, Philbrook has a new addition — a sweet silver tabby female cat rescued by a staff member. Philbrook invited patrons to name her with a social-media campaign featuring three garden-related choices — Iris, Sage and Rue  — for people to vote on. Sage was the overwhelming favorite, and she's already taking well to her name and role.
Scott Stulen, president and CEO of Philbrook and co-founder of the Internet Cat Video Festival, could not be more pleased with his feline work companions. It has become clear to him just how important the feline-human bond is to heal hearts and provide much-needed purr therapy for those dealing with mental health issues, with something as simple as meeting and petting the cats.
"The cats have become ambassadors to museum engagement," he says. "They bring an emotional connection for those that may not have initially had an interest in the arts. Philbrook is thrilled the cats allow another entry point into our museum and gardens, and we could not be prouder of our feline stars."
Learn more about the Philbrook Museum of Art — and the cats — at philbrook.org.