Rodent ulcer, which also goes by many clinical names, including eosinophilic granulomas, is a complex, highly unpleasant skin condition that my poor cat, Murphy, developed. While veterinarians commonly treat rodent ulcer with a regimen of steroids and, in the event that the sores become infected, antibiotics, I cured him in record time with natural remedies and some simple lifestyle changes.
What causes rodent ulcer in cats?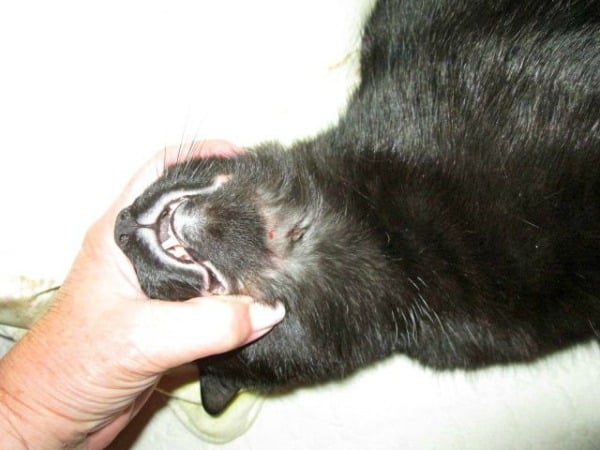 The name 'rodent ulcer' is misleading, as rodent ulcer is not caused by contact with rodents. Rather, it's an allergic reaction with any number of causes that results in unsightly, often painful lesions around a cat's lips, chin, inside the mouth and, in some cases, other parts of the body. It's most common in younger cats aged two and under, and female kitties.
The main causes of rodent ulcer are allergies to fleas, foods, the chemicals in plastic and rubber bowls, environmental pollutants, synthetic ingredients in cat litter or having a compromised immune system, such as cats with feline immunodeficiency virus (FIV). If left untreated, this can result in permanent disfigurement. This was especially upsetting to Murphy, who takes great pride in his dashingly handsome appearance. So quick action was in order.
How Murphy got rodent ulcer
I have always fed my cats high-quality natural, grain-free foods. Plus, I have consistently used glass bowls, which I wash after each use in the dishwasher, for their food and water. I also give them filtered water, use natural cat litter and safe, eco-friendly household cleaning products. And Murphy never had fleas.
But after getting laid off from my job in the summer of 2014, I could no longer afford the natural cat foods, which are pricey. So I switched my cats to Fancy Feast Classic. As this does not contain wheat gluten, this seemed like a reasonable compromise. Then, about a month after I began feeding this to my cats, Murphy developed inflamed, oozing sores along his chin and the corners of his mouth.
As I have written extensively about pet health and wellness, I immediately recognized this as rodent ulcer. Via a process of elimination, I determined that switching him to a different brand of cat food was the culprit. So I set about changing his diet and getting him on a regimen of natural remedies.
How Murphy was cured of rodent ulcer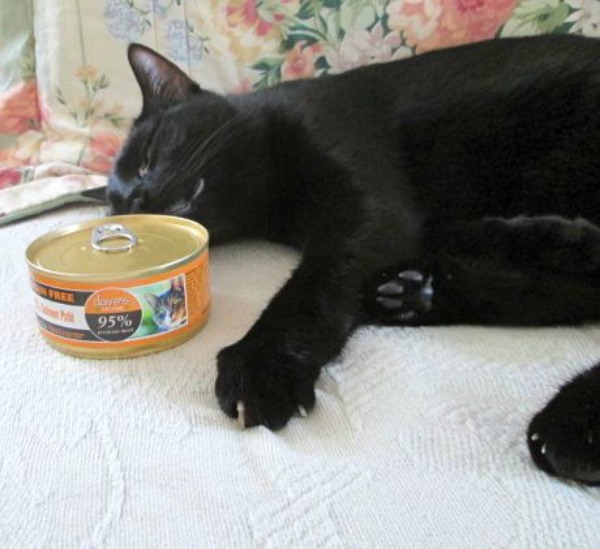 As I mentioned previously, veterinarians have traditionally treated rodent ulcer with steroids and antibiotics. But as someone who is a huge proponent of natural pet care, I opted to first try some holistic remedies with the approval of a friend, Dr. Cathy Alinovi, a veterinarian who practices integrative medicine in Indiana and is always happy to give me free advice.
First, I completely eliminated the Fancy Feast from Murphy's diet. As I had recently reviewed a new line of natural canned cat foods called Dave's, which is one of the more reasonably priced brands, I switched him to that.
Next, I placed him on a regimen of the immune-boosting supplement L-Lysine in the form of 250-milligram Pet Naturals of Vermont Cat Chews, which I gave him twice daily, and one-half teaspoon of colloidal silver, a mineral that acts as a powerful natural antibiotic, which I mixed with his food once daily. I purchased the treats from a pet store that specializes in natural products, and I got the colloidal silver, which is inexpensive, from a health food store.
In addition, I treated Murphy's rodent ulcer sores topically by periodically spritzing them with some colloidal silver, which I poured into a small spray bottle. Plus I lightly dabbed the lesions with organic coconut oil, which has antibacterial properties, and misted the affected areas with a nifty spray product called Epic Pet Health Repair, which I also sprayed into his food and water once a day.
The latter is a line of holistic sprays and drops comprised of diluted vitamins and minerals in water with electrolytes, which treat a variety of pet health and behavior issues. The line was developed by a civil engineer turned holistic chiropractor named Dr. Amy Swartz of Seattle, Wash., who had sent me some samples to review a few months before Murphy developed rodent ulcer. This certainly came in handy, as the spray alleviated Murphy's discomfort upon immediate contact.
The at-home treatments for rodent ulcer worked!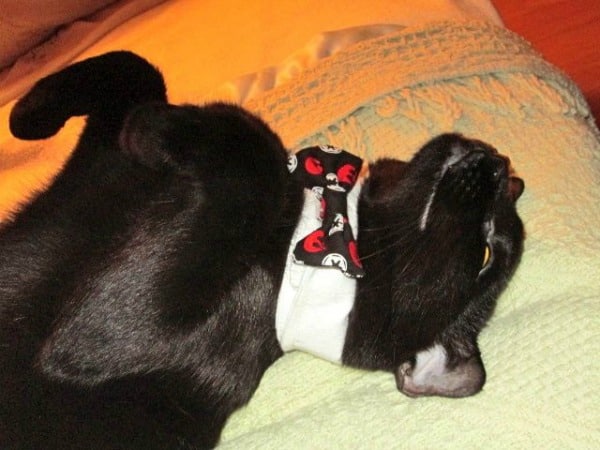 When I initially embarked on this treatment regimen, I vowed that I would resort to a trip to the vet and would agree to place my kitty boy on steroids in the event that the natural approach did not work. Lo and behold, it did. Within a week, the rodent ulcer sores began to abate. By week two of the treatment regimen, Murphy was completely cured of rodent ulcer and back to his usual suave, handsome self.
What to do if your cat develops rodent ulcer
My experience is unique, because I have an extensive background in researching and writing about pet health issues. I also have the advantage of having a veterinarian friend who readily supplies me with free pet medical advice.
However, most people aren't in my position. So I do advise a trip to the vet if you suspect that your cat has rodent ulcer — or any other health issue, for that matter. But even if you do opt to place your cat on meds, complementing the treatment with some natural remedies can't hurt, and may very well help to accelerate the healing process.
Tell us: Have you ever used natural remedies to treat your cat? Have you ever dealt with rodent ulcer in your cats? Tell us how it went in the comments!
Thumbnail: Photography ©infinityyy | Getty Images.
Read more about cat health and care on Catster.com: