Mastitis is the term used for inflammation of the mammary glands. Painful, but usually not life threatening, mastitis in cats is normally easy to treat. The most prevalent cases of mastitis in cats occur as bacterial infections in nursing mother cats. As with any infection, early detection and treatment of mastitis in cats is key in keeping your kitty happy and healthy. So, what are some of the symptoms and what is the best way to treat mastitis in cats? Let's find out!
Telltale signs of mastitis in cats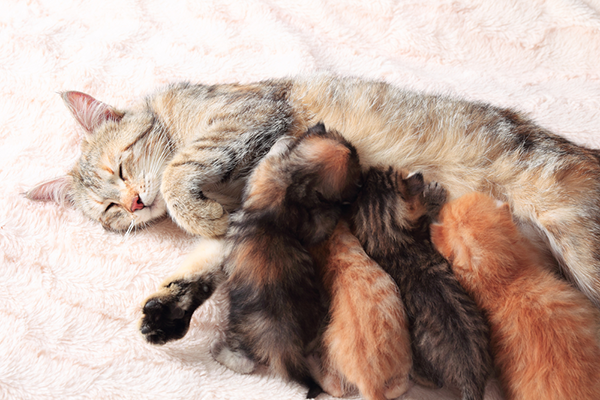 "Mastitis in cats has a variety of symptoms," says Dr. Justin Molnar, DVM, Medical Advisor at Last Chance Animal Rescue and Medical Director at Shinnecock Animal Hospital. "Since it's seen mostly in mother cats, it's important to check your nursing cat's whole body at least once a day — especially her teat and belly area." 
Here's what Dr. Molnar advises to look for with mastitis in cats:
Swollen nipples
Discolored nipples
Discharge (blood, pus, abnormal milk color or consistency)
Open wounds around the nipples or mammaries
Always check every kitten in her litter to ensure they're gaining weight properly – underweight kittens are another pointer to possible mastitis
A few additional items to think about:
Is your cat reacting when you touch the mammary gland area?
Is your cat's overall health declining?
Because mastitis' frequent root cause is infection, if left untreated, it can enter the bloodstream and become a life-threatening condition known as sepsis.
It's imperative to get your cat to the veterinarian right away if your kitty is displaying any of these signs!
Frequent causes of mastitis in cats
Pregnant cats require additional specialized care. Monitoring a pregnant cat's overall condition minimizes the risk of medical complications. Being mindful of the pregnant or nursing cat's health and environment goes a long way in both preventing and addressing mastitis in cats.
Primary causes of mastitis in cats:
Trauma to the mammary glands
Unsanitary living conditions
An extended period of milk accumulation
Diagnosis of mastitis in cats
If your cat is displaying any of the above signs, or if her kittens are not gaining the right amount of weight in correlation to their age, a trip to the vet will reveal exactly what's causing the issues. Usually a physical exam is all that is required to detect mastitis in cats. Sometimes, additional tests are necessary — blood and/or milk samples may need further analysis to determine the exact cause of the symptoms.
How to treat mastitis in cats
Once diagnosed, the treatment for mastitis in cats is normally easy to administer at home. A cycle of antibiotics is used for mastitis caused by infection. If the cat is nursing, you may have to hand-milk her every six hours to ensure the milk is being properly expressed.
A cool, clean compress should be adhered to the infected areas for two to four hours with no compress in between for two to four hours (cabbage leaves can also be used). Following the medical advice from your vet precisely should result in a full recovery in under a month.
Prevention of mastitis in cats
As with any illness, an ounce of prevention is worth a pound of cure! "Change your cat's bedding frequently and disinfect the surfaces where she spends time," says Dr. Molnar. "Observe the mother when she's nursing her kittens. Make sure the kittens are nursing from all her teats, and physically rotate the kitties if necessary."
As always, pay attention to your cat's health, behavior and demeanor. Any changes could warrant a medical exam from your veterinarian. Physically run your hand all over her body and pay attention to her reactions — cats can't verbally tell you if something is wrong — be mindful of doing an overall exam daily for nursing mothers.
To best avoid mastitis in cats, get your cat spayed. Spaying your cat greatly reduces the chances of mastitis and cancer. As always, your cat's health and well-being rests in your hands. Mastitis in cats is very easy to avoid (spay her!), fairly easy to detect if it's developed, and requires following your vet's instructions to ensure she's on her way to a full recovery.
Thumbnail: Photography ©ollikainen | iStock / Getty Images Plus.
Denise LeBeau is a writer, editor and photographer with almost 20 years of experience of creating content for animal-related issues, endeavors and events. She worked at Best Friends Animal Society for 12 years where she had two columns in the Best Friends Magazine, and held multiple content creation roles including web managing editor and outreach campaign editor. Denise has been an ongoing contributor to Catster since 2014, writing for the magazine and website. The self-professed poet laureate of the pet set is currently the manager of development for an animal welfare agency, where she works with a team to create content across media platforms. She lives in Hampton Bays with her two rescue Siamese mixes – Flipper and Slayer, and her LBD (little brown dog), Zephyrella.
Read more about cat health and care on Catster.com: