Vomiting. Diarrhea. Stomach pain. If you abruptly switch your cat's diet, you may unintentionally cause your cat to experience one, two or all three of these reactions. Feline tummies can be sensitive, especially if changes are quickly made to your cat's food in terms of brands, flavors and form (kibble, canned or freeze-dried).
During a cat's lifetime, dietary changes occur as they leave kittenhood, merge into adulthood and, eventually, reach senior status. Some cats need to transition to new foods after being adopted from local animal shelters. Others may develop diseases, such as hyperthyroidism or diabetes, that may require that they eat specific therapeutic diets. And announcements of food recalls may panic some pet owners to quickly put their cats on what they perceive to be safer commercial brands. So how do you make a food switch safely for your cat's sake?
"Any changes in diet need to be gradual," says Kathryn Primm, DVM, owner of the Applebrook Animal Hospital in Ooltewah, Tennessee, and host of the Nine Lives with Dr. Kat and the Dr. Kat Gone to the Dogs podcast shows on Pet Life Radio. "Cats process stress in different ways, and a sudden change in diet can be a big deal to many felines. That's because you can cause an imbalance of bacteria in the gut and cause your cat to vomit or have diarrhea or hairballs."
Sean Delaney, DVM, board-certified veterinary nutritionist and founder of the Davis Veterinary Medical Consulting, Inc. in Davis, California, offers this insight into how cats digest foods.
"Sudden increases in dietary fat, moisture and fiber are the most likely to cause GI (gastrointestinal) upset even in healthy adult cats," Dr. Delaney says. "Thus, switching to canned food suddenly from dry food might be more challenging than switching to another
dry food with a comparable fat and crude fiber level."
Making the change
Many veterinarians support what is informally known as the 3-3-3 rule when it comes to safely switching your cat to a new food in any form. In general, they recommend that for the first few days, you give your cat two-thirds of his current food mixed in with
one-third of the new food. During the next three days, switch the amounts to one-third of your cat's current food and two-thirds of the new food. Within seven to 10 days, most feline digestive systems are ready to receive meals consistently completely of the new food.
"The bacteria in a cat's gut can be pretty picky," Dr. Primm adds. "You may want to consult your veterinarian about supplementing your cat's diet with probiotics and prebiotics to ensure there is a bacteria balance that is a key to your cat's overall well-being."
Making the right choice
When selecting food for your new or current cat, Dr. Delaney says to shop not by price. He recommends seeking out brands with reputations for safety and food quality.
"Generally, I prefer to use foods from known and established manufacturers with a good track record and at least one full-time nutritionist," he says. "The four 'must-have' ingredients in cat food are animal protein/meat, minerals, vitamins and taurine. And, definitely, please speak to your veterinarian about your cat's specific nutritional needs."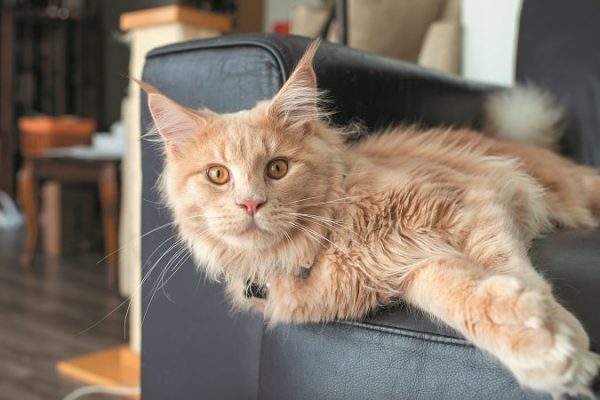 And if your cat has been diagnosed with hyperthyroidism or diabetes, your veterinarian may recommend that you switch your cat to a therapeutic diet. Most of the time, the switch should follow the 3-3-3 rule, but there are medical exceptions.
"If the current food is making the feline patient ill actively (such as a food allergy), a sudden and immediate change is done knowing that GI upset might be a side effect but likely not worse than what is already occurring," Dr. Delaney says. "Your veterinarian will
help guide the speed of transition as well as prescribe any concurrent medications (such as anti-inflammatory
or immunosuppressive drugs) to help ease the process."
The main takeaway: Gradually introducing new food to your cat may minimize unwanted diarrhea, vomiting and stomach issues.
Kittens — from formula to solid food
At the SPCA of Texas with campuses in Dallas and McKinney, Kelly Garner is in charge of diets and more as the shelter intake supervisor. With kitten season typically running from April to September, she also needs to pay special attention to rescued kittens who need to transition from bottle-feeding to kitten food. Young kittens let her know when they are ready to transition from formula to food.
"We get kittens from a few days old to under 1 week of age and, in general, they stay on bottles three to six weeks," Kelly says. "When a kitten starts to bite the bottle nipple and the baby canine teeth are showing, we will put a bowl with formula and wet food in front of them. Some go to town on this food mix and others still need to be bottle fed on formula. With young kittens, they can easily get diarrhea from changes in diet and lose weight, so we monitor them closely."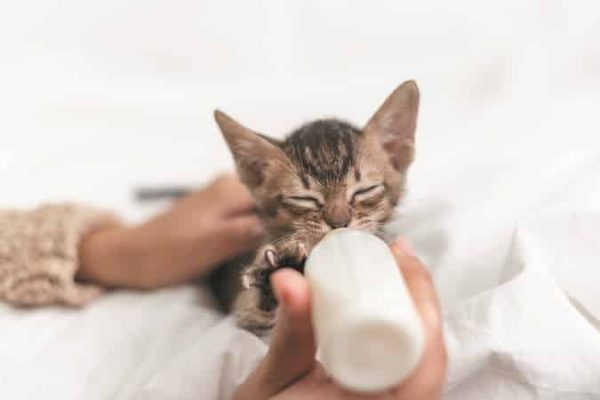 By 6 weeks of age and 1 pound of weight, most kittens sport all their baby teeth. Even at that young age, some show food preferences for canned food or kibble. "We always make sure wet food is available to them, because at this age they can get dehydrated so easily if they prefer to eat dry food," Kelly says.
When the kittens are healthy and old enough to be adopted, the SPCA of Texas staff provides pet parents with take-home supplies of their kitten's current food. The staff also educates new adopters on how to gradually and safely transition their new felines to other commercial brands.
Read Next: How Much Should I Feed My Cat?