When most people think of a cat tree, cat tower, or cat condo the first thing that comes to mind is a monstrosity covered with beige carpet, because for many years that was all anyone could find for their cat.
Now, I won't argue that carpet-covered cat trees don't serve their purpose: They give cats a place to climb and lounge, they usually include some kind of carpet or sisal scratching surface, and, most importantly, they become something that kitty can own, an important part of creating a welcoming home for your cat. But it has to sit in your living room, so why not get something that isn't an eyesore?
There are all kinds of cat trees available today from contemporary to rustic to way funky. Here's a roundup of some of my favorite designs.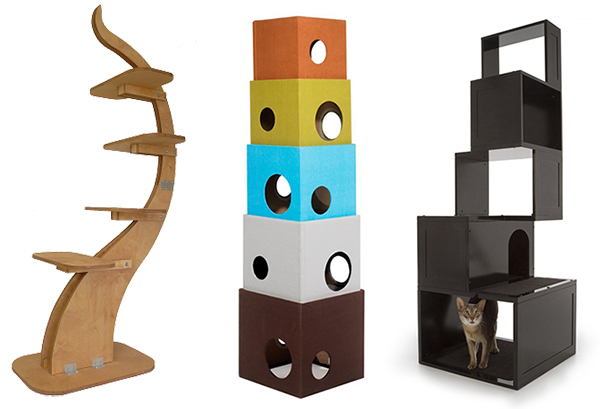 One of my favorite contemporary cat towers is Cool Hues Cat Tower from Bowsers. Made from stacked boxes covered in colorful ribbed cotton, this one doesn't look like a standard cat tree at all. It provides more of a vertical hideaway for cats who like to cocoon.
Looking for something sleek and contemporary? Check out the Sebastian Cat Tree from Designer Pet Products. Give your cat lots of variety with open platforms and enclosed hideaways, all with inset carpet to prevent slipping. The Sebastian Cat Tree would fit seamlessly into a modern home, guests might not even recognize it as a cat tower. Available in black or white to match your decor.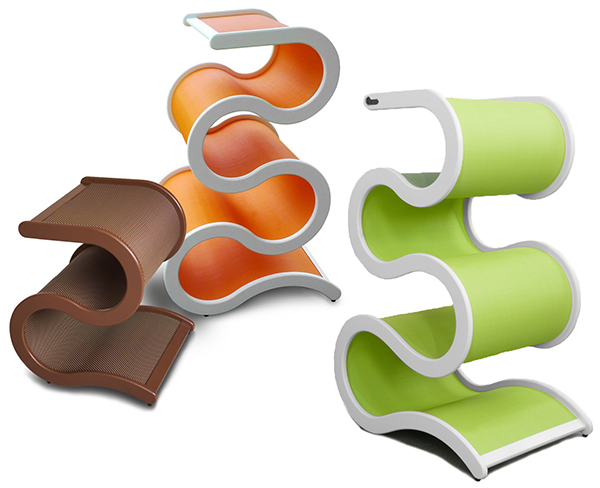 Talk about modern art! The Curvynest from Catswall Design is another one of my favorites. The ribbonlike form creates multiple concave surfaces where cats can rest. I have a large Curvynest in my living room, which stands about 40 inches tall, and the cats love to use every level. The good thing about this design is that cats can easily jump up on to any part of the tree, including the very top. The grasscloth covering is easy to keep clean and looks great.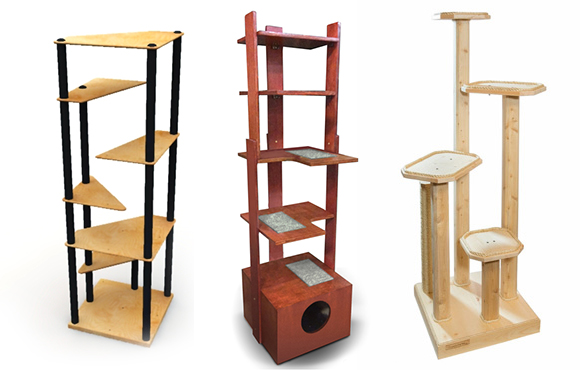 The CatAeries cat tower system from Madcat is interesting because it is modular, letting you create a customized cat tree that has clean modern lines and uses simple materials. You can choose from a variety of pre-packaged kits or create your own with the separate components.
If your taste is more traditional, you may want to check out PurrfecTrends. Its cat towers are made with cabinet grade birch plywood with inset sisal carpeting on each level. Choose from three, four, or five levels. I have one of these towers, and it is extremely sturdy and would look equally beautiful in a traditional or modern interior.
Mountain Cat Trees makes gorgeous rustic style cat towers and other products using natural white cedar and sisal or manilla rope. These are perfect for a natural look and for eco-conscious living, not to mention that cats love them.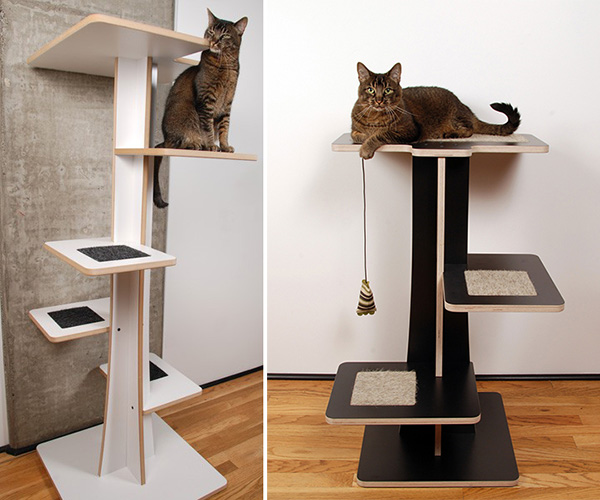 Another favorite that I have in my living room (yes, I have more cat furniture than human furniture!) is the Acacia Cat Tree from Square Cat Habitat. This three-level cat tree is just the right height for giving kitty a pet as you walk by. If you want something taller, the company also has the five-level Baobab Cat Tree, equally attractive and sturdy. Both come in a variety of finishes, and you can choose from a wide selection of colors for the carpet inserts.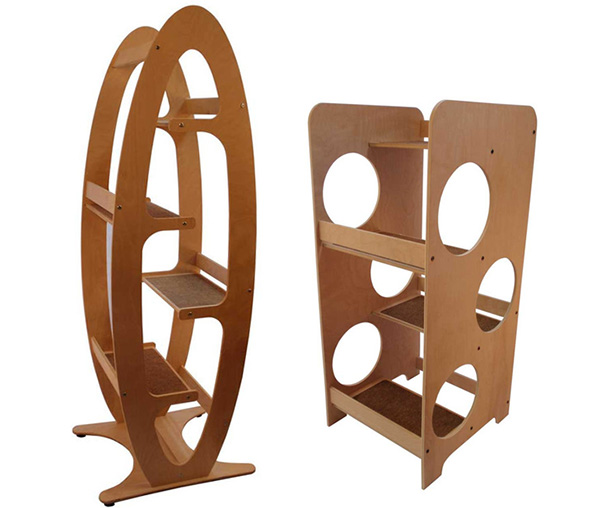 ContempoCat offers two cat trees with modern appeal. The Contoure Cat Tree stands 68 inches, housing four carpeted shelves inside a large oval frame. Kitty can easily jump from shelf to shelf. The smaller Art Deco Style Cat Tree is another design that would work well in either a modern or traditional home.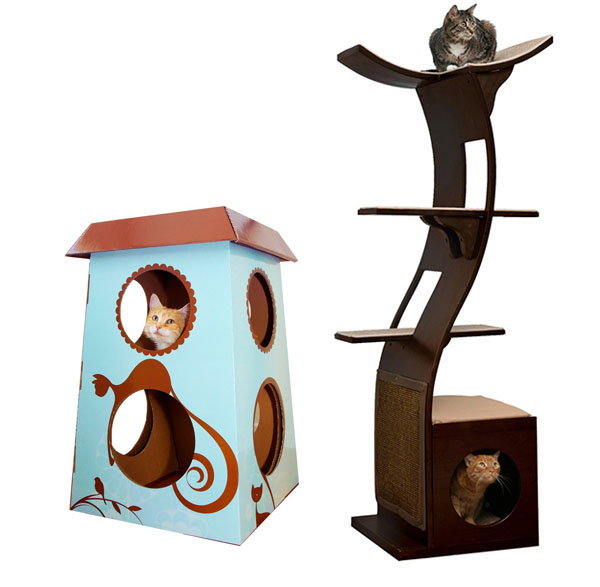 Finally, The Refined Feline provides two very different types of cat towers. First, the Catemporary Cat Castle is a cardboard structure with a metal frame inside for stability. And the iconic Lotus Cat Tower is another of my favorites. This very functional cat tree is quite sculptural looking, offering cats plenty of surfaces to climb on and a hideaway box below. I like to use this one in the center of a room as the focal point to truly celebrate the beauty of the piece itself, and of course the beauty of the cats as they use it.
Read more of Kate's cat style tips:
About the author: Kate Benjamin is the founder of the popular cat style blog Hauspanther.com. She specializes in helping people live stylishly with cats. You may have seen her on Jackson Galaxy's show My Cat From Hell. Make sure to check out Kate and Jackson's new book, Catification: Designing a Happy and Stylish Home for Your Cat (and You!).