Iconic designer Betsey Johnson, with her penchant for hot pink and leopard print, has shown an allegiance to black cats in the past with glittery collections of kitty-inspired baubles.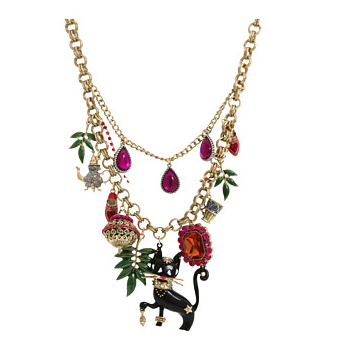 Her latest "Morocco Adventure" line is her most glamorous offering to date, featuring an oversized ring, charm bracelets, necklaces, and earrings, all bearing the image of an enchanting black cat studded with jewels and holding a golden fish.
Proving that you can have fun with fashion at any age, Fashionista reports that the designer recently celebrated her 70th birthday with a bitchin' fashion week party, complete with a 90-piece fashion show highlighting her decades of designs, a live performance of "Girls Just Wanna Have Fun" by Cyndi Lauper, and her daughter, Lulu, jumping out of an oversized birthday cake. We wish Betsey a very happy birthday, and hope that she continues to rely on her lucky feline muses to keep her feeling young for many years to come!
Ready to embark on a Moroccan Adventure of your own? Visit Zappos to shop Betsey Johnson's entire collection of chic-kitty accessories.