You might think that the only place to hang out with Hello Kitty would be at your local Sanrio store, but you'd be wrong. Very wrong. The iconic 37-year-old feline has branched out in recent years, taking her patented brand of cuteness to dental chairs and delivery rooms. Fans can fly the friendly skies in a Hello Kitty airplane, enjoy the day at a Hello Kitty theme park, or even make an appointment at a Hello Kitty-themed dentist — which shows her well intentioned, yet oddly placed commitment to dental health, despite not having a mouth.
Proving that Kitty White isn't just for little girls, the all-pink Hello Kitty maternity ward provides cuteness and comfort to babies and their mamas.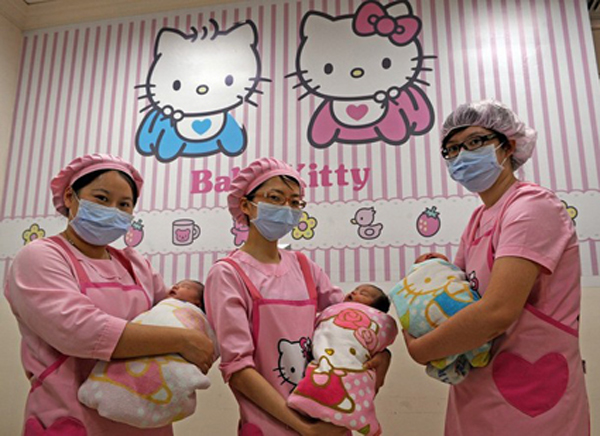 The 30-bed ward located in central Taiwan features cat print linens and Hello Kitty-emblazoned nurse's uniforms, all of which are supposed to have a calming effect on anxiety-ridden mothers-to-be.
Heart's Dental Clinic is a dentist's office with decor so sweet, you're likely to get a cavity while waiting for a check-up.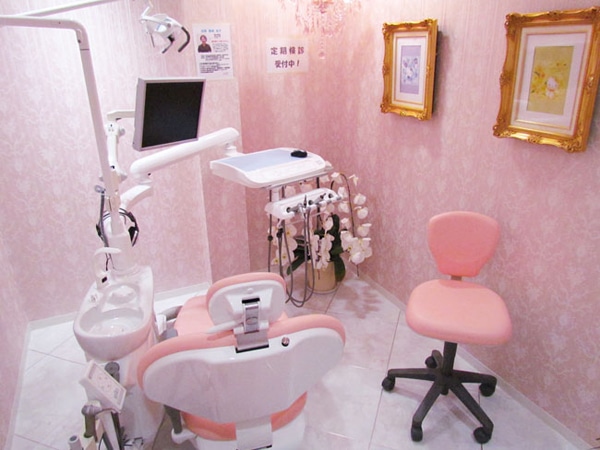 Patients who are lucky enough to score an appointment in the Tokyo-area establishment will be swept up into a sea of pink furnishings, which include heart-shaped sinks, chandeliers, and Hello Kitty artwork on the walls.
Next stop: Cuteness town! Taiwan-based EVA Air recently celebrated its 20th annivesary by unleashing a small fleet of Hello Kitty airplanes, fully equipped to impress even the most jaded fan.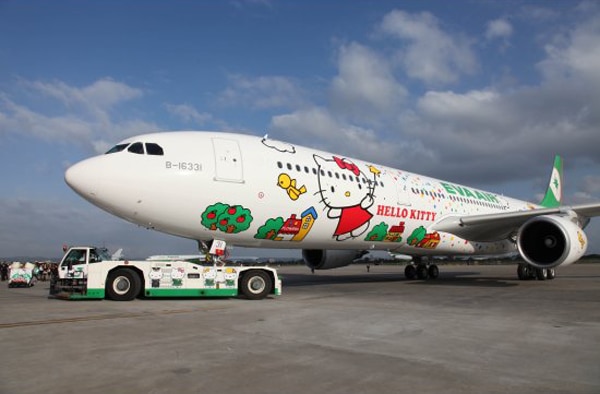 From the bathrooms stocked with Hello Kitty toiletries to the meals containing Hello Kitty-themed accents, every aspect of the in-flight experience has been given an ultra-kitty makeover. The airline also offers Hello Kitty boarding passes, pillows, headrest covers, and utensils — doled out by flight attendants who are dressed to impress in their kitty best.
Hello Kitty Airport Terminal Gate
Need a place to hang out before your Hello Kitty flight arrives? Travelers lucky enough to find themselves at one very special terminal at Taoyuan Airport in Taipei can spend their layovers in style at the Hello Kitty gate waiting lounge.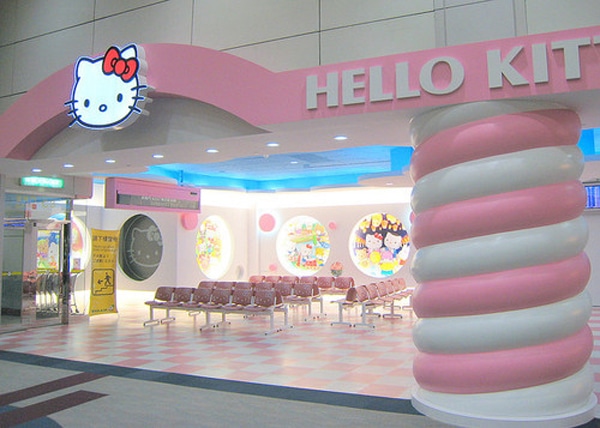 Pink chairs with Hello Kitty's face on them, a gift shop, and a playroom all ensure that weary travelers will never have to suffer through stuffy old waiting areas again!
If you're thinking of visiting the first ever Hello Kitty restaurant in China, be sure to make reservations first!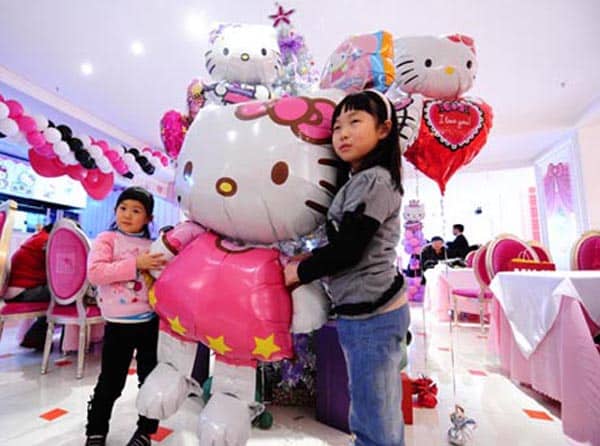 The themed eatery opened in Beijing last year, and is so popular that many disappointed patrons are being turned away. The restaurant, which features all-pink decor and Hello Kitty-themed food, sounds like fun, but you may want to think twice before showing up hungry. In addition to the long waiting list, one customer jokingly told China Daily that the food was "too cute to eat."
Looking for a more mature night out with a kitty twist?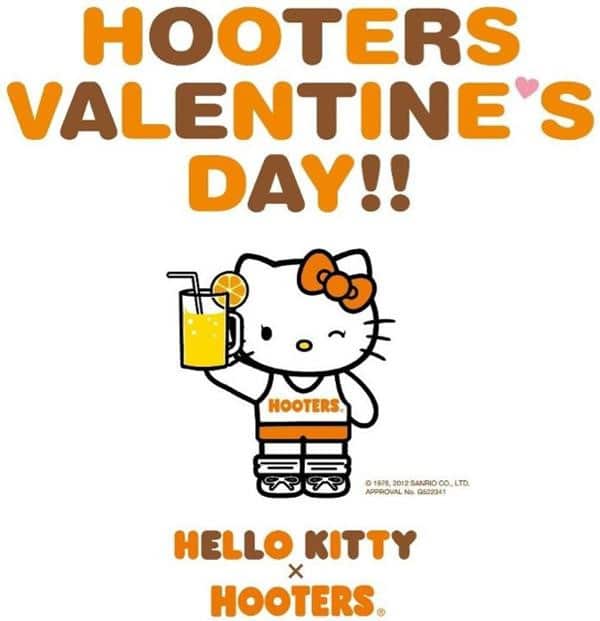 In February, Sanrio licensed the famous feline's image to a Hooters restaurant in Japan for one unusual Valentine's Day special. For $11 to $30, you could get your sweetie a mondo ice cream parfait, along with a limited-edition (and no doubt mega-collectable) Hello Kitty x Hooters pin.
Sure, Disney World is fun, but it doesn't have nearly enough cats. Enter Sanrio Puroland, an indoor theme park dedicated to Hello Kitty and all of her closest friends, which opened in Tokyo in 1990.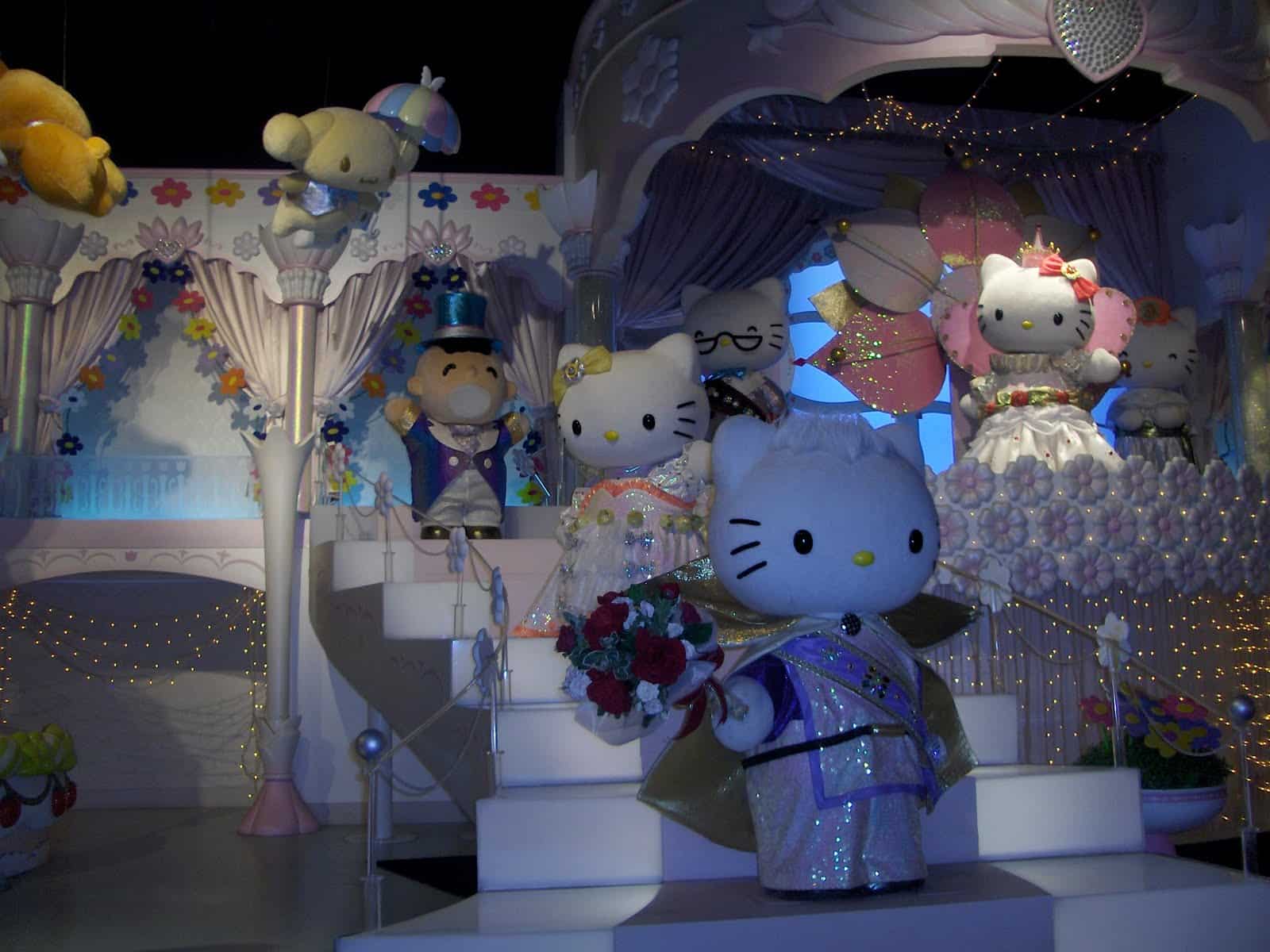 The popular tourist attraction is a dream for Sanrio fans of all ages (trust me, I've been there), who will delight in visiting Hello Kitty's house and meeting the main cat herself. The park also features numerous musical stage shows, restaurants and souvenir shops, and an unforgettable Sanrio character boat ride that culminates in Kitty's nuptials to her beau, Dear Daniel. Top off the experience by taking in the daily parade around the "Wisdom Tree," which begins after the iconic feline descends from the ceiling wearing an LED-enhanced gown.