Who knew that a weekend of nerdy fun would result in 12.2 sextillion cats?
When video game developers Edmund McMillen and Tommy Refenes, collectively known as Team Meat, got together for a weekend game jam, they "fell into a totally out-of-left-field project" called Mew-Genics.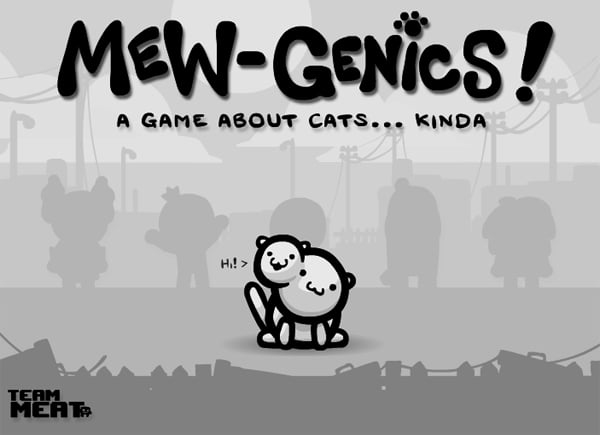 "Mew-Genics is by far the strangest project I've ever worked on ÔǪ and that's saying something," McMillen wrote in Team Meat's blog.
Yes, it sure is saying something. If you saw the movie Indie Game and watched Team Meat develop its wildly popular Xbox game, Super Meat Boy, you know this duo's world is pretty darn weird.
They're so into the new game that they've even temporarily halted the development of PC and iOS versions of Super Meat Boy to work on Mew-Genics.
"We don't want to spoil too much here," wrote McMillen, "but we can say the game will be randomly generated, strange, and involve cats."
What's not to love, right?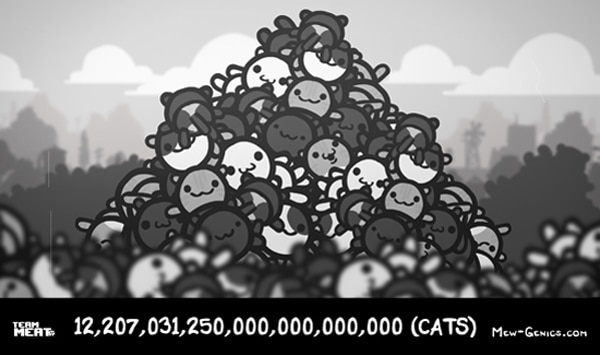 Team Meat's latest blog post says the game will feature more than 12,207,031,250,000,000,000,000 cats — and that's just 12.2 sextillion different appearances of cats. When you add personality and variables in each cat's ability (as well as "secret stuff" that hasn't been revealed yet), and that number multiplies exponentially.
According to the gaming blog TechnoBuffalo, you have a better chance of winning a massive PowerBall jackpot five times in a row than you do of getting the same cat.
So far, the members of Team Meat have said nothing else about game mechanics, but they have made several teaser posts in their blogs with information about characters. For example, a character called Tracy "likes cats, but isn't a big fan of you." Butch, meanwhile, is "into some shady stuff ÔǪ nothing he does is legal ÔǪ I wonder how he got all those scratches."
If Mew-Genics is anything like Team Meat's previous effort, it's bound to be twisted, but in a fun way. Team Meat is a cat-loving crew — both developers have cats at home, and after Super Meat Boy went on the market and made lots of money, Edmund's wife got the Sphynx cat she'd always wanted — so I'm confident that no real cats were harmed in the creation of this game.
Note: Team Meat's website may not be entirely suitable for young children.
Sources: TechnoBuffalo and Team Meat blog. Images from the Team Meat blog