she left her entire estate to her feline companion — and her nurse and fellow cat lover, known only as Stefania.
In actuality, the woman asked that her lawyers find an animal welfare organization to leave the $13.3 million worth of houses and apartments all across Europe. This group would also be entrusted with taking care of Tommaso. But they were unable to find a rescue that would give adequate guarantees of the cat's comfort and welfare. Thus, the task — and the assets — went to Stefania, who tended to Tommaso's owner as she became increasingly unable to take care of herself.
I asked my own cats what they would do if they suddenly came into massive amounts of money.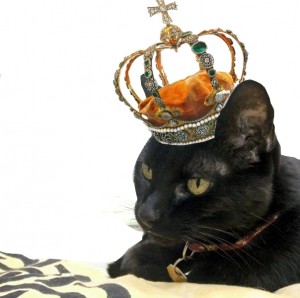 Siouxsie, Top Cat and Queen of All Eastern Cats, immediately went crown shopping. When she saw the Wrttemburg King's Crown, she decided it was the one. She even made me put it on her so she could see how it would look on her gorgeous black head. When I tried to tell her that even $13 million wouldn't buy this regal headpiece, she became quite perturbed and accused me of all sorts of heinous things.
Dahlia, the Most Important Cat in the World, decided that what she really needed was an assortment of delightful bling including severalhandmade, bejeweled necklaces would be just the thing.
Thomas T. Bombadil, Most Puissant Rat Slayer, has humbler tastes. All he wants is a two-acre outdoor run stocked with mice, squirrels, and rabbits so he can keep up his hunting skills and have delicious critters to eat whenever he wants.
One thing all three of my pampered pusses agree on, though, is that they deserve a life of absolute luxury. Daily massages, fresh food, and an assortment of spa treatments (as long as those spa treatments don't involve water, of course) would be on the agenda.
They also said they'd hire a 24-hour petting service. They're pretty annoyed that I have to go to work and therefore can't be available to give them love and lap time whenever they want it. When I asked them if they'd hire me for the task, they said they weren't sure.
It's all about the fingernails, they said.
You see, my best friend in the world has lovely long fingernails. Thomas, in particular, loves those special skritches that only a fingernail-equipped person can provide.
I have to admit, there's no way I can compete with my friend when it comes to the fingernail issue. I've never been able to stand growing my nails past the end of my fingers. Maybe it's because I bit my nails when I was a kid. Maybe it's all the time I spent chopping and carrying firewood and digging around in the garden; long fingernails are actually a handicap when performing tasks like that. And honestly, after so many years of keyboarding with my hands as they are, I don't even think I'd be able to type if I had long fingernails.
I told them I'm a little bit hurt by the fact that they would actually think of hiring someone else after all the years I've taken care of them. I've even been their secretary for eight years! Eight years of weekly advice columns, without a break, and still they'd replace me?
When I told them that my friend hates to write, they changed their tune pretty quickly!
They realized that with $13 million they could hire both of us and still have lots of money left to spare.
And what about those trips to the vet?
No more trips to the vet, they said. They want a cat-only vet that makes house calls!
Now, that could be arranged.