If you always have a lot of fleece lying around like me, here's a fun way to use up some of the scraps — making cat toys! These fleece toys super easy to make, and my cats love batting them around the house.
The 2 DIY Fleece Toys For Cats
Fleece Knots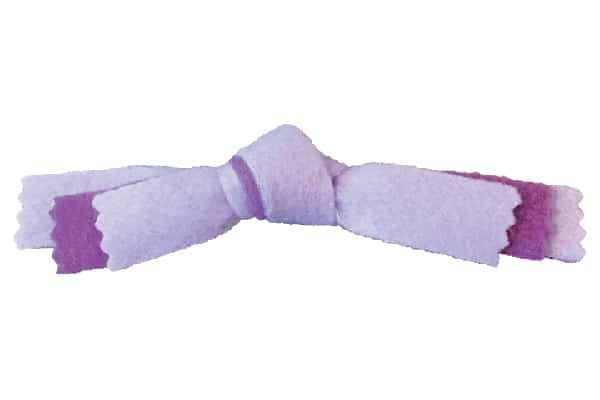 What you'll need:
Fleece Scissors or rotary cutter
Pinking shears (optional)
Instructions
Cut the fleece into 1-inch-wide strips; the length of the strips can vary, but I've found that they're easier to work with if they're about 8 to 10 inches long.
Take two or three strips, and tie them into a single knot.
Trim the edges so the fleece is even on both sides. I also like to trim the edges with pinking shears to give them a more finished look.
Fleece Fringe Rings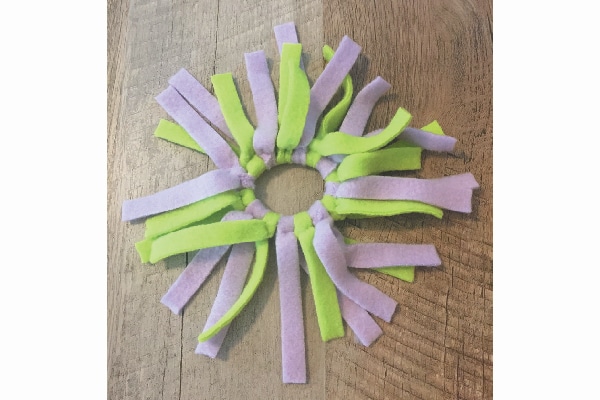 What you'll need:
Fleece
Scissors or rotary cutter
Hair band
Instructions
Cut the fleece into strips that are 1/2-inch wide and about 4 inches long.
Tie the strips all the way around the hair band. I was able to get about 15 to 16 strips around a medium-size hair band. Tie the strips in a double knot so they stay on.
If the strips are too long, you can trim them down to whatever length you'd like.
Safety tip: If your cat is a toy destroyer, supervise her when she's playing with this toy. You don't want her to rip off the fleece and swallow it or the hair band.
Tell us: Would you ever make these fleece toys for your cats? What types of toys do your cats love?
Read more DIYs for cats on Catster.com: