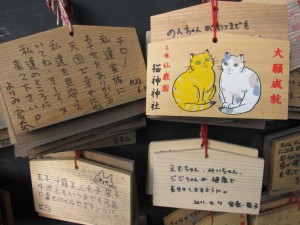 I love my cats like I love my human family and my dearest friends with all my heart and without conditions and I know on a gut level that they love me back. It doesn't matter in the least that I know there's a 99.9 percent chance I'll outlive my feline friends, because we spend our lives enjoying each day together.
But all of us know that eventually we'll have to say goodbye to our beloved cats, and we know our hearts will break when that day comes. We also know that few people will understand the depth of our grief. In the Western world, it seems that we're just not allowed to love our cats enough to ache to our core when we lose them: never mind that our relationships with our cats last longer than a lot of marriages, and that our feline companions unconditionally love us through our best and worst moments.
In Japan, though, it seems there's much more respect for the importance of cats in their human caretakers' lives, and much more room for honoring our lost companions.
On a recent whirlwind tour of that nation, Andrew Evans of National Geographic's Digital Nomad blog ended up in the city of Kagoshima, where he took a walk around the gardens of the Sengan-en estate and discovered Nekogami Jinja, the Cats God Shrine.
After a long military adventure where cats proved particularly helpful, the Shimadzu lord built the shrine in 1602 as a way to express his gratitude for their service and loyalty. So unlike most Shinto shrines, Nekogami Jinja has two ceramic cat statues right at its center.
To this day, cat lovers from all over the world come to the shrine to remember their companions. They write messages on wooden plaques wishes and prayers to their feline friends and hang them on a board designated for that purpose. On the annual celebration day of Toki-no-kinenbi (Time Day), as part of a ritual honoring the Shimadzu lord's cats, Shinto priests read out the names of dead, missing, and sick cats from a registry filled out by pet owners.
I've always believed that some kind of ritual to remember a beloved cat is a critically important part of the grieving process. We have funerals for people, after all, so why not for the cats that shared our lives and filled our hearts with love?
It doesn't matter what kind of ritual or activity it is, or whether it's religious or spiritual or totally secular. Just sitting down with some photos of your cat and thanking her for the life she shared with you is a wonderful way to honor her presence and bring a sense of closure. It won't stop the grief, but it does serve an important purpose.
When my beloved tortie cat, Shaughnessy, died at the age of 18, my brother dug her a grave on the family property (it's a large parcel of land in a rural area and it's legal to do such things there). I placed her body inside, wrapped in a beautiful piece of cloth, and helped to put the dirt back in around her. Once the grave was filled in, I sat there for several minutes in silent contemplation and placed some rock crystals and flowers on top of the mound of dirt. I still missed my harlequin-faced kitty like crazy, but I felt like I'd completed a circle: I was there when she was born and she died in my arms, and completing that ritual gave me the chance to honor her companionship and love.
I wish we had "cat's god shrines" all over the place, so we all have the chance to send messages on the wind to our beloved companions on the other side of the Rainbow Bridge and demonstrate how much their lives meant to us.