It's been five-and-a-half years since Homer, the blind cat forever immortalized in Gwen Cooper's touching memoir Homer's Odyssey, passed away. When she thinks back on the 16 wonderful years they spent together, the image that instantly comes to mind of her affectionately nicknamed Homer Bear, is of him sitting proudly, his ears erect with the Empire State Building in the background. Tall. Proud. Indomitable. And then, she thinks of the special purr he reserved for waking her up in the mornings announcing that they were about to spend another day together.
How Homer inspired Gwen to give back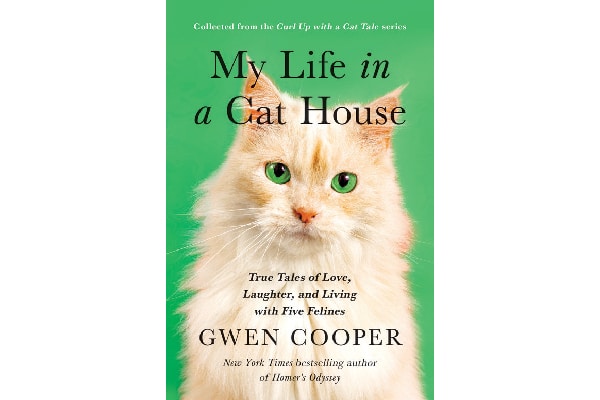 The tiny kitten Gwen adopted when he was only 3 weeks old changed her life forever. And, in turn, she has changed the perception of blind cats and how they can function and love like any other furry feline to an audience of millions around the world. Gwen has always been a cat person and had two felines when she adopted Homer. At the time, she was working for a nonprofit organization that focused on recruiting volunteers for all kinds of projects both human and animal. Propelled by this amazing little creature who hijacked her heart, she decided to write about him.
He certainly helped her find her literary voice. It turns out Gwen is a wonderful wordsmith and has gone on to write four memoirs about Homer (and her other felines). She's been labeled with the accolade New York Times' best-selling author and thus has a new career. This has given her an incredible platform to educate people about blind cats around the world, changing the previous belief that they were unadoptable.
"From Homer, I'd learned that even the most 'imperfect' of creatures is capable of loving with a deep and perfect love. All they need is someone to give them a chance," Gwen says. "They are no different in their demeanor around the home than any other cat." Like all cats, Homer loved games, and his favorite toy was a little stuffed worm with a bell in its tail that had first belonged to his older feline sisters.
"He was particularly fond of anything with bells or that made noise," Gwen adds. There's actually a story about Homer's favorite toy called The Worm Has Turned in Gwen's latest book My Life in a Cat House, which is a collection of cat-centric stories taken from short stories that she publishes as a series online, a kind of regular literary fur fix for her millions of stalwart Homer fans that still engage with her — 1.5 million, in fact — on a weekly basis.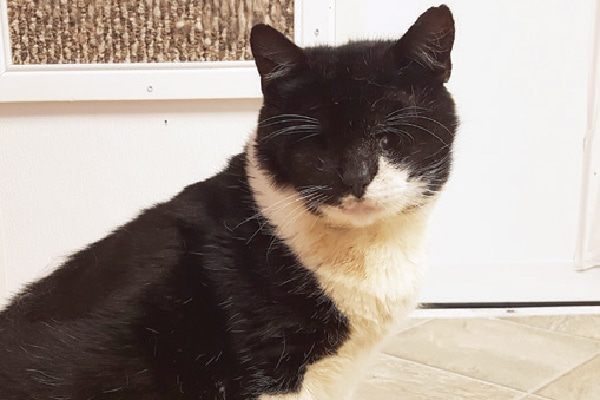 Since the publication of her first book, Gwen has always supported animal organizations by donating a portion of her royalties (and sometimes all her royalties for a fixed time period when a new book is published). One such organization that has benefitted from her generosity is the Blind Cat Rescue and Sanctuary Inc., a nonprofit organization in St. Pauls, North Carolina, that offers blind felines a safe and loving home for the rest of their lives.
According to executive director Alana Miller, she currently has 105 cats in her care. The current spokescat for the sanctuary is a black-and-white kitty named Gabriel, a miracle survivor of Hurricane Irma. He was found living under a car in the aftermath of the devastation, with multiple wounds and suffering from a bad upper respiratory infection and an eye infection that ultimately robbed him of his sight. On finally capturing him, his rescuers also discovered that he tested positive for feline leukemia. That's when Alana stepped in, offering him a forever home at the Sanctuary.
From Alana's perspective, Gwen's books about Homer have definitely changed attitudes toward blind cats for the better. "I hear from many people now that have adopted blind cats," she says. "Also, many shelters now give them a chance and do not immediately euthanize them."
Today, Gabriel is a very handsome, happy and healthy 8-year-old cat who no longer has to live in harm's way on the streets. He's enjoying his life and all the love and attention he gets from BCR staff and volunteers. His favorite thing, according to Alana, is lying in a soft bed and playing with catnip.
Losing Homer
"With all he's been through and where he is now, Gabriel is why BCR exists — to be the forever home for our neediest cats," Gwen adds. When Homer passed away, Gwen poignantly wrote in his obituary that was published in the Huffington Post: "Once in a great while, one tiny creature can have a spirit so big that it spills over and makes the whole world just a little bit better, and happier, and more inspired, than it was before. Even in the darkest places are small lights that can grow and grow until they warm us all. "In the end, and after a prolonged illness, Homer was too tired to fight anymore. And I had to love him enough to let him go to sleep." In losing Homer, Gwen learned something else, too.
"Listen to your cat," she says. "In the end, Homer adamantly refused medications. There is a message in that. And when the time comes to end their suffering, don't wait until the worst day. It's important to be able to say goodbye properly."
#pawsforthiscause So what can YOU do to help blind cats in need?
According to Alana Miller, executive director of The Blind Cat Rescue and Sanctuary Inc., a blind cat is not a special-needs or handicapped cat, so there is no difference between adopting them or a seeing cat.
If you volunteer at a shelter you can ask to specifically care for any blind kitties and help promote their adoption on your social media channels.
You can sponsor a blind cat who lives at a rescue or sanctuary.
If you need a gift for someone, you can also arrange a sponsorship in their name.
School children are always looking to help promote causes. If you are involved in your child's school, suggest a fundraiser for a shelter that works to adopt blind cats in your area.
Thumbnail: Gwen Cooper (pictured with Homer), is a New York Times best-selling author and helps educate people about blind cats. Photography ©Jessica Hills.
About the author
Sandy Robins is an award-winning multi-media pet lifestyle expert, author and pet industry personality. Her feline muses, Ziggy and Tory, like to disrupt the workflow by demanding games of fetch with wand toys and directing food operations in the kitchen. Learn more about Sandy at sandyrobinsonline.com.
Editor's note: This article originally appeared in Catster magazine. Have you seen the new Catster print magazine in stores? Or in the waiting area of your vet's office? Click here to subscribe to Catster and get the bimonthly magazine delivered to your home. 
Read more cat news on Catster.com: