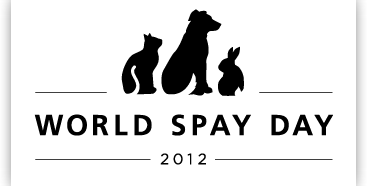 World Spay Day is an annual event of the Humane Society of the United States and Humane Society International to raise awareness for spay/neuter, a proven way to save animals' lives by spaying or neutering pets and feral cats.
Spaying and neutering is super important to help control overpopulation, because when there are more pets than people who want or can adopt them, the animals end up homeless or are euthanized in kill shelters.
Did you know that one unspayed cat and her descendants can produce 420,000 kittens in seven years? And that there are approximately 5,500 animals born each hour in the United States? Add that to the fact that there are already four million unwanted pets in shelters across the country, and you can see how important this is.
And that's just pets in shelters. I have a tremendous soft spot for feral cats, and making sure all of them are fixed, too, is important to keep their numbers under control. The HSUS estimates that there are more than 50 million feral and stray cats in the United States. Fifty million!
So how can you help today (and every day)?
Spread the word about World Spay Day on your Facebook and Twitter accounts and tell all your friends!
Help TNR feral cats in your area.
Donate to a local group that manages feral cat colonies.
Get your own kitties spayed and neutered.
The ASPCA has a great resource where you can search for low-cost spay/neuter clinics in your area, so if you cost is an issue, that could help!
What are you going to do to help spread the word about World Spay Day?