LeeAnn Haggerty didn't think twice when someone left a duct-taped cardboard box in the lobby of Fredericton SPCA in Fredericton, New Brunswick. It was the holidays, after all, and a lot of people were dropping off donations. She assumed the box was filled with computer paper or cleaning supplies. Then the box started meowing.
"We realized there were actually some living beings in there," says Haggerty, director of education and training at the Fredericton SPCA. "I took the tape off and opened it up, and out popped Tiny's head."
Tiny, a handsome silver-gray cat, weighed more than 30 pounds on Dec. 30, 2011, the day he was abandoned at the shelter. He dwarfed the normal-sized kitty crammed in the box beneath him.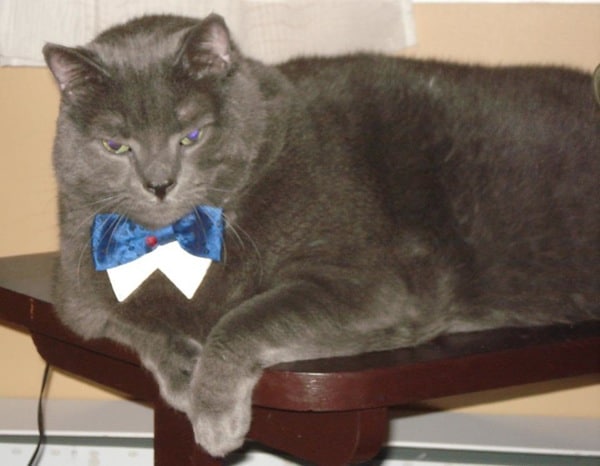 Intake examinations and blood work revealed that Tiny did not suffer from common weight-related illnesses, such as diabetes or organ damage. But at double his ideal body weight, Tiny's quality of life was severely compromised by his obesity. His coat was dull, and he was unable to groom himself properly. He couldn't enjoy normal interaction or play.
"When he first came in, he had very little energy or endurance," Haggerty says. "We would try to engage him in play, and he would just sit and move his front paws to try to catch something. He might get up and take a few steps and then sit down again."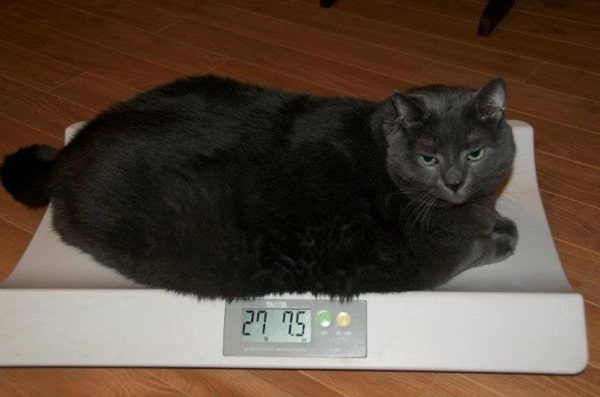 Tiny was also severely stressed due to the trauma of "being taped up in a box and dropped off somewhere completely different and foreign." In response to this stress, he went from overeating to not eating at all. This was problematic; if cats stop eating for more than a couple of days, they can develop fatty liver disease and go into liver failure.
Tiny's stress decreased when he went home with his foster mom, Nancy. By mixing his food with tuna juice, Nancy gradually got Tiny eating again. Once Tiny stabilized, his weight loss journey began. Nancy transitioned him to Royal Canin Calorie Control food. Because of his size, he ate three 165-gram cans per day and a quarter cup of dry kibble. She also increased Tiny's activity by playing with him for at least 10 to 15 minutes each day.
"Tiny is really motivated to play and chase things like feather wands and laser pointers," Haggerty says. "She was able to use those tools to get him to be more active."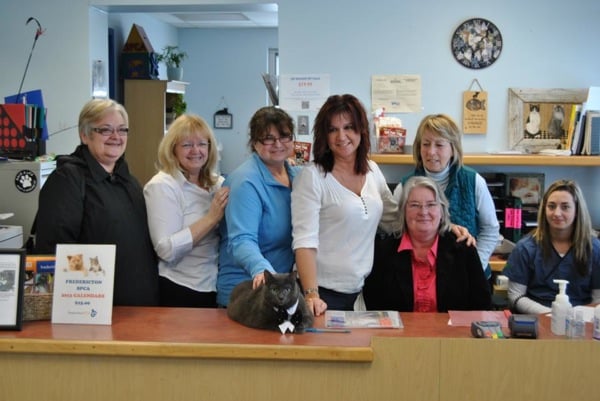 To ensure Tiny stayed within his target weight-loss range of no more than a quarter pound a week, a vet closely monitored his progress. Nancy brought him to the SPCA regularly for weigh-ins, and his increasingly svelte photos were posted to his Facebook page so his fans could cheer him on.
As Tiny got thinner, he even got into modeling. He regularly shows off ties from Tiny's Ties, the Etsy store bearing his name, which features bow ties and neckties handmade by volunteers for cats and dogs. All of the proceeds from Tiny's Ties go to medical funds for special-needs animals like Tiny. Bonus: The adorable ties make kitties look like furry little businesspeople.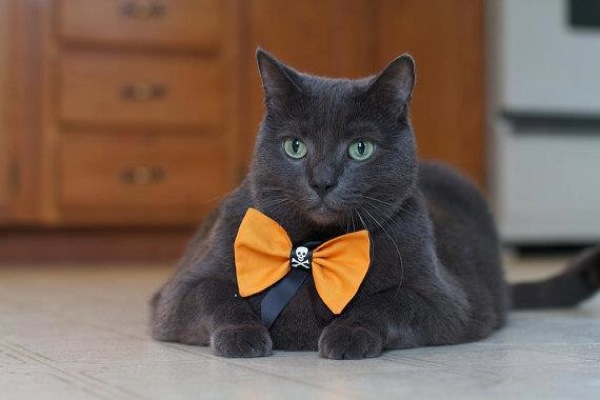 After a little more than a year on a strict diet and regular exercise plan, Tiny reached his goal weight of 16.75 pounds this January. Haggerty says the approximately eight-year-old Tiny seems years younger. Also awesome: On the anniversary of his weight-loss journey, Tiny was adopted by Nancy, his foster mom.
"He's like a kitten now," Haggerty says. "He runs around the house, he jumps, and he can sit on a windowsill ÔÇô- before he could never fit. He can watch the birds. Seeing that transformation has been great."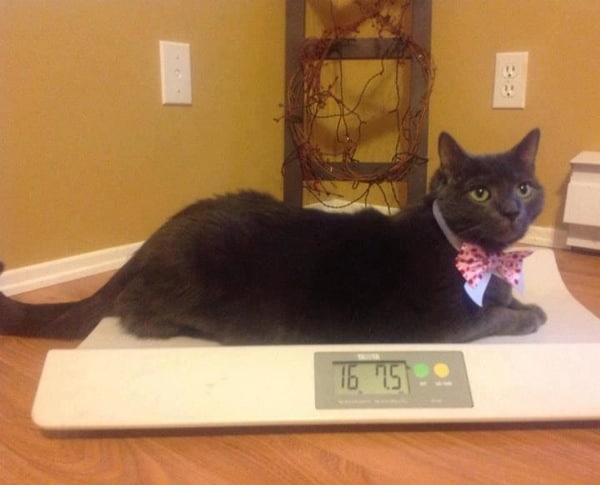 For Haggerty, another exciting part of Tiny's journey has been "raising awareness that we need to look at exercise, nutrition, and enrichment" for cats as well as dogs.
"A lot of people don't think about exercise for their cats," Haggerty says. "With dogs they know that before they go to work they have to walk the dog, and when they get home from work they have to walk the dog, but what about cats?"
By sharing Tiny's experiences, SPCA staff has encouraged people to start scheduling play sessions with their cats; in fact, one of Tiny's Facebook fans said that she has started getting up 15 minutes earlier to play with her cats before she goes to work. Haggerty also encourages people to pay attention to what and how much their cats are eating and to reconsider their cats' attention-seeking motives.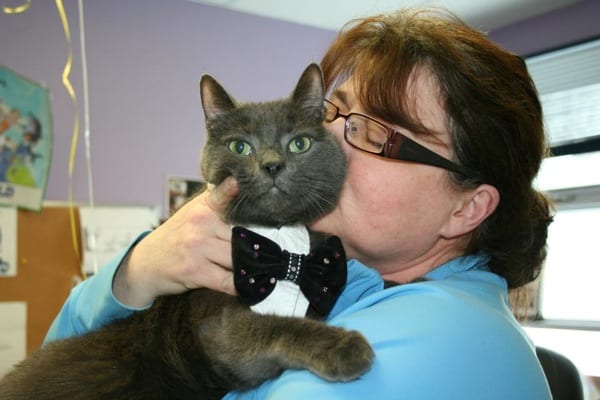 "Sometimes cats will meow and do things that make us think they're hungry, but maybe they're just seeking attention," Haggerty says. "So instead of getting them treats or feeding them, play with them or brush them. Don't just automatically think they want food and give it to them."
Diet and exercise are vital, but Haggerty cannot stress the importance of contacting the veterinarian enough before trying to help a cat lose weight. The oversight of a vet can prevent cats from losing weight too quickly and encountering health problems such as fatty liver disease, which causes liver cells to be replaced by fat cells and can be fatal.
"Weight loss really is a serious issue," Haggerty says. "It needs to be done slowly and steadily."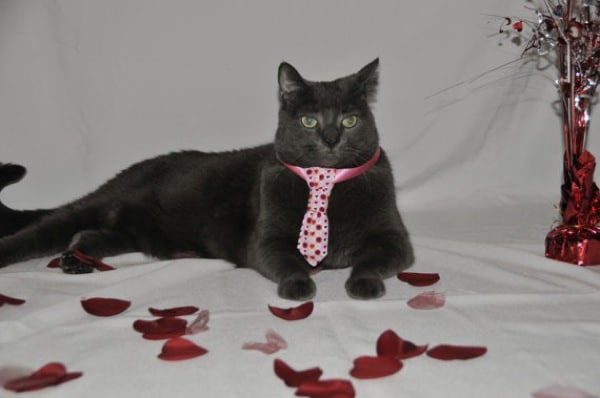 Thanks to his slow and steady supervised weight-loss plan, Tiny is now sitting so pretty that he's been switched to a maintenance diet. And even though he's found his forever home, Haggerty says he will still be a kitty care ambassador for the SPCA.
"Cats really are members of our families, and we want to provide the best care that we can for them," she says. "We've been able to inspire people to provide the care they want to for their furry family members, and that's really rewarding."
Do you know of a rescue hero ÔÇö cat, human, or group ÔÇö we should profile on Catster? Write us at [email protected].