Celebrating Stray Cats in Major League Baseball
The Shea Strays are a part of the stadium's lore, and many wan the Mets to take the cats with them to their new stadium.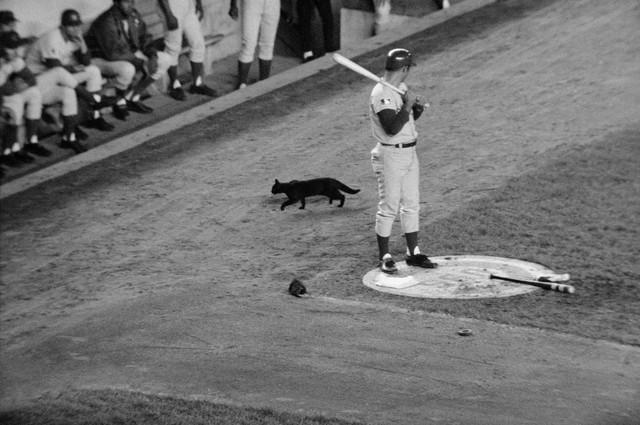 In 1969 a black cat pranced in front of the Chicago Cubs dugout at Shea Stadium. The Mets went on to beat the Cubs for the National League East division title and won the World Series. The Shea strays have long been part of the stadium's lore, sometimes scampering across the field during games.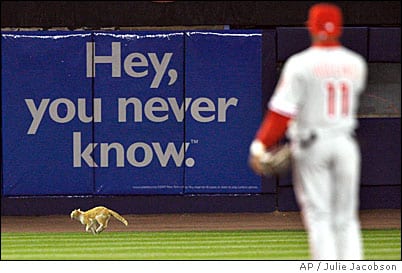 Now, Bryan Kortis of Neighborhood Cats, a Manhattan rescue group, wants the Mets to transplant "Shea Stadium's feral felines to their new home at Citi Field. They're part of Mets lore, so why not keep them around?"
A spokeswoman for the city Parks Department said Shea staff believes only a couple of cats live at the ballpark. Once captured, they are taken to shelters. Anthony Rizzo, the parks department coordinator at Shea, said yesterday he's never seen cats at the stadium.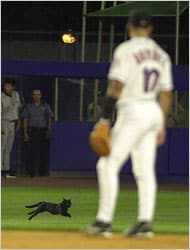 But Kortis estimates that the stadium may be home to 20 to 40 cats. Its proximity to Flushing Bay makes it a haven for rodents. "When they take out a tarp and roll it and a cat pops up … it'd be unlikely there'd only be one or two," Kortis said.
The parks department says there is no plan to move the cats to Citi Field. Kortis said cats could be useful at the new ballpark. "They're right near the water, and if they don't have them, they're going to be overrun with rats," he said.
The Neighborhood Cats organization is dedicated
to helping feral cats in the New York area. They are advocates of TNR — Trap-Neuter-Return — as the most effective method to end the feral cat overpopulation crisis faced in the United States. Their mission is to "make TNR a fully understood, accepted and practiced method in every community." They've created award-winning educational materials, including books, videos, and online training focused on feral cat management. Click here for information on how to order their TNR kit and other educational materials.
Find out more about Neighborhood Cats, the feral cat experts