My sweet Siouxsie is going on 19. She was very healthy until last year. She developed hyperthyroidism, which we tried unsuccessfully to treat with I-131 therapy. Her arthritis has gotten a lot more painful, and to add insult to injury it looks like she's nursing a case of chronic pancreatitis.
Thomas has been giving Siouxsie lots of love — and for the first time in her life, she's letting him:
It's been difficult watching my beloved old lady decline like this. She adopted me when she was a six-week-old kitten, and it's hard for me to imagine life without her. Fortunately, I've thought about what to do when this time came, and I've chosen to undertake palliative care.
Palliative care, by definition, is care delivered as a cat approaches the end of her life. It involves declining or withdrawing the pursuit of curative therapy in favor of maximizing quality of life.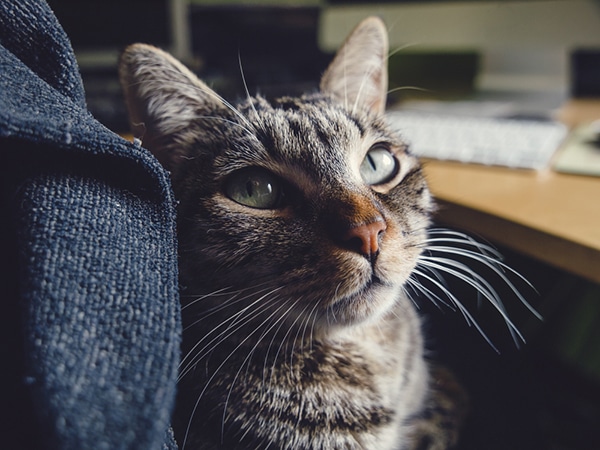 Here are some things you should know about palliative care:
1. It's not just for cancer patients
Most people think of palliative care for people or pets who are dealing with terminal cancer. The truth is, any chronic and progressive disease can warrant palliative care.
2. It's not a copout
Maybe you feel guilty because you can't afford lots of expensive advanced treatments for your cat, or maybe you feel like you should be doing more. The truth is, all those expensive treatments might not extend your cat's life, and we're fortunate to be able to give our cats the gift of relief from suffering.
3. Pain control is the most important aspect of palliative care
Pain has a huge impact on a cat's quality of life, but because cats are instinctively driven to hide their pain, it may be hard to realize just how much a cat is suffering until the pain is relieved. In Siouxsie's case, my vet and I started her on buprenorphine, which has really improved her well-being. Reduction of nausea and other uncomfortable symptoms is also important in palliative care.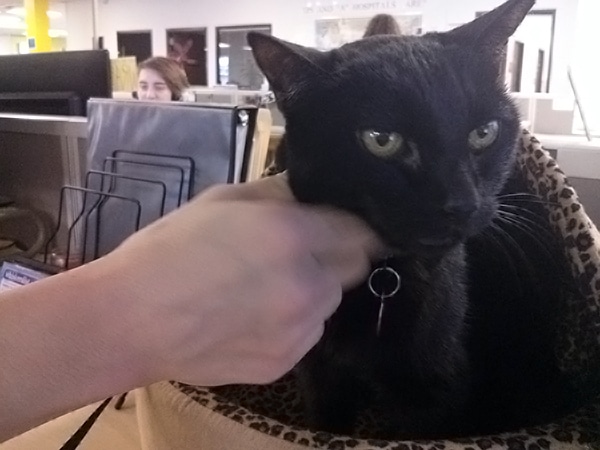 Everyone at my office loves Siouxsie, and when they learned she was feeling lousy and we might be getting near the end, lots of people came to pay their respects.
4. Be realistic about your cat's state of health
The approaching death of a beloved cat is a very emotional time, and it can be hard to make an objective assessment of how your cat is feeling. The Feline Quality of Life Scale developed by Alice Villalobos can be a huge help if you're confused or overwhelmed.
5. Discuss euthanasia ahead of time
When I took Siouxsie to my vet, I confessed that I'm worried about letting her go too soon and scared of doing it too late. He was very compassionate and reassuring, and he even offered to come to my home and do the euthanasia if I wanted that. (For the record, I do. When the time comes, she'll be taking her last breaths in the comfort of her home.)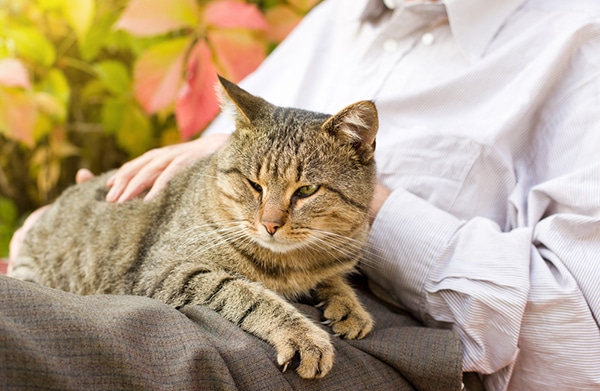 6. It's not an easy road, but it can be a beautiful one
I've named this stage of Siouxsie's and my journey "the long goodbye." It's really hard sometimes: I can't help but wonder what it will be like without her around, but I know it's crucial that I stay emotionally and spiritually present. Every day is a blessing.
By choosing palliative care, I've chosen to face the reality that Siouxsie will die sooner rather than later. My conscience is clear about this choice: I love her too much to let her suffer unnecessarily, and I'm not going to let my ego get in the way of her dying with dignity and grace.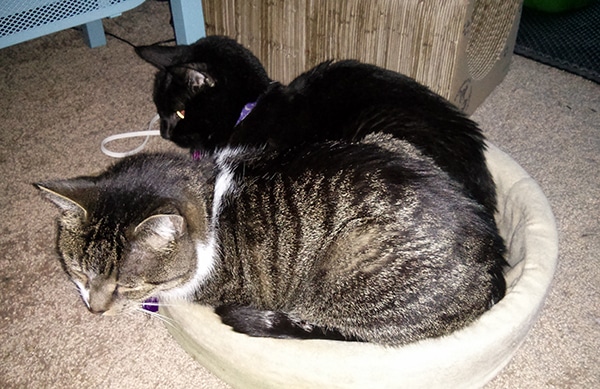 Thomas and Siouxsie share the heated cat bed. These days she appreciates his attention more than ever.
Have you chosen palliative or hospice care for your cat? Do you feel it was the right choice? Would you have done anything differently if you could go back and do it all over again? Please tell us about it in the comments.
Read related stories by JaneA Kelley:
---
Featured Image Credit: Kginger, Shutterstock