Hey, Einstein,
My new family is really nice to me; there's always food in my bowl and they keep my box clean and scooped. But they complain that they want me to be friendly — sit on their laps and hang out with them. Why should I, when I have everything I need? Any suggestions?
Stony
Yo, Stone Cold Boy,
If your people want you to be chummy, it's up to them to inspire your friendship. It's bonding time.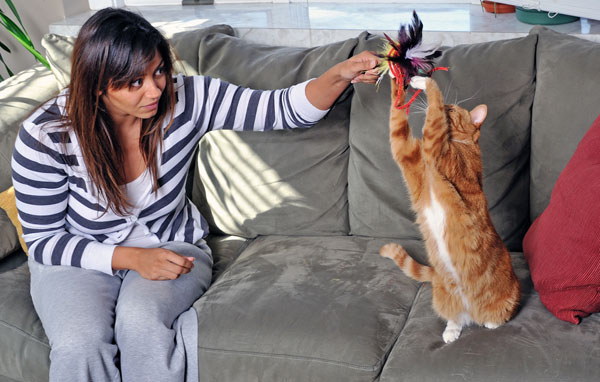 How do humans bond with each other? It depends on the human. Men often bond by going out in the middle of nowhere, eating and drinking stuff that's not very good for them, peeing in the woods, and killing small innocent creatures. Other guys sit around in loincloths pounding on drums talking about their feelings. You wouldn't look good in a loincloth. Women bond over a yummy dinner, talking on the phone, and power shopping in a pack.
Get ready to be bribed
There's a lot of potential here. Like humans, cats bond with people who make them feel happy. Your people can make you feel good and happy by doing things you enjoy. It's a matter of bribing. That's an ugly word, so think of it as the bonding that happens when humans date. The dude takes the female to someplace that serves food she likes. If it were me, I'd take her out for sushi, 'cause I can't find a place that serve lizards or mice.
If they won't bring you sushi, your people can treat you with something else you'll like, such as letting you lick turkey baby food off of their fingers. (Gerbers is safe and doesn't have any garlic or onion that could cause Heinz anemia.)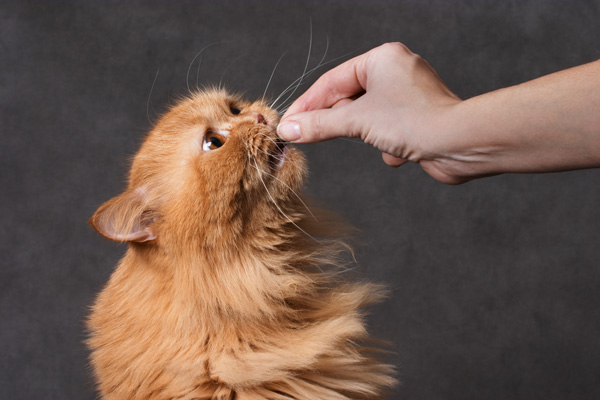 Tuna flakes, available at most pet supply stores, make great bribes because they're light and they taste good. So when your mom gives you bonito flakes, it tastes like you're getting lots to eat, but it won't pack on the old waistline. Also tiny chucks of turkey breast from the deli should make you their best friend. Although the way to a cat's heart is through his stomach, they don't want to give you a lot of the junky treats available in pet and grocery stores. Lots of them are made with flour and some even have sugar. Those empty calories will just inflate the old kitty girth.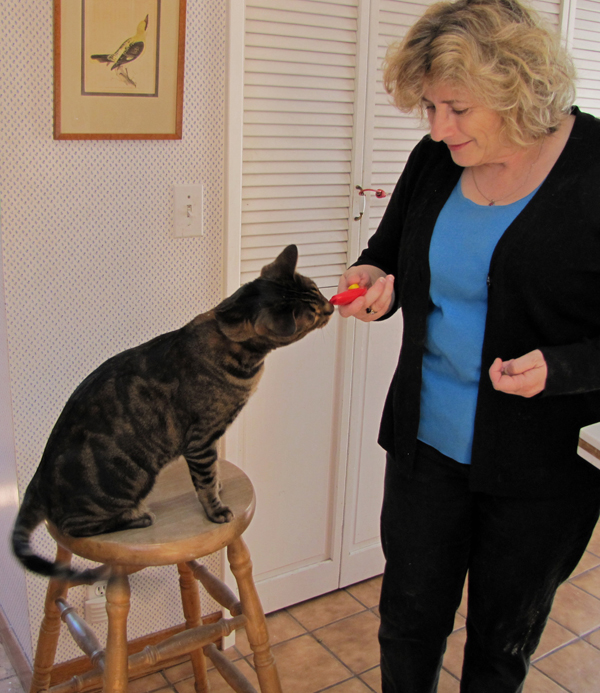 Once your people have you hooked on the treat of choice, they can start clicker training. Clicker training means anytime you hear the clicker you get a treat, but you have to work for it. With the clicker you can learn to do tricks like shake hands and wave. Okay, shaking and waving is dumb, but whenever you do the trick, you get a treat. Your people think they're training you, but it's really the reverse and you're training them to give YOU the treat.
We kitties are born hunters — bona fide serial killers of small creatures. In the wild our moms would teach us to kill prey when we were little kittens. It's hardwired into our brains. Just because you live in a house doesn't mean you don't need to "kill" something every now and then. Remember how guys bond by hunting? So do we. If your people give you an opportunity to kill something little and cute, you'll be their best friend.
Since humans don't particularly like blood splatters on the carpet, they can use prey substitutes like feathers on a string. With a little practice on your human's part, you'll be leaping and doing backflips to get at that toy. Kitties love routines, so it would be great if they can bring the toy out the same time every day. Soon, you'll be looking forward to the game.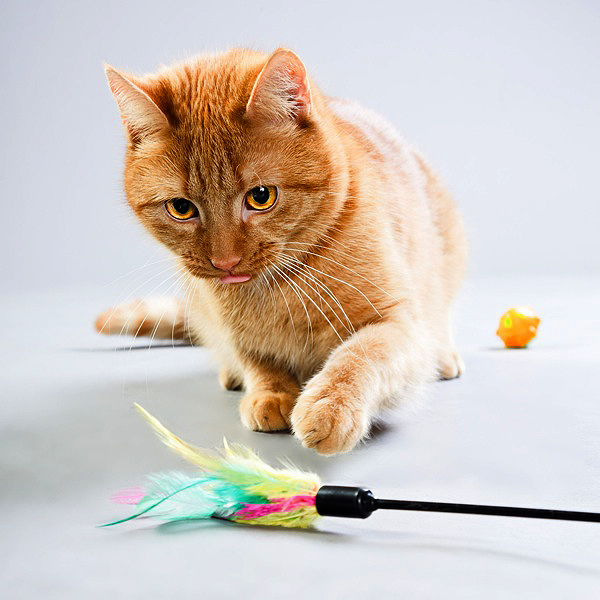 Even a basic single pheasant feather will give you something to exciting to kill without the blood cleanup. (Get pheasant feathers at a hobby shop.) It's the call of the wild. You can pounce, chase grab and bite just like nature tells you to do. And even though you're pretending to be the great hunter, you know there's a human operating that feather or the stick. And because you know your person has to open the baby food jar or swing the feather, you'll want to be around them. After a while, you'll hang out with them cuz you like them, not just cuz of what they can do for you.
Read more from Dusty:
Got a question for he who knows everything feline? Just Ask Einstein in the comments below and you might be featured in an upcoming column. (Letters don't have to be written from the cat's point of view.) Remember, any change in your cat's behavior or activities could be a symptom of disease and should be investigated by your vet, even if it unfortunately involves glass tubes and cat posteriors.
About the author: Einstein's assistant, Dusty Rainbolt ACCBC, is the vice president of the Cat Writers' Association, editor-in-chief of AdoptAShelter.com, and a member of the International Association of Animal Behavior Consultants. She's the award-winning author of eight fiction and non-fiction books including her most recent paranormal mystery, Death Under the Crescent Moon<.