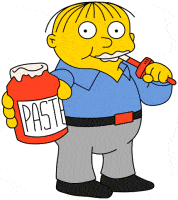 My cat likes to consume coconut oil, I use it as a moisturizer. Does that mean the cat is lacking something? Fat?
Kim
Nashville,TN
Dogs, of course, are famous for eating the inedible. I have treated dogs after they have consumed toys, rocks, strings of Christmas lights, spoons, and buckets of hardware. And, of course, feces. Eating inedible objects is called pica. Pica can be very dangerous: inedible objects can be toxic or can lead to intestinal obstruction.
When it comes to pica, dogs are not alone. Cats do it too.
Cats generally aren't as extreme in their affinities for the inedible. But many cats enjoy rubber bands, hairbands, pieces of plastic, ribbons, and string (all of which can obstruct the intestines). Earplugs are a perennial (and extremely dangerous) feline favorite.
A less dangerous common feline nosh is moisturizer. Many cats enjoy lotion, cocoa butter, aloe vera gel, and other skin remedies.
The fact that your cat consumes coconut oil does not mean that she is lacking something. It means that coconut oil smells and tastes interesting to her. Consuming such products is not exactly a natural feline behavior, but it isn't abnormal either. You shouldn't encourage her to do it, but it probably won't hurt her.
Most moisturizers are non-toxic. That's because when it comes to pica, cats and dogs aren't alone. Children do it too. Have you noticed that glue, crayons, putty, paste, and magic markers generally are non-toxic?