If there's one thing that's always true about living with cats, it's that their stuff gets everywhere. So keep cat toys and other cat accessories organized and out of the way with these five "neat" ideas.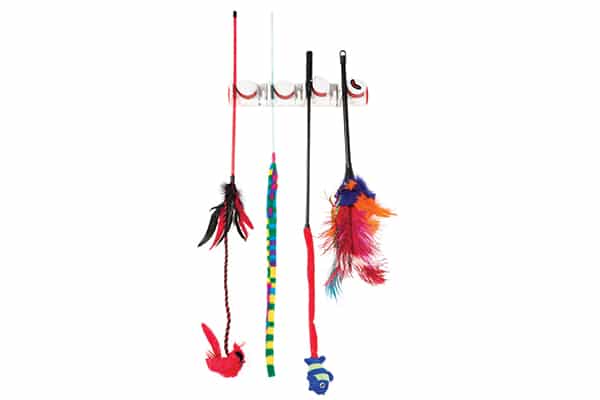 The 5 Top Ideas for Organizing Your Cat Toys & Supplies
1. Store cat toys and treats in plastic drawers
Buy a three-drawer organizer, which you can find at any big-box store. Use one drawer for grooming supplies, one drawer for treats and one drawer for toys. The best thing about the toy drawer is that it allows you to cycle toys in and out to increase your kitty's interest in them.
---
2. Hide dry food in lockable bins
Instead of leaving your dry cat food out in a bag, where your cat may find and eat it, use a lockable bin. As a bonus, it will stay fresh longer. If you feed canned food, store it on shelves in your pantry. (Be aware: If you take the food out of its bag, keep the bag's lot information stored somewhere. You'll need it in a food recall.)
---
3. Store cat litter in a rolling tote
It's more economical to buy cat litter in large amounts, but what do you do with that huge bag when you get home? Invest in a rolling storage tote. It keeps you from having to lift all that litter every time you need to top up a box, and it's easier to move around. This is especially helpful if you have multiple litter boxes in different rooms.
---
4. Use a broom and mop hanger for string cat toys
Don't keep "thing-on-a-string" cat toys out in the open — your kitty could end up eating something she shouldn't. Use a broom and mop hanger in your closet to easily store and organize these interactive cat toys.
---
5. Organize your cats' records with an accordion folder
Keep track of all of your cats' important medical records, vaccination certificates, pet insurance coverage documents and other health-related papers in an accordion folder with multiple pockets. Put each kitty's documents in her own section, and use the front pocket for information you'll need right away, such as vaccination certificates.
Thumbnail: Photography by Gina Cioli/Lumina Media.
Read more about cats and toys: