I've written before about my cat Zorro, the feral who showed up at our house last fall and lived through a horribly cold winter in our garage. Though I never thought it possible, I was able to trap him and neuter him in March, right before we moved across the country.
A Catster commenter had the feeling that Zorro would make a great indoor cat. I have to say, my intuition said the same thing. And it's proving to be true. Zorro is turning into a real lover. He adores being combed, brushed, and spending as much time as possible in my lap. (In Zorro's case, combing, brushing, and petting far outrank eating.) I couldn't be luckier or happier. But I've been aware, all along, that this has been a huge transition for Zorro, even though he seems to be adjusting so well.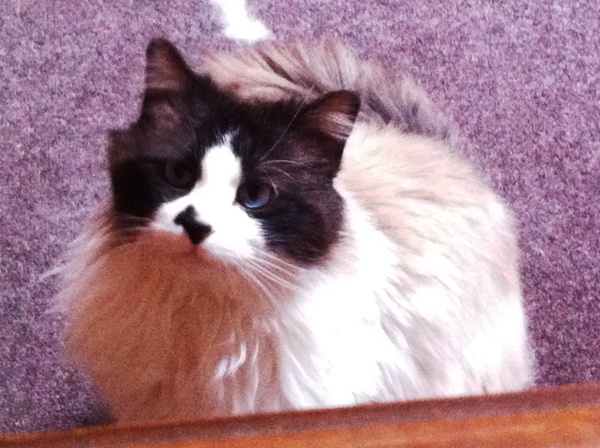 Here are seven things I've been doing to make it go as well as possible for Zorro. They might help you if you're trying to acclimate a former feral into your household as well.
1. Give kitty his own space …
Once the actual driving part of the move was over, I set Zorro up in a quiet room. The room was light, with few places to hide, but it did have a large, dark, empty closet. That turned out to be a real benefit. Zorro would go into the closet and hide. I kept the sliding doors mostly shut to to give him a sense of security, and to allow him a little space to come in and out.
He had a heating pad, which he loved when he was still outdoors and in our garage. I put it in the closet, figuring it would be a little bit of familiarity and comfort for him.
If you have something that can provide that for your former feral, it will help in the transition process. I've given him some toys as well, and as he's gotten more comfortable, he will play with the toys on his own. But if I am in the room, it's all about lap time and cuddling — that what he wants.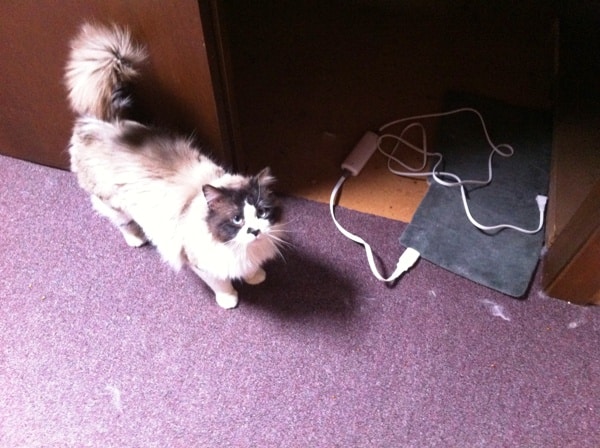 2. … but not too many hiding places
Feral cats, even friendly ones, will probably hide at first, and maybe even for a long time. You don't want them getting into a place they can't get out of.
In the room where Zorro is staying, there's a crummy old built-in bookcase that's going to be torn out. Zorro managed to get behind it the first few days. Luckily there was nowhere he could go, and he came out when he was hungry. I plugged the hole and encouraged him to hide in the dark closet, where at least I could know if he was okay.
3. Be observant and model your actions accordingly
Helping a former feral requires good observation. If he seems to be doing better and making progress, then you can change what you're doing.
For example, the interior door to Zorro's room has a window, so I could see what was going on in the room. At first, Zorro was always in the closet, growling, when I entered the room. But as he became more comfortable, he would be out in the room, waiting, when he heard me approaching.
Now he waits at the door and talks and chirps. I chirp back. As he became more comfortable, I reached out accordingly. Every cat will be a little different as they journey from former feral to hopeful member of your household.
You don't need to stress out a cat any more than he already is. I tried to remain calm and quiet when approaching Zorro, I talked in a calm and quiet voice, and I learned not to get up or down too quickly or to inadvertently swing my arms. I kept my movements calm and constrained.
4. Use available products to ease the stress
On the road, I used some products, but I have continued to use them as Zorro acclimates. I have a Feliway diffuser in his room. I use Feliway spray. And I use Peace and Calm essential oil, by rubbing a little into his fur.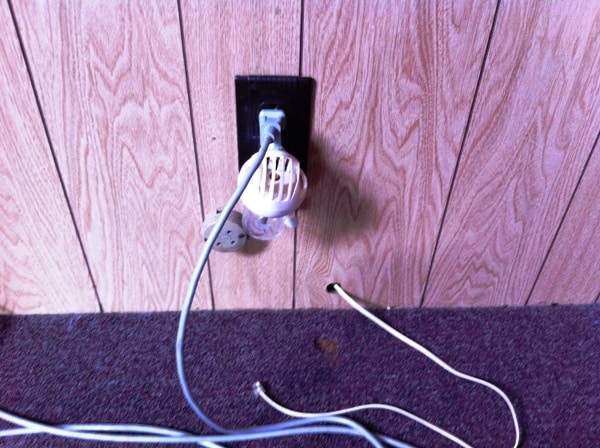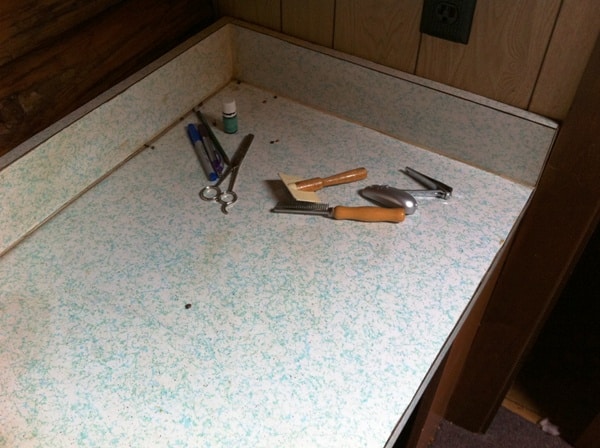 5. Find your new cat's sweet spot
As you get to know your former feral, perhaps you can find out what his favorite thing is. Is it treats? Toys? Find your cat's sweet spot to help him acclimate quickly.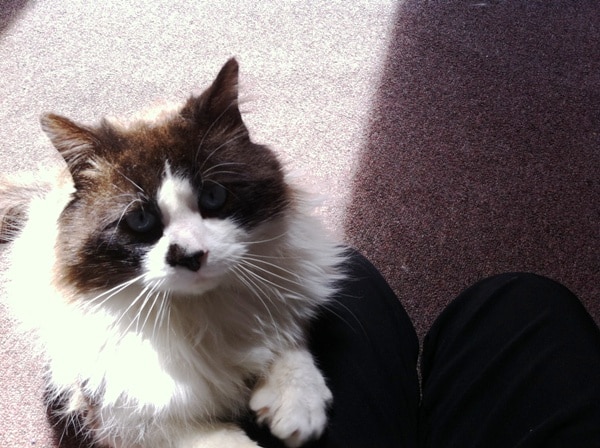 In Zorro's case, his sweet spot is petting, brushing, and being on my lap. He's very insistent about this, even ignoring food so that he can get the handling he loves. I always have brushing tools nearby Zorro, since he loves it so much.
6. Establish a routine and stick to it
I need to be better about this (moving tends to shake everything up), but we all know that cats love routine. Routine can be established by playing, feeding, or doing other things with your former feral at certain regular times.
7. Don't rush introductions to other pets
The more variables you add to your former feral's introduction, the more stressful it may be for him. I'm delaying actual face-to-face introductions with the other cats for as long as I can, even though they've all had the chance to start to get to know each other under the door.
On the other hand, it may be in your best interests to get your former feral used to as many of the humans in the household as possible. Zorro is very used to me, but not used to my husband yet. What if my husband had to handle him or get him to the vet? These are things to keep in mind.
We are forging new ground when we bring a former feral into our living space and start to design a life together. There's a lot I don't know, so now you can help: Have you ever transitioned a feral to living in your home? How did it go? What strategies did you use? Share your insights in the comments.
More by Catherine Holm:
Learn more about your cat with Catster:
About Catherine Holm: Told that she is funny but doesn't know it, accused of being an unintentional con artist by her husband, quiet, with frequent unannounced bursts into dancing liveliness, Cat Holm loves writing about, working for, and living with cats. She is the author of The Great Purr (cat fantasy novel out June 1), the cat-themed memoir Driving with Cats: Ours for a Short Time, the creator of Ann Catanzaro cat fantasy story gift books, and the author of two short story collections. She loves to dance, be outside whenever possible, read, play with cats, make music, do and teach yoga, and write. Cat lives in the woods, which she loves as much as really dark chocolate, and gets regular inspiration shots along with her double espresso shots from the city.