I've always loved cats and movies, individually and together. Nothing's better than watching a movie with a cat in my lap. Well, I suppose something could improve the experience a little bit — I could be watching a movie about cats.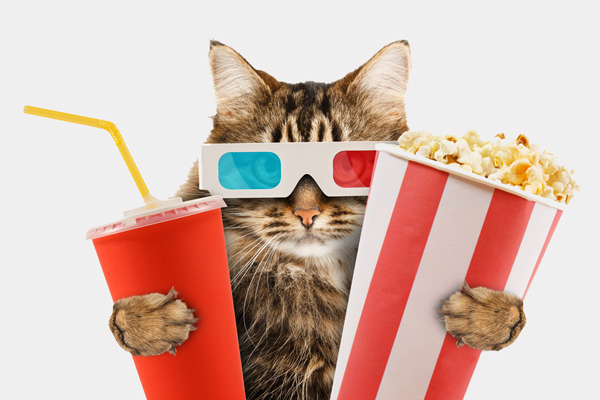 Because I'm a lifelong cat fancier, my kids grew up with a feline adoration as well. And through the years, I've shared with them some of my favorite cat-themed films, and they've introduced me to a few new ones. Here are some of my family's favorites.
1. The Aristocats
I believe The Aristocats is my daughter's all-time favorite cat movie. I mean, who doesn't love the tale of a streetwise tom named O'Malley and friends swooping in to save the day for a single mom named Duchess and her kittens? When my daughter was young, she even had a plush toy of Marie, Duchess's white kitten. And as she began collecting Beanie Babies, she named two of them Toulouse and Berlioz, after Marie's brothers. My daughter still has the VHS of this film, and will probably never get rid of it. Plus, listen to the song in the video — you'll never get it out of your head (but that's not a bad thing).
2. The Adventures of Milo and Otis
The Adventures of Milo and Otis was a staple in our house when the kids were growing up. I'm not embarrassed to say I owned the video even before they were born. Dudley Moore narrates the story of a orange tabby kitten and Pug puppy as they navigate adventure after adventure. The kitty is way too curious and winds up floating down the river in a box, and Otis chases him. I'm not a fan of live-action talking animals whose mouths move, but the narration is just perfect. Plus, I needed a box of tissues at the end of the movie, and that means I really loved it. It also means I'm a giant sap.
3. The Cat From Outer Space
Ah, Disney in the 1970's — what a great run of films. The Cat from Outer Space was one of my favorites when I was but a wee lass. I think it was the first time I'd seen a live cat with human qualities in a movie, and it absolutely fascinated me. You see, the cat is the pilot of a UFO that's broken down on Earth. His magical collar (what the awesome?) allows him to communicate with humans, which is necessary because he needs to get his little ship up and running. Plus, the cast is 1970s-tastic. How can you go wrong with Sandy Duncan, Ken Berry, Harry Morgan, Roddy McDowell, and McLean Stevenson. I mean, come on!
4. The Cat Returns
My kids introduced me to the magic of Hiroyuki Morita's animated work, and I was an instant fan. I think both kids and adults would enjoy The Cat Returns' fairytale-like storyline and mesmerizing animation. The original film is in Japanese, but you can find dubbed versions or simply turn on the subtitles for older children. If you regularly read my posts, you know how much I adore cats in clothing. There is one seriously dapper feline in this film. Oh, man … so fancy.
5. Shrek 2
My children were just the right age for each of the Shrek movies as they were released. This meant that I also saw each of the Shrek movies in the theatre, and then countless times in my living room. I have to say these films are wildly clever and animated beautifully. Of course, our favorite is Shrek 2 because of … you guessed it: Puss in Boots. The character of Puss in this film is equal parts adorable and hysterical. I couldn't keep my eyes off him when they showed him walking or dancing in those tall boots. Seriously, I was a giant pool of squee. Even if you don't enjoy animated kids' movies, I'll bet you'll get hooked on the Shrek series, especially the second one.
What are your favorite kids' movies about cats? Share them in the comments!
Read More by Angie Bailey:
Learn more about your cat with Catster: