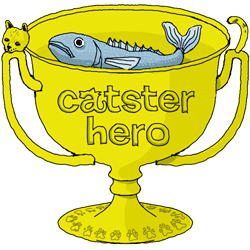 Approaching Cat Town in Oakland, California, the first thing that will strike you is a set of big picture windows looking out across Broadway — and then you'll see the curious feline faces inside, peering to check out passersby and enjoy the scenery. Founded in October 2014, Cat Town was America's first cat cafe — and the only nonprofit to date — and while you might come for the cats, you'll stay for the rescue mission. Certified crazy cat people such as myself make a point of regularly popping in to visit the rotating cast of characters, but Cat Town is first and foremost an adoption center, not a cafe that happens to have cats, and it has adopted out almost 250 cats since opening.
I dropped by for a visit with Ann Dunn, founder and executive director of Cat Town, along with Adam Myatt — otherwise known as the best catographer you'll ever meet. I spent almost two hours with them, chatting not just about Cat Town Cafe, but about their larger rescue mission and the important work they do through collaboration with Oakland Animal Services and rescue organizations elsewhere in the Bay Area. Their goal: springing at-risk shelter cats from jail to give them a second chance at life, and ultimately being a part of a world where no cats end up at the shelter. Seeing that the euthanasia rate at Oakland Animal Services has halved since they got on board, they're clearly doing something right.
Anne told me she was driven to start a rescue of her own alongside other volunteers when she saw the limited resources available at Oakland Animal Services. The facility lacks the staff and capacity to handle animal needs across the Bay Area, despite the loving efforts of the shelter's director and team. Between owner surrenders and cats brought in by animal control officers, OAS takes in nearly 2,000 cats annually — and it can't hope to place them all, which is where rescue groups come in.
Perhaps unsurprisingly, hordes of cat lovers call the Bay Area home, and numerous groups — including organizations involved in trap-neuter-return programs who rescue feral cats from certain death — work with OAS to get animals out of the shelter and into foster care or adoption facilities. Dunn, though, saw an underserved population: cats who aren't considered outgoing, friendly, and easily adoptable in the eyes of the public and who wouldn't necessarily be picked up by rescue organizations, either.
She says that a big part of her work involves "letting cats be cats," which is extremely challenging in a high-stress shelter environment. Tragically, the cats who fare the worst are often owner surrenders, as they go from a loving and attention-filled environment to cramped metal cages in the back of the shelter — and some never even make it out into the adoption area. Terrified cats hiss, spit, snap, and growl when all they need is some one-on-one interaction in a relaxed environment to come into themselves.
Dunn along with other volunteers started a foster program to get high-risk cats out of the shelter. The foster program quickly grew — and the idea of Cat Town, an environment to feature rehabilitated cats and get them out to their forever homes, was born. The cafe's proceeds as well as support from donors help fund the vast engine of rescue efforts that runs behind the scenes, and Cat Town raises awareness about cats looking for their people throughout the East Bay and beyond.
In the Cat Zone, visitors can interact with six to 20 free-roaming cats who sprawl across the furniture, play with toys, or hang out in the quiet area when they need a break. Enthusiastic volunteers love chatting about all things cat, and success stories are posted on the bulletin board that also provides information about adoptable cats and recent departures. Visitors can buy cat treats from a vending machine, sit in an assortment of comfortable chairs, or sprawl out on a rug to make a new feline friend — for the younger set, Cat Town has crayons and reading material.
During my visit, a mother and daughter played with several cats in turn while debating the best addition to their home, while a volunteer discussed a cat's personality with another couple. By our feet, a polydactyl cat viewed us suspiciously from the inside of one of Cat Town's delightful custom pieces of furniture, venturing out after she'd deemed us no threat. Anne and Adam lit up as they talked about their work, and when Adam had to head back out to the cafe, Anne took me into Cat Zone Two, the private side of the facility, where they give cats a chance to acclimate and get comfortable.
Anne lovingly described each of the inhabitants, telling me their backstories and talking about how the Cat Town crew and the team of dedicated fosters are willing to take weeks or even months to help cats come out of their shells and see what kinds of personalities they have. Cat Town's staffers take exquisite care to make sure they know their felines inside and out, and their adoption counselors work hard to match them with the best fit, whether a family seeks a playful companion, or an experienced cat person is ready to take on a shy personality.
One aspect of Cat Town's work that particularly interested me was what Anne described as the "Forgotten Kitten Project," which takes on feral or semi-feral kittens who are too old to be socialized but who also can't realistically be released back onto the streets after spaying or neutering, either. Historically, such cats were doomed almost the minute they arrived at the shelter, because volunteers couldn't take the time to give them a chance — so Cat Town scoops them up and gets them into Cat Zone Two, where five to six volunteers daily play with them and get them accustomed to people. Sometimes changes happen fast for members of the project, including the youthful and outgoing cats I met on the public side of the cafe.
We also discussed Cat Town's work with cats who carry the feline immunodeficiency virus, who have historically been condemned to execution in shelters — as well as by vets who aren't aware of the latest research on the subject. Like their human counterparts, though, FIV+ cats can live long, great lives, and they can also share living space with cats who test negative, because the virus is transmitted only through direct body fluid contact (as, for example, in aggressive fights). The organization sometimes has FIV+ cats in the general population and educates prospective adopters. As one volunteer put it: "You can hug people with HIV, so you can definitely take in an FIV positive cat."
The cafe might be all whimsy and puns, with a dedicated staff of cat lovers, but it's also deadly serious when it comes to rescuing cats and working with community organizations to create a collaborative network to save cats in need. Talking with Adam and Anne made me confident that Cat Town's rescue juggernaut is on the path to continued success, and I can't wait to see what happens next.
You can visit the residents of Cat Town on Wednesdays through Sundays between 10 a.m. and 7 p.m. — I strongly recommend making a reservation because their slots fill quickly. Meanwhile, follow Cat Town on Instagram and Facebook to see what staff members are up to and get inspired to help out at your local shelter.
About the author: s.e. smith is a cat-owned writer, editor, and agitator living in Northern California with felines Loki and Leila. While not mediating cat fights, s.e. explores a wide variety of subjects in writing and elsewhere, in addition to enjoying reading like a fiend and baking like an angel. Follow smith on Instagram, Facebook, and Twitter.