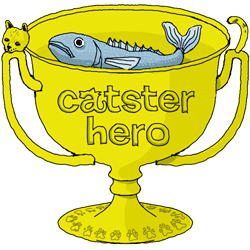 If you check out the Instagram account of a cat called Fancy, you'll find a cascade of vibrant and fun-filled images starring an elderly smoosh-faced feline (who is often dressed up like an elegant lady) and her faithful accomplices, Tesla and Edison. But beyond the bright pictures, there's a harrowing back story that involves this 15-year-old kitty being rescued from a state of abuse and abandonment.
With Fancy now getting to live out her twilight years in a warm and loving home, I spoke to the person who adopted her, Eden Nava, to learn about this remarkable feline and see pictures of her happy retirement.
(Note: The name Fancy was given to her by a rescue group and has become her social media calling card, but at her forever home she's known as Marzipan. Although as Eden says, "Since she is deaf she doesn't really respond to either!")
https://instagram.com/p/0xmKJcPkoB/?taken-by=heresfancynfriends
Catster: When did Fancy come into your life?
Eden Nava: We hadn't planned on getting a third cat — in fact, just a few months earlier we had lost our 15-year-old senior to cancer. I had started following the Seattle Persian and Himalayan Rescue page to support a local rescue. One day they posted a video of an emaciated, sick, and broken cat. Her name was Fancy, a 15-year-old. She was not doing well in the shelter and needed out. I must have watched that video 20 times, and each time I could not help but cry and wonder, how could this happen to you? Who could have the heart to let you get this sick?
I continued with my day but couldn't stop thinking of her. The following night I told my husband, "There is a little senior that has a broken spirit. I need to help her. I can't stop thinking of her." Knowing how determined I can be, my husband said, "Okay, let's help her."
https://instagram.com/p/1Vs1CFvkgl/?taken-by=heresfancynfriends
Did you find out how Fancy came to be in such a sick state?

Yes, I called her rescue and found out her story. Fancy was found in the woods, petrified in mud and feces. She had been to two shelters by the time she made it to the Seattle Persian and Himalayan Rescue. She was barely three pounds and was so sick and emaciated they were not sure she would survive. At some point she received trauma to her face and had a healed-over broken jaw and missing teeth because of it. She had been shaved bald because of how matted her fur had become.
The rescue wanted her to experience a home before she passed. Yes, she was that sick they didn't think she would make it beyond two weeks.
Was I ready to lose another pet? Could my heart stand another loss so soon after having lost our very own beloved little senior lady? Each time I asked myself these questions I would say yes. Fancy deserved a home; she deserved the love and the honor we provided our own senior. So I committed to giving her the best couple of weeks she had left: the best food, the best meds, all the pets and cuddles she wanted would be hers. We were going to give her the best retirement ever.
https://instagram.com/p/2Bh–XPkvI/?taken-by=heresfancynfriends
What happened once you brought Fancy home for the first time?
She was so sick, we stood vigil over her, taking shifts to watch her, provide her warmth and care for her. She was on several medications, and we were taking her to the vet multiple times a week. All of our animals took to her quickly — one of our Frenchies would stay by her side and keep her warm. She wasn't eating much and was incredibly lethargic but as soon as she would see us she would start purring. We were certain it was her way of thanking us.
Then one week turned into two, then one month passed, and now 12 months later she is still with us!
Fancy still has some chronic issues, but she is a completely different cat. Our vet even said it's the most dramatic turnaround she's seen. All she really needed was to know that she was home for good. All shelter animals deserve to experience this.
https://instagram.com/p/2hSKiaPkjr/?taken-by=heresfancynfriends
Did you have any reservations about adopting an elderly cat? It might have seemed like you were setting yourself up for more heartbreak.
Absolutely. We had just lost a senior and it was such a difficult loss for us and our other pets. She was the matriarch of our brood. I didn't want to experience that grief so soon again but the more I thought about it the more I realized this wasn't about my loss — this was about redemption for a helpless animal who wasn't given the chance at life she deserved.
https://instagram.com/p/3wfi2CPkii/?taken-by=heresfancynfriends
On a day-to-day basis, what's Fancy like to be around?
She is a once in a lifetime cat. She's loving, affectionate, calm, and confident. Nothing fazes her!
Her No. 1 priority is food — she tries to be slick and trick my husband or me into feeding her more meals every day all day. She loves her walks and we have hired a cat walker for her — no joke! She goes on 20-minute leashed walks four times a week.
Fancy also loves people! As soon as she sees a stranger she will make a beeline to them and squawk to say hello. She's also a regular at our local farmers' market, often startling the dogs there because they just don't know what to make of this kitty strutting her stuff down the road.
https://instagram.com/p/2T1AQKPkmI/?taken-by=heresfancynfriends
Fancy's Instagram page calls the other pets she lives with her "staff." What's Fancy like as a boss?
Although Fancy is considered a baby boomer, she is very progressive. Everyone knows she's the boss, but she's not a dictator. She's so good she's had zero turnover since she took over the pack. She stepped into the role the second day she was with us when she busted out of the area we had put her in to decompress. She walked over to where the crew was hanging out and with just one look made Porter [a French Bulldog] move to make space for her, and this was when she was at her sickest! She fit in as if she had always been a part of the family.
https://instagram.com/p/4x345MPkmn/?taken-by=heresfancynfriends
Do you have a message for anyone considering adopting an elderly cat?
My advice is to not be afraid to adopt seniors based on their age alone. Yes, we may not have them with us for several years, but the time you get with them will be rewarding and worth it. Seniors often get overlooked — they aren't shiny or new but they are so full of love and gratitude. If you can give them the honor and quality of life they deserve, you will be a better person for it.
Fancy has taught us a lot in the one year we have owned her. She was open to our love even after she had been abused by humans. She lives in the here and now and enjoys each moment as it comes and for what it is. It's taught us not to focus on the fact that she will not be with us long, but instead to focus on cherishing each day that she brings light into our lives. People often say she is so lucky to have found us, but in reality we are lucky to be the ones providing her with the retirement and 401k she deserves.
Thanks, Eden! For more on Fancy, check out her Instagram account.
Read about more Catster Heroes:
About Phillip Mlynar: The self-appointed world's foremost expert on rappers' cats. When not penning posts on rap music, he can be found building DIY cat towers for his adopted domestic shorthair, Mimosa, and collecting Le Creuset cookware (in red). He has also invented cat sushi, but it's not quite what you think it is.