Oh, the things we do for cats: clean litter boxes, pick up hairballs, bandage "love scratches" on our hands, wake up at 4 a.m. and drive 428 miles …
Let me explain that last one. For the past year, I have happily given my time as a volunteer at a spay and neuter clinic. This is hands-on education about something I deeply believe in, and I love it. Since the people at the clinic now know that I am willing to learn as much as possible about the process, they asked me if I would like to help drive cats in from nearby cities to the clinic, have them spayed or neutered, and drive them back.
A cat caravan. One full day surrounded by cats. Of course I said yes.
What happened that day was terrifying and exhilarating. "We will meet at 5 a.m." was my only instruction. The 4 a.m. alarm sounded, and I got ready and went to meet Lisa, the does-a-little-bit-of-everything clinic employee who would drive.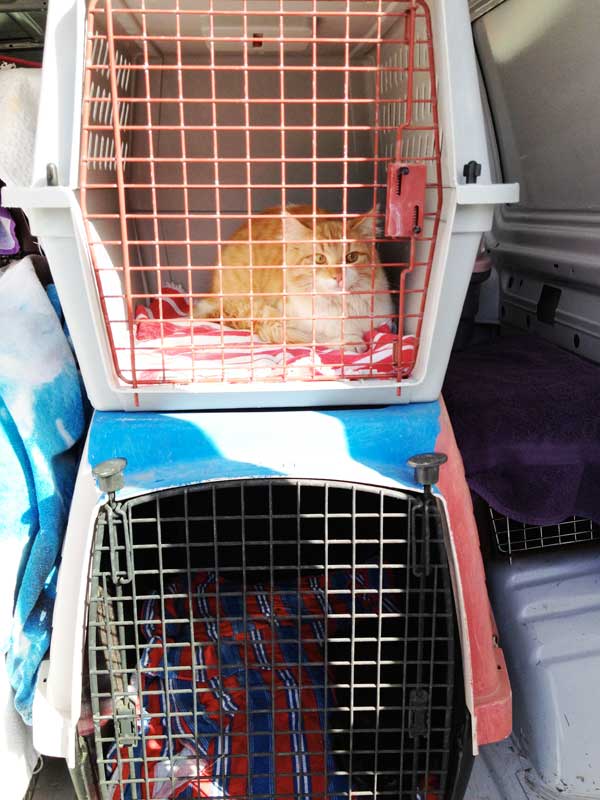 The first 107 miles
We arrived around 7 a.m. at a mall parking lot and were immediately greeted by 37 cats, all hissing inside covered cages handed to us by their sleepy owners, many of whom were still in their pajamas. We gathered all the information and started packing the van with cats.
The cats were scared, of course, but most of them just meowed and wanted to be petted — except for a group of five rowdy cats stuck together in one cage. We dubbed them the Pissing Contest Charcoal Gang. "Charcoal" because they were all mostly gray cats; "pissing" because, well, you get the idea.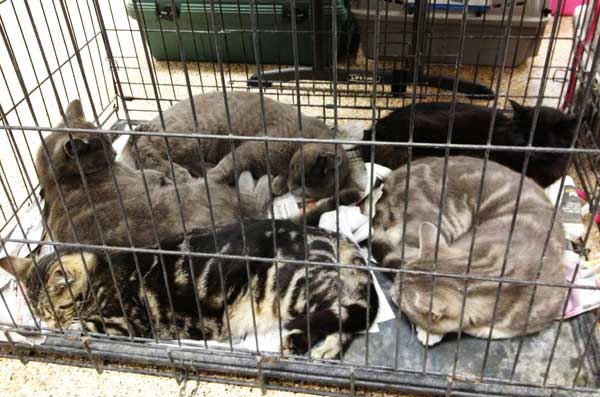 Fluffy, escape artist No. 1
We drove to the next town in our now very smelly van to pick up 25 more caged cats from their nervous owners. During the packing we saw that Fluffy, a two-year-old cat, was in a cardboard box — not a good thing. But she seemed scared and very quiet, so we placed her box between the front seats and hoped for the best.
The minute the van started moving, so did Fluffy's nails. I tried to keep her cage trapped from all sides to prevent her from escaping, but hell has no fury like a cat stuck in a puny cardboard box. First a paw emerged. Then her head. Minutes later the box was gone and a freaked-out cat was jumping around the van! Finally I was able to catch her (after suffering a few scratches) and place her on my lap.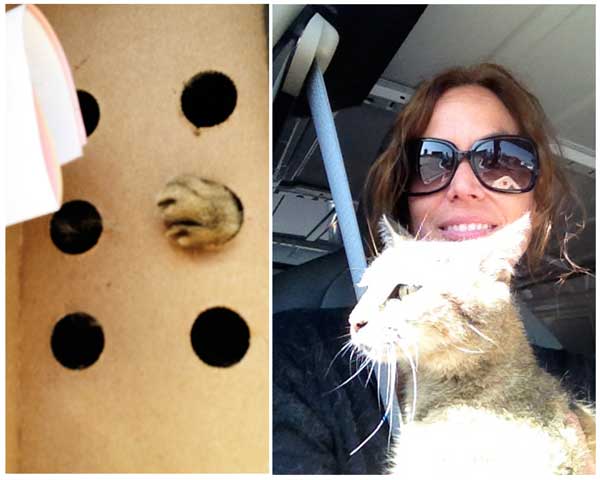 Between her nervousness and the heat, Fluffy's shedding was out of control, hair flying everywhere. In a matter of seconds, I was styling a full cat-hair beard complete with mustache, fur sunglasses, and a colorful mixture of orange and gray fur over my black shirt. Note to self: Never wear black to a spay-and-neuter caravan day.
Sixty-two cats to the clinic
When we made it to the clinic, it was business as usual: help with the cages, wash instruments, prepare surgery packs, clean up vomit, etc. At least the cats were quiet. Fear of the unknown had taken over. I knew they would be okay, and it was all for their own good (not that I could explain it to them). I foolishly tried to anyway as we reloaded them for the return trip. I mostly got angry stares or the famous "turning around, talk to my back" move in return.
Princess, escape artist No. 2
The Charcoal Gang, after a short nap, resumed their inter-van antics with full force. No amount of surgery could have stopped their fighting and peeing. They were clearly distressing the other cats, and none of our "don't make me go back there!" classic mom yells were helping. I'm sure the cats knew we were on a tight schedule and couldn't stop the van, so they proceeded without care.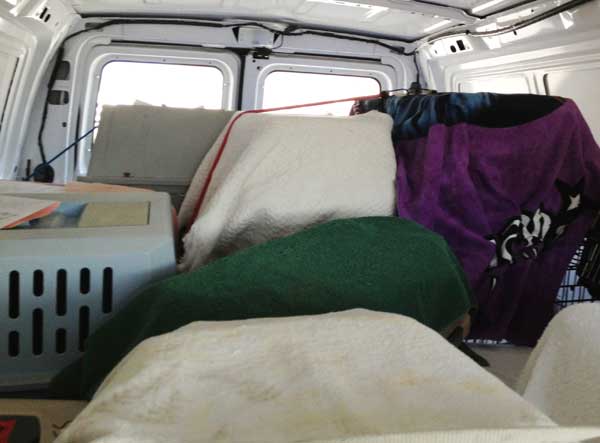 Three members of the caravan were kittens who needed to be fed regularly, and that task was appointed to me. During one such interlude, I was feeding the kittens and Lisa was driving and yelling at the Charcoal Gang, when a big whoosh! made us turn our heads. A flying cat made an appearance.
Princess's cage was next to the Charcoals, and clearly she had had enough. With my free hand I tried to grab her, with no success. Then, of course, she tried to hide exactly where I feared she would: under the pedals at Lisa's feet. But fabulous Lisa, guardian of 15 cats herself, knew better and was able to grab the cat while keeping us safely on the freeway.
I finished feeding the kittens and turned my attention to Princess. Diva cat seemed relaxed on my lap, and even started purring. She got so relaxed in fact that suddenly I felt warm and NOT fuzzy. Princess had won the pissing contest on my jeans.
That was it. The stress of the day was starting to show. Only I didn't cry or scream, I simply started laughing. What else could I do? The situation was just too unbelievable. "Don't worry" said Lisa between giggles. "Our first stop is almost here and you can clean yourself up a little."
So as Lisa delivered the 25 exhausted cats to their very happy and grateful owners, I went to the bathroom at a nearby fast-food restaurant and tried, unsuccessfully, to clean up the mess. Before driving to the next stop, we put Princess back in her cage, this time securing it with bungee cords. We felt so proud and MacGyver-like. Of course, we forgot to move her away from her noisy neighbors. It took her probably five minutes to squeeze herself out of her tight cage again. Our shock and disbelief were laughable — we are cat people, we should have known better.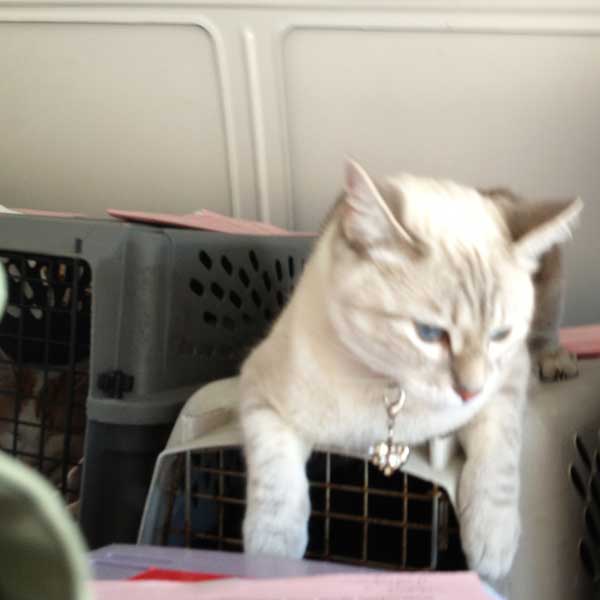 Adding to our worries was the fact that these cats had had surgery a few hours ago, and their wounds were still fresh and vulnerable. Thankfully, the clinic had used some heavy-duty stitches, because our escapee stayed healthy and obviously very active. I finally grabbed Princess again and kept her on my lap the rest of the way.
Cats back home, the reward of the day
Three hundred twenty-one miles later, we said goodbye to Princess, the Charcoals, and the rest of our cargo. Seeing the joyous look on the owners' faces as they hugged their cats, while thanking us for safely delivering them back, filled me with bliss. The long day, the miles, the stress, and the responsibility were just pieces of a bigger plan: to help these cats enjoy a longer, healthier life. The wonderful feeling of knowing that, in a very small way, I helped accomplish the mission stayed with me all the way back home.
"Will you do it again?" Lisa asked me.
I absolutely will.

Read more on transporting cats:
Do you know of a rescue hero ÔÇö cat, human, or group ÔÇö we should profile on Catster? Write us at catsterheroes@catster.com.