I grew up with cats and became familiar with many of their ailments, but I'd never encountered a cat with asthma until I adopted an eight-week-old kitten after I married. I chose Floppy from a litter of four male cats because he was the most energetic and friendly. I considered those traits a sign of health. However, shortly after I got him, he showed signs of breathlessness while playing and then developed a raspy cough during the night. I thought he was coughing up hairballs but none materialized. A vet diagnosed his condition as feline asthma. Here's a video of a cat who has asthma during a coughing spell.
The vet prescribed Prednisone to ease and possibly prevent Floppy's attacks. I was cautioned that side effects could include diabetes but that it was the best treatment for Floppy's condition.
It stopped Floppy's attacks, but he became diabetic when he turned eight. I learned how to administer insulin shots, and Floppy was a cooperative patient. I kept the diabetes in check, but he suffered from pancreatitis, common in diabetic pets, a few years later and was hospitalized for a week. The cost and anxiety put a strain on our family. We feared we would lose him, but he rallied and came back. A few years later, he was hospitalized again with a liver condition, also associated with diabetes.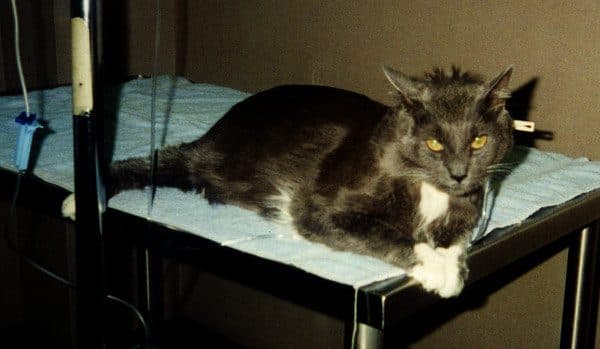 When Floppy turned 15, he was doing well and had been on and off insulin due to a change in his diet, until one day he stopped eating and started vomiting. The vet said his liver was acting up again, necessitating an overnight stay for tests and observation. I had a terrible feeling that this would be his last hospitalization. He was old and too weak to put up much of a fight. I also couldn't bear to have him suffer. When the vet said the next morning that Floppy was dying, I rushed to say my farewell to my sweet cat. He looked up at me breathing heavily as if to tell me he knew it was his time and wanted to say goodbye.
I found it difficult to consider getting another cat for a few years. Three years ago, my mother entered an assisted living facility where she couldn't keep her beloved Oliver, a 13-year old Siamese. We had another cat by then, but my young daughter who still missed Floppy begged us to take Oliver. I hesitated but knew it would be difficult to find a home for a cat Oliver's age.
Oliver eventually became part of our family. The vet assured us he was healthy. In some ways, Oliver reminded me of Floppy, and the two of us bonded. He slept in my bed every night. About a year ago, he woke up occasionally with the same raspy cough as Floppy had during asthma attacks. Afterward, Oliver's purr would be hoarse. At Oliver's annual checkup the vet said he might indeed be asthmatic. The vet recommended a short-term dose of Prednisone because of Oliver's age and the risk of diabetes. I was reluctant because of my experience with Floppy, but it was a very low dose for a short time. It helped slightly but, after stopping the medication, Oliver still occasionally suffered attacks. I didn't ask my vet for a new prescription. I didn't want Oliver to become diabetic and suffer like Floppy had. I searched instead for alternative, natural methods to help him.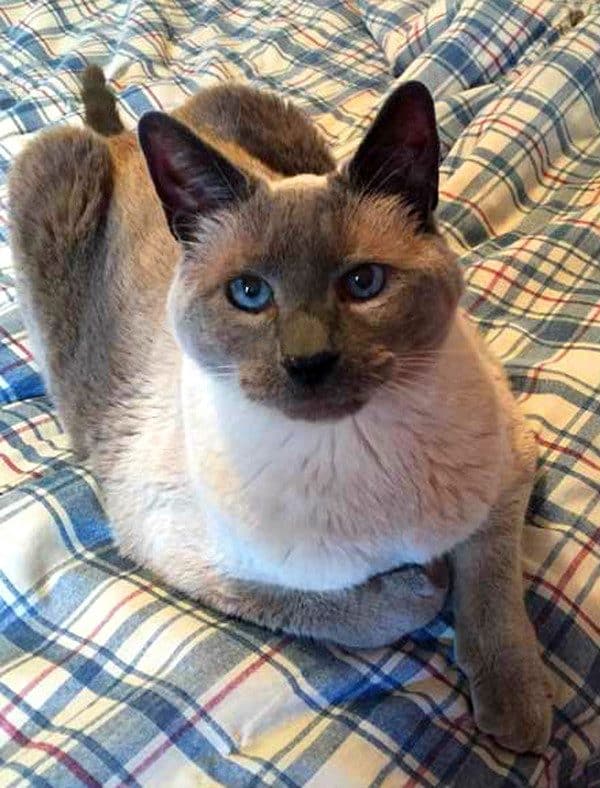 I suffered from asthma one summer after several respiratory infections, so I figured the same treatments that helped me might help Oliver. I was also given Prednisone, but I focused on the natural treatments I used afterward. I placed an air filter purifier in the bedroom and used an allergen reducer spray. These measures lessened but did not end Oliver's attacks. After each coughing bout, he would return to his normal loving and playful self. I considered that as long as the attacks weren't severe and could be controlled, it was not worth the risk of putting him on Prednisone or another medication.
In my search to further help Oliver and help other owners of allergic or asthmatic cats, I interviewed Dr. Erin Holder, a holistic vet at FloridaWild Veterinary Hospital.
Holder explained that allergies are related to cats' diet, which often includes chemicals and preservatives.
"Allergies are a chronic immune stimulation and inflammation of the body, so when we discuss holistic options for our cats, the first thing we do is address the diet," Holder said. "We must do everything possible to get cats who have allergies off dry foods."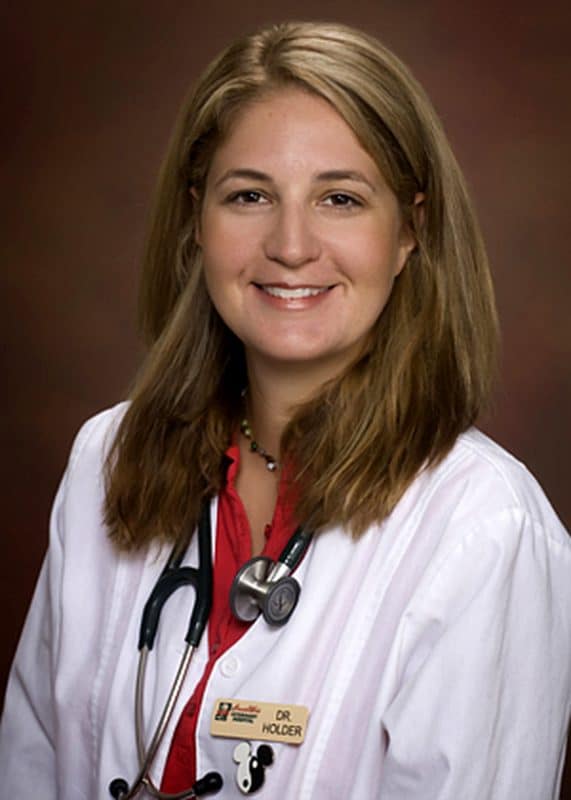 Holder mentioned other holistic treatments including goat's milk, which is an anti-inflammatory, as well as essential oils, acupuncture, and Chinese herbs. Holder recommended allergy testing and immunotherapy. She pointed out that, unlike Prednisone and other prescriptions, natural treatments are "directed at healing the pet or getting to the root cause of disease instead of symptom suppression."
Asked about success stories, Holder cited an Abyssinian cat with asthma attacks so severe they were life-threatening. Once the cat was placed on a new diet, allergy tested, and sensitized, however, his attacks stopped.
Holistic treatments can cost more upfront than traditional ones, she said, but the costs drop once a cat's illness is cured or controlled. Prednisone offers a good example.
"Prednisone is a cheap drug," she said. "However, in the long-term it may cause diabetes mellitus. To treat the [diabetes] is costly and requires many trips to the veterinarian. The quality of life for pet and owner has now been compromised but, most importantly, the health of the cat is poorer than when therapy was initiated."
Pamela Johnson suspects her 14-month-old cat, Elizabeth, has allergies and is trying to treat her naturally.
"She itches like crazy, even until she gets bald spots (fleas, ring worm, and such are ruled out already). I've tried limited-ingredient food which seemed like it helped a little but not totally. I changed her kitty litter to unscented. Now we are doing only grain-free foods and working on transitioning her to raw food along with my chronic kidney disease cats. I'm thinking about having blood work allergy testing done, too."
On her website, The Conscious Cat, Ingrid King recommends reducing the cat's stress and exposure to environmental triggers. As with asthma in humans, King writes, stress might play a role in feline asthma attacks.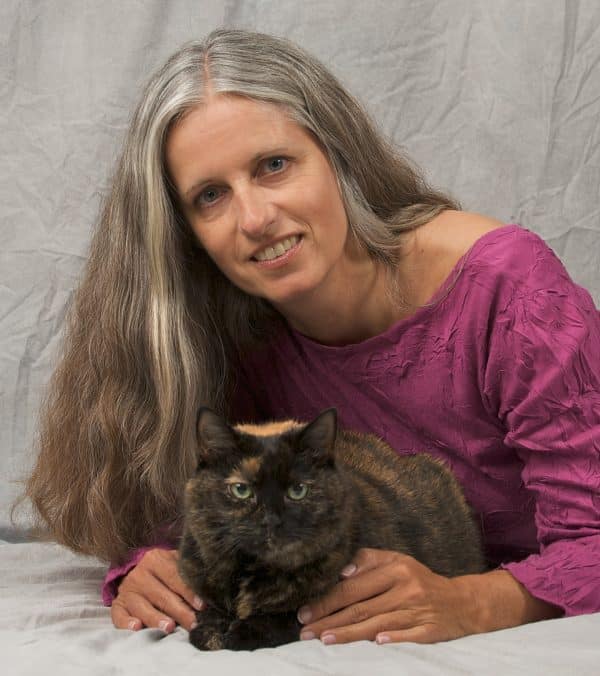 Keeping the environment clear of smoke and household products with strong scents is also beneficial. No one in my house smokes, and, like Johnson, I use unscented cat litter. I've also found it helpful to brush Oliver to keep loose fur and dander from accumulating on him and possibly triggering an attack.
Amy Shojai, in Cat Facts: The Pet Parent's A to Z Home Care Encyclopedia, recommends using a flower essence, such as Rescue Remedy, to reduce the number of attacks by placing and then rubbing three or four drops inside the soft velvety area in a cat's ear. Additionally, she states that hemp, an herb that is found in medical marijuana, can also be used, in the proper concentration and in consultation with a vet, to reduce feline bronchial spasms. Shojai describes an acupressure technique to help relax a cat during an asthma attack that's worth reading at length.
While Oliver's asthma attacks are mild and occasional, I'm still investigating natural methods to lessen or eliminate them. It's important to seek a vet's approval for any treatments because even natural ones can have side effects. Each cat owner needs to consider the costs and invasiveness of any treatment, whether traditional or holistic, and whether these treatments will benefit their cats in the long-term and lead to an improved quality of life.
---
Featured Image Credit: Julia Cherk, Shutterstock