More than a year ago, I brought home a kitten. I had been thinking about it for a while. Memories of how crazy my cat, Agnes, was when she was a kitten had become funny anecdotes. I had forgotten how she used to pounce on my face at 4 a.m. and destroy every pair of headphones she found. My girlfriend tried to convince me that getting the kitten was a bad idea. If we moved in together, it would be hard to find a place that will take three cats, she said. But our relationship was falling apart, and even when she was with me, I felt lonely. So I found a fluffy tortoiseshell kitten on Petfinder and adopted her, all while my girlfriend was out of town. The kitten's name was Effie, and she was a beautiful bundle of energy.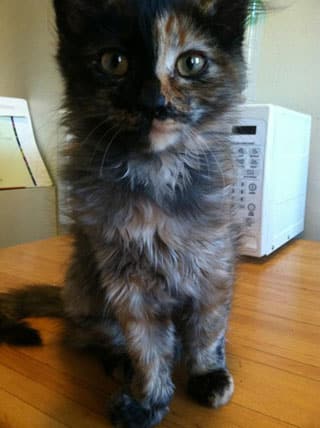 This girlfriend was my first serious love, the first person I brought home to my family, the first and only person I thought I was going to marry. I gave myself to her in a way I had never given myself to anyone, except for Agnes. My love for my cat and my love for my girlfriend weren't exactly the same, but I couldn't imagine my life without either of them. But just because you trust someone doesn't mean they're trustworthy. Loving someone with everything you have doesn't guarantee anything. My girlfriend could also lie to me and be incredibly cruel.
I knew she wasn't happy about my choice to adopt a kitten, and that, in a way, I was declaring my independence. She loved Effie anyway, though, like everyone loves a kitten, and didn't say much. Everything had been a fight lately. There was no point in starting one more.
About a month later, I ended things for good. At the time, that break-up felt like the worst thing I had ever gone through. It meant we wouldn't be getting married, wouldn't be having children, and wouldn't be moving to California like we had planned. I felt like I had built myself around her needs, and now I was just empty. But I had a new kitten, so I used all the energy I had to love her. She loved to cuddle, which was good, because it was hard for me to get out of bed. Meanwhile, Agnes and Effie adored each other. They belonged in each other's lives just like they each belonged in my life.
When Effie was 5 months old, she stopped putting weight on her right front leg. I assumed she had hurt it somehow; the vet did an X-ray and a series of tests. They thought there was an infection in her bone, though they had no explanation of how it could have happened. She would be on antibiotics for months, and she would be confined to a crate, because running or jumping could lead to a fracture. My kitten wasn't allowed to play anymore.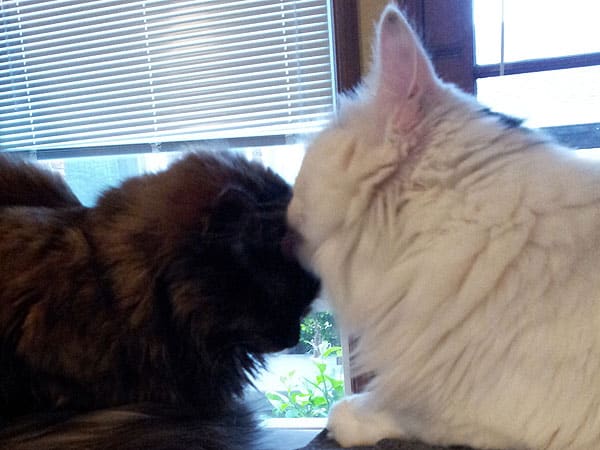 Effie was in that crate for two months. I had to sedate her to take her out, because all she wanted to do was run around. I frequently had to sedate her when she was in it, too, or else she would just cry.
I also met someone new during this time, and fell for her so fast I didn't know what was happening. I had barely had a moment to think about my previous relationship, but here was someone who just appeared in my life and seemed so perfect that it didn't seem real.
Effie was allowed out of her crate the same day this new girl drunkenly told me she was falling in love with me. We both pretended it had never happened — we had only been seeing each other for a few weeks. But I felt good, finally. I had been afraid that my heart was in such disrepair that loving someone else was out of the question, but apparently I was more resilient than I thought.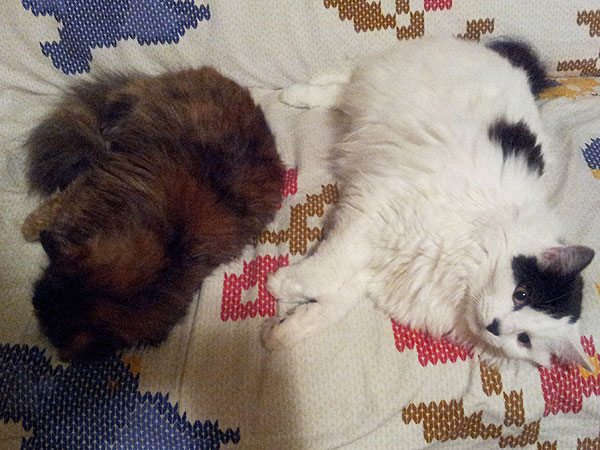 That relationship ended, suddenly, not very long after she finally told me she loved me while sober. I had never had a chance to grieve my previous relationship, so I just grieved everything at once. I drank juice glasses full of whiskey in bed. I sobbed in bars with my best friend. I texted this girl about how sad I was every day as I heard about her new relationship from friends. She told me she thought it was weird that I was so sad. So I cuddled with Effie and Agnes. They were my constants. I could always go home to them when I felt completely unlovable and alone.
While Effie was now allowed to roam freely, she was still getting X-rays every few weeks. Four days after the break-up, she got another one. We were hoping her leg would be completely healed, but it wasn't. There was also a large mass in her abdomen.
That afternoon we headed to the suburbs for an ultrasound, and two days later Effie had exploratory surgery. She was diagnosed with Feline Infectious Peritonitis, or FIP. There are two kinds of FIP, dry and wet. She had dry, and cats with that usually live a little longer, but they are both fatal. Always. Usually it was quick.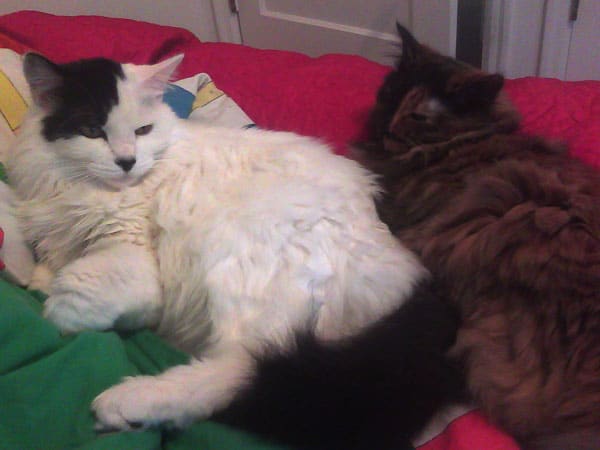 Effie started several medications that were supposed to improve her quality of life and possibly extend it. Getting her to eat was a huge struggle and involved offering her sometimes up to 12 kinds of food every day in hopes of her eating a few bites of one. She was always a strictly indoor cat, but I started taking her outside in the yard sometimes and she would sniff the grass and watch bugs. I figured that would be on her bucket list.
Some days she seemed to be doing better. She would get up from her bed and come to the door when I came home from work. But then that stopped. Cats with FIP frequently have their ups and downs before eventually succumbing, and I hoped for another up, but it never came.
It got to a point where Effie hadn't eaten in two days. I'd gotten an injectable antinausea medication from my vet in hopes that it would bring back her appetite. Shortly after the injection, she tried to jump and fell over. Suddenly she could barely walk.
FIP often hits the brain eventually and causes neurological symptoms. I knew this, but I was hoping it was a reaction to the medication. We went to the emergency vet. They took Effie to the back and when they finally returned they told me there was nothing they could do. I don't think she's in pain, the doctor said, but I think she's very dizzy, and if you've ever felt dizzy like that, you know how awful it can be.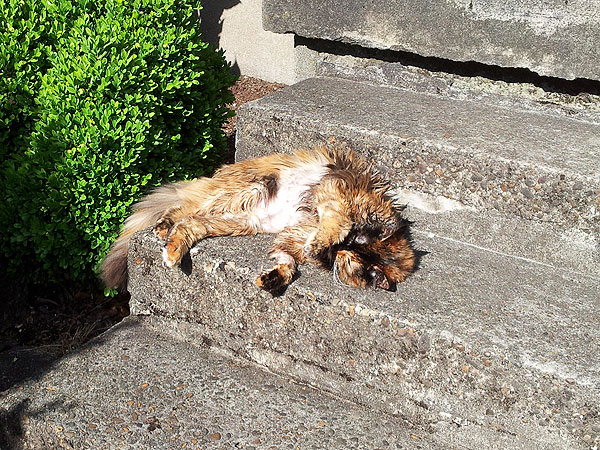 Twice I decided it was time to put her down. Then I asked for a big dose of pain medication for her, so that she wouldn't know what was happening, and took her home. I wanted to put her down with my own vet, and the office was closed until morning. This might have been the wrong decision, but it was the only one I that felt right.
Effie seemed to be completely paralyzed when I brought her home, with the exception of some very violent and scary seizures. I came very close to taking her back to the emergency vet to be put down, but then the seizures stopped. My mom came over and we sat with her.
We watched a movie, petted Effie, and constantly checked to see if she was still breathing. Eventually my mom fell asleep on my couch and I took Effie to bed with me. I laid awake all night with my hands on her, listening to her breathe.
The breathing got slower and slower. I woke my mom up around 5 a.m. because I felt like Effie wasn't going to make it much longer. My mom put her hand on Effie's heart. Effie stopped breathing. Her heart stopped beating. The vet wasn't going to be open for a few hours. I made coffee.
We took Effie's body to the vet's office so it could be cremated, and then my mom bought me breakfast. I went home and fell asleep crying. Agnes licked the tears off my face. It was the Friday of gay pride weekend, so after sleeping all day I went to a dance party. I left when I saw my most recent ex. I cried for the whole 30-minute walk home.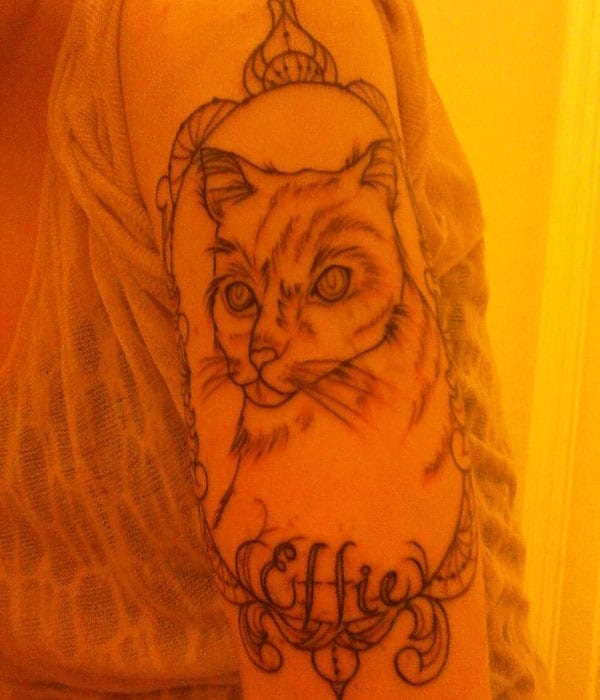 Single women adopting cats as an alternative to relationships is such a clich├® that it comes up in every conversation I have about being single. Sometimes I remind my friends that cats can break your heart, too. The hurt I carry around from losing Effie overwhelms me still. Cats are amazing companions, and I'm grateful for them every day. But it doesn't mean they're always easier than human relationships.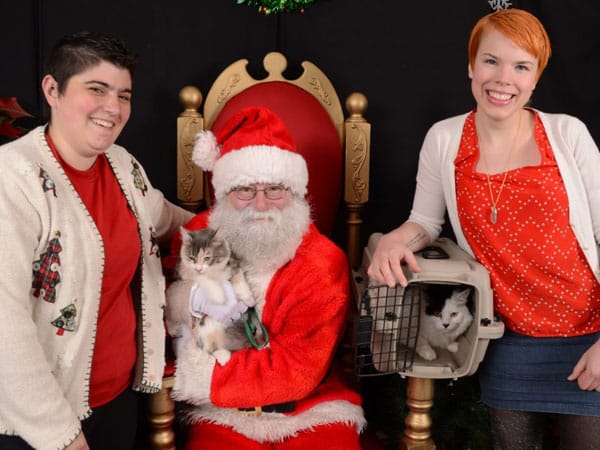 Nothing has been the same since I lost Effie. I adopted Olive, another kitten, who is also amazing and different from Effie in every way. Agnes and I are both so happy to have another kitten in our lives. My apartment used to feel like a nursing home and now it feels more like a circus. But it's been scary, too. If there is anything I've learned, it's that any time you let someone into your heart you risk feeling like the whole thing is being ripped out of your chest. But if your heart is being ripped out of your chest, it's good to have a cat to curl up and sleep on top of it.
Got a Cathouse Confessional to share?
We're looking for purrsonal stories from our readers about life with their cats. E-mail confess@catster.com — we want to hear from you!