If there's one purebred cat I've totally fallen for, it's the Russian Blue. I love the breed's super-plush silver-tipped coat and green eyes that sparkle with intelligence and soulfulness. I met one who was up for adoption at my local shelter, but my lease at that time was strictly "no pets allowed," and there wasn't even an inch of wiggle room (trust me, I asked). Here's the story on this amazing cat.
Origins
The Russian Blue is believed to be a natural breed, originating on the Archangel Isles of Russia, where the long, frigid arctic winters gave rise to the breed's famous super-plush double coat. The first broader awareness of the breed came when an "Archangel cat" was shown at the 1875 Crystal Palace cat show in London, where the cat was judged in a group with all other blue cats. In 1912, the Russian Blue was given its own classification, the Foreign Blue.
World Wars I and II decimated the Russian Blue population and almost forced the breed's extinction. But breeders outcrossed them with blue-point Siamese and were able to revive the breed.
U.S. breeding programs for the Russian Blue began in earnest in the mid-20th century, when breeders imported Blues from England and Scandinavia. Today, all cat registries recognize the Russian Blue.
Appearance
The Russian Blue comes in only one color: the classic silver-tipped blue. This fine-boned but muscular cat has large ears, emerald-green eyes, a moderately wedge-shaped head, and a thick undercoat that leads to the plush feel of his fur. Russian Blues tend to weigh between seven and 15 pounds, with males being larger.
Health and longevity
As a natural breed, the Russian Blue enjoys good health and a great life expectancy — generally between 15 and 20 years, although some have lived as long as 25 — so you're in for a very long-term commitment if you bring a Blue into your family. The breed is not known to be predisposed to any genetic problems, although a couple of sources indicate the breed might have a slightly greater tendency to develop urinary tract issues or bladder stones than others.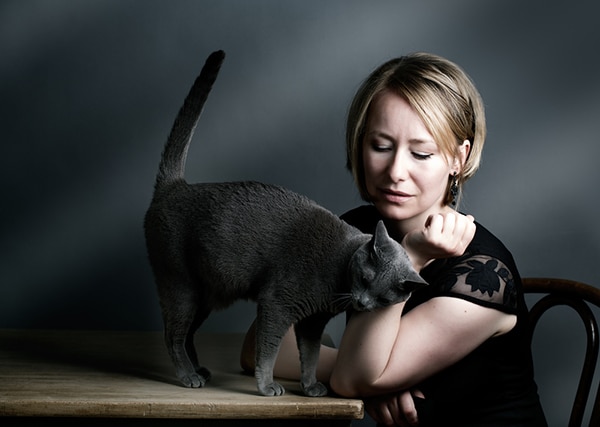 What it's like to live with a Russian Blue
Your Russian Blue is more of an observer than an in-the-middle-of-everything cat. Although she'll be very affectionate with you and your family, she will probably hide or watch the goings-on from a distance if strangers come to visit. Like many Blues, she may come to enjoy sleeping in bed with you or helping you cook or work at the computer. She's not a big talker but she may give you a quiet reply if you talk to her.
She's an extremely smart cat who will teach you to play "throw" (although less enlightened folks might think she's playing "fetch") and will enjoy any time she can spend hunting feather-on-a-string toys. She'll also be able to find her way into cabinets, closets, and other tiny and awkward spaces, so if you want her to stay out of your pantry, you may need to invest in some childproof locks. Russian Blues are known for being able to learn tricks; think about clicker training and puzzle toys as ways to challenge her intelligence.
Russian Blue trivia bits
Russian folklore shows the Russian Blue as a good luck charm; in fact, the tsars used to place Blues in newborns' chambers to ward off evil spirits.
European Russian Blues tend to be larger than Blues bred in the U.S., Australia, and New Zealand, presumably because European breeders outcrossed it to the larger and heavier British Shorthair as part of the efforts to revive the breed after World War II.
In Australia and New Zealand, the breed is simply called the Russian, and there are black-coated and white-coated versions as well as the traditional blue.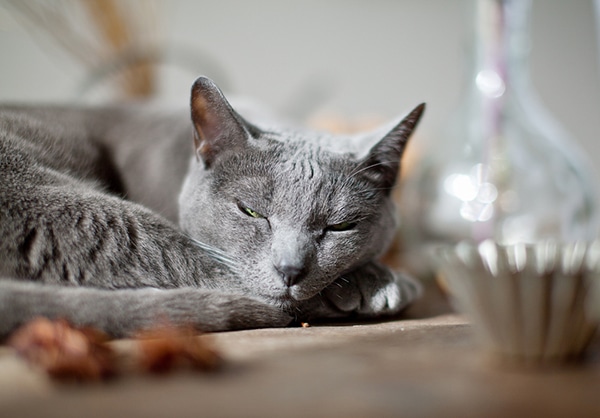 Do you have a Russian Blue in your home? What's it like to live with her? Please share your thoughts and photos of your Russian Blue in the comments!
Read other breed profiles on Catster:
About JaneA Kelley: Punk-rock cat mom, science nerd, animal rescue volunteer and all-around geek with a passion for bad puns, intelligent conversation, and role-play adventure games. She gratefully and gracefully accepts her status as chief cat slave for her family of feline bloggers, who have been writing their award-winning cat advice blog, Paws and Effect, since 2003.