I love to think about money and how it plays a role in my life. Some people are fascinated with politics, but I am fascinated with money — personal finance, what money tells us about ourselves, etc. So naturally, upon examining this, I've been amazed to find that my cats actually save me money in surprising ways. This runs counter to common opinion — don't we spend a lot on our feline friends? Well, yes, and that's the topic of another article. But if you flip your thinking around, you will see that our cats indeed can bring us to new and creative levels of saving money.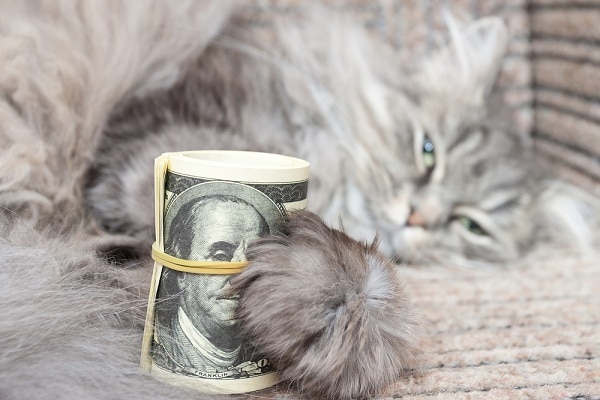 Cat and money on sofa by Shutterstock.com'>
Cat and money on sofa by Shutterstock.com
Here's how my cats help save me money:
1. They keep me so busy so I don't run out and spend money
Now granted, I'm not the type who easily runs out and spends money, anyway. I have to have a good reason. And it helps that we don't really live near places where I would be tempted to drop a lot of money in a hurry. (Restaurants don't abound near my house, for example, and shopping temptations are not close, either.) I'm not a great shopper; never have been. But caring for six cats makes me less inclined to shop. And when I think about how I spend a typical day, much of it is cat related.
There are the basics — multiplied by six. Six cats to feed, water, and clean boxes. Feeding is not simple — I mix up meds and special supplements for some of the cats. I probably do a lot more cleaning with cats in the house. (I can't remember what it's like to have a cat-free house, and I can only imagine that it would be really clean.)
I play with the cats and brush the cats. We laugh and watch the cats. With six cats, who has time to shop or spend money? Seriously, use this as a motivator. It's like the cliched story of the person at the end of their life — would you rather say you cleaned your house or played with and loved your kids? Would you rather say you dropped money of stuff or experiences that are easily forgotten or would you rather say you loved your cats?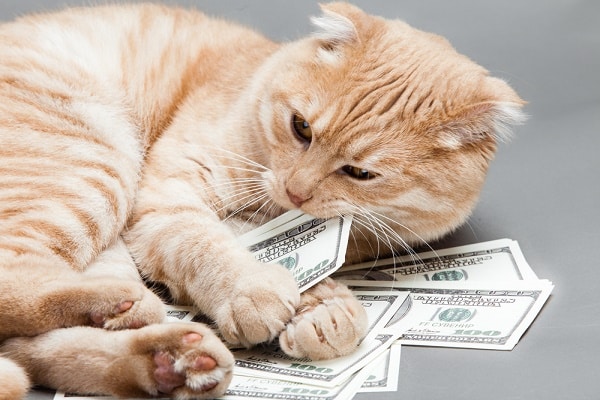 Dollar and a cat by Shutterstock.com'>
Dollar and a cat by Shutterstock.com
2. They make it impossible to online shop
Many people do a lot of their shopping online. I do, since we live far from many of the things I need, and spending money going to get these things would be extremely wasteful. Online shopping is extremely convenient, but it doesn't always save me money (just because it's so easy to get carried away). However, the cats are also a great help here, because what cat can resist a keyboard? Where my attention goes, their attention is drawn. Thus, my cats are not shy about walking right over the keyboard at an opportune moment, or trying to lie across it completely. People with cats learn early to save their work often. But the positive spin on this — they're saving me money!
Zorro loves to take up room on the laptop.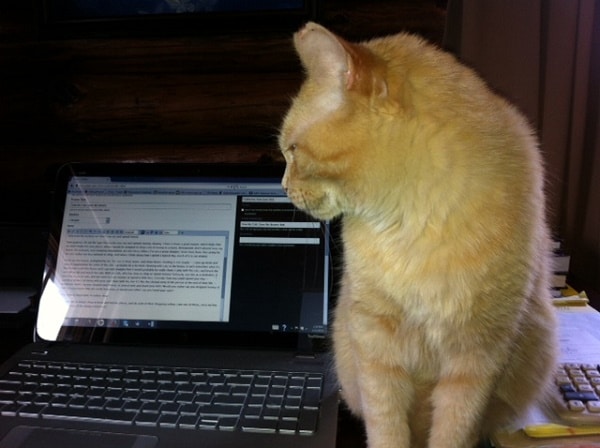 Chester deciding whether to walk all over the keyboard.
3. They force me to adopt frugal habits so that I can continue to afford to have several cats
You have to get frugal in some ways with multiple cats or you will end up spending a fortune. After many years of using regular clay litter (because it was very cheap), I really got concerned with the dust it creates, which the cats breathe. I also didn't like putting this stuff in the landfill. I now love a very popular brand of cat litter, scoopable and made from corn, which is completely and harmlessly biodegradable. Yes, the stuff is expensive up front, but I think it actually saves me money. I go through it very slowly and I clean the boxes one to two times a day. I love this stuff.
Aside from cleaning the boxes often, I do not free feed or overfeed. I think we probably all have our frugal tendencies and strategies to save money when it comes to caring for our cats.
Having several cats also forces me to really shop around for the best deals. If I want a good cat food brand that I particularly like, I willingly spend time to find it for the best price. 
It can feel like we spend a lot on our cats, but there are probably ways they save us money that we don't even think about. How do your cats save you money?
More by Catherine Holm:
About Catherine Holm: Told that she is funny but doesn't know it, accused of being an unintentional con artist by her husband, quiet, with frequent unannounced bursts into dancing liveliness, Cat Holm loves writing about, working for, and living with cats. She is the author of The Great Purr, the cat-themed memoir Driving with Cats: Ours for a Short Time, the creator of Ann Catanzaro cat fantasy story gift books, and the author of two short story collections. She loves to dance, be outside whenever possible, read, play with cats, make music, do and teach yoga, and write. Cat lives in the woods, which she loves as much as really dark chocolate, and gets regular inspiration shots along with her double espresso shots from the city.