I first realized how much I loved rocks when I was a tiny girl.
I lived next door to a gravel pit, and on weekends when the excavators and dump trucks sat idle, my mother and I would take walks up there. On each trip, I'd come home with a bunch of rocks, mostly granite and schist stained with rust because of the vast amounts of iron ore in the earth.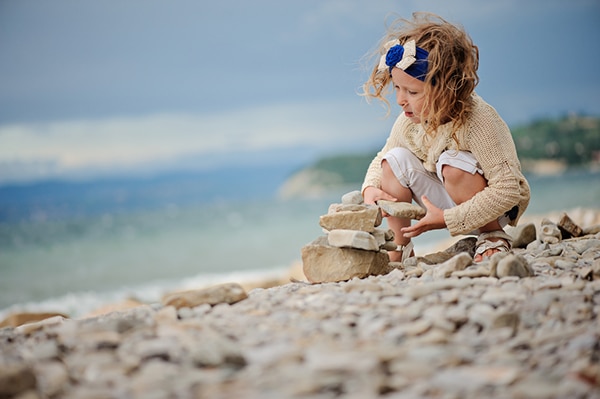 I loved rocks from the time I was a little girl. Photo: Shutterstock
When I was about eight, I went to summer camp in the western mountains of Maine, and we visited a hilltop that was a huge basalt slab embedded with tiny red garnet crystals. I was totally fascinated. But I knew that on the coast, there were no garnet-laden slabs of stone.
Through high school, I continued to visit the gravel pit next door, walking in silence and enjoying the majesty of the loamy cliff faces that towered above me. Every once in a while, I'd find a particularly cool rock: a glacier-worn piece of basalt with a milky quartz "ring" around the center, or a particularly intriguing piece of granite.
Who couldn't fall in love with those incredible facets?
But when I reached college, I saw my first quartz crystal at a gem show, and everything changed.
It touched my heart in a way that I never imagined. The beauty and clarity of each facet drew me into it in a way that no rock had ever done. I couldn't afford that crystal, but I couldn't get it out of my mind, either.
"I must have one of my own someday," I told myself.
I imagined seeing my own crystal sitting on my window sill, the sun shining through it. I imagined what it would be like to have more than one — maybe even a whole bunch of them.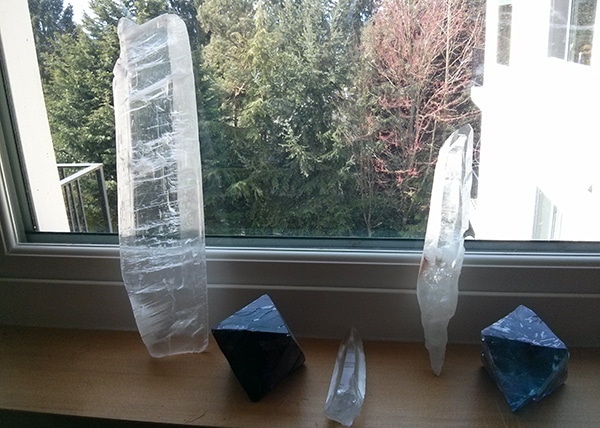 I like to make sure my crystals get plenty of sunlight.
Of course, I was still taking my walks in the gravel pit when I came home from college breaks. After I got my degree and moved away from home, I thought about that gravel pit and I wondered about the rocks still waiting there, but by that point my mother had opened a shop where she sold crystals and gemstones. I confess that when I visited home, I spent a lot more time at the shop than in the gravel pit. If I couldn't have crystals of my own, at least I could be near them.
I hadn't forgotten about those rocks in the gravel pit, but I needed a crystal. I was obsessed. I even searched mine tailing piles for the perfect crystal, but I never found it.
Isn't the color banding on this fluorite crystal amazing? And blue fluorites, especially of this size, are quite rare. I'm very proud of this gem show-worthy specimen!
Then one day I broke down and bought a crystal from my mother. Then I got another, and another. Before I knew it, I had a house full of crystals: Quartz, amethyst, fluorite, selenite, tourmaline, citrine — you name it, I had it. I also collected other beautiful minerals. Specimens of kyanite, calcite, moonstone, Madagascar labradorite, lapis lazuli, rose quartz, agates, and geodes filled my shelves and windowsills.
I guess you could say that crystals won my heart. Now I can't imagine living with ordinary stones. Sure, I feel bad for all the rocks abandoned in slag heaps, and every once in a while I'll make a random rock sculpture in hopes of raising awareness of the beauty of even the smallest pebble. But as for me, I'm a crystal lover and I'm never going back. Curse me if you will, but that's just the way it is.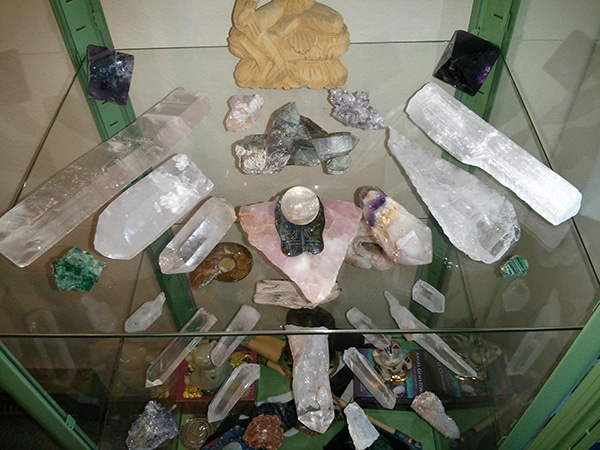 If I could, I'd have a whole other curio cabinet — or two, or three — filled with crystals and extraordinary gemstone specimens.
What about you? Are you a crystal collector? Do people scorn you for collecting crystals while ordinary rocks languish? What do you say to them? Share your thoughts and rock the comments!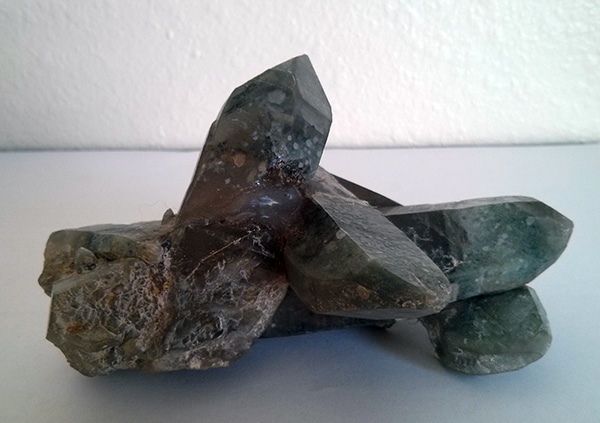 I'm particularly proud of this cluster of quartz crystals with chlorite inclusions. Another gem show-worthy piece!
Read more about pet rocks on Rockster:
 Read about purebred cats and cat breeders:
About JaneA Kelley: Punk-rock rock collector, science nerd, amateur geologist and all-around geek with a passion for bad puns, intelligent conversation, and role-play adventure games. She is active in landscaping and rock sculpture appreciation, and shares her home with a large collection of quartz, selenite and fluorite crystals.