When I told the team at the no-kill shelter in my neighborhood, "I'd like your least adoptable cat," I pictured an ornery senior cat, not especially cuddly, but a cat that needed somewhere to live comfortably for the remaining years of her life. We would be distant roommates rather than companions, but I would be doing a service both to the shelter by freeing up her cage to new rescues and to her by providing a home for her to live out the rest of her ornery old days. But I didn't ask for that kind of cat. I asked for the least adoptable cat.
"Well," the man started with hesitation, "there's one fella that you might like. But he's a little tough." We were standing in the cat section of the shelter and I asked which one he was, trying to hide the fact that their reactions to my request had made me grow nervous about my request. "Oh, he's with the dogs," I was told. "I'll go get him."
Thoughts raced through my head as to why a cat might be housed with the shelter dogs and none of my speculative fiction brought me to any hopeful conclusions. I braced myself to meet the cat who would become my first animal companion in adulthood.
As it turned out, this cat was epileptic and half-blind. The seizures made him soil himself, prompting the other cats to reject him, which resulted in his exile to the dog section. Shelter volunteers that felt bad for him overfed him with treats, resulting in him weighing 26 pounds. The true gravity of the term "least adoptable" became suddenly apparent to 23-year-old me.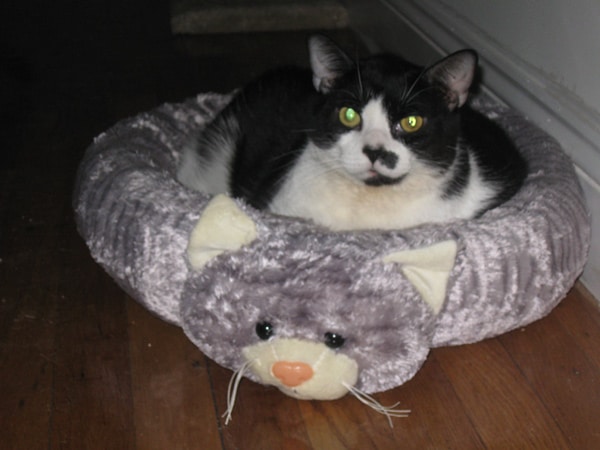 When handed to me, he was still and nervous. There were no signs of affection or seeming desire for attention, and he was visibly sad in a way that I didn't know was possible for cats until I witnessed it in him. He would be a little tough indeed.
I took him home that day and called him Gustave, after Gustave Flaubert. I figured that naming him after an accomplished individual who also suffered from epilepsy might inspire us both. I learned to administer his anti-seizure medication and tried to acquaint myself with the idea of an animal companion that was not going to be interested in play or snuggling the way our family pets growing up had been. I held onto the vain hope that one day he would warm up to me and we might make solid, if not warm, companions.
The first night I left him alone for a few hours to see a movie was the first time I witnessed him after an episode. Exhausted and afraid, he was sprawled on the kitchen floor, paralyzed by the overwhelming power of the seizure. I held him close and stroked his back with a wet cloth to clean him up, the only time he was ever docile enough to be touched. I would soon begin to witness more and more of the seizures. They were frightening not only because of the convulsions but because of the look of terror and vulnerability in Gustave's eyes when they took place.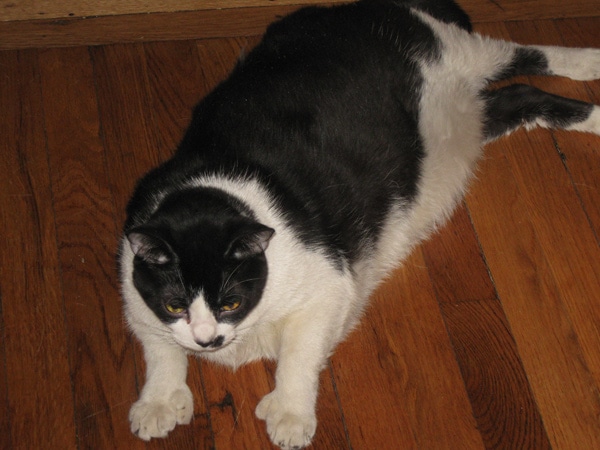 His vision problems meant that he saw much of the world in unidentifiable shadows, making him lash out with long claws when someone passed him. He never meant to hurt anyone, but the fear in which he lived made these outbursts frequent enough that I stopped entertaining guests for fear that he might injure them.
For a time, I admit I felt very isolated by Gustave's condition. Fear of outbursts when I couldn't maneuver out of his claw line, my lack of company, and the ever-present fear of the seizures, which seemed endless, made me feel helpless and alone. I felt like a failure for not convincing him to befriend me and trust me, misunderstanding that he was a creature who had been deeply wounded by his circumstances long before he came into my life.
But from that feeling of failure emerged a realization that I loved Gustave regardless of his ambivalence or even hostility toward me. That I made a contract to care for him unconditionally when I made that request at the shelter. And that when we care for those who cannot care for themselves we are entitled to nothing more than the knowledge that an otherwise unwanted animal is protected from the cruelty of both the world and its inhabitants and the seemingly arbitrary hand it is dealt by fate.
After several months, despite diligent administration of his medication, the seizures became more frequent and more violent. I continued the ritual of cleaning and soothing talk afterward, but there was nothing but pain and fear for Gustave as he sat in my lap, trembling and on edge as if trying unsuccessfully to shake off a nightmare. And all I could do was sit with him in my lap and love him. And whether or not he knew it or cared was irrelevant to my understanding of what it meant to be his caretaker.
But after one especially harrowing episode, he looked into my eyes and I into his as we sat on the kitchen floor, each of us recovering in our own way. There was not affection in his gaze, but there was recognition that I was not an enemy. Some sense that there might be someone in the world who wanted to help him. That maybe not every card in the hand he was dealt was rotten. I don't pretend to know precisely what animals think or feel, particularly in times of great distress, but if I had to take a guess, I would say he was feeling uncharacteristically safe in my company. And that to take even a bit of fear out of his life was something to gently celebrate.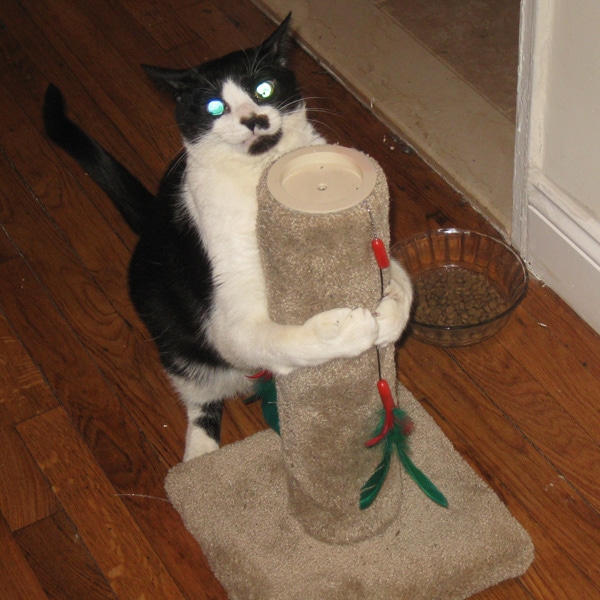 As his condition deteriorated and it became clear that his life was a nearly constant state of misery, we returned to the shelter where he came from for guidance from the vet, though I knew well in advance what they would tell me. The staff offered comfort and support for which I was grateful, but the overwhelming feeling was still utter failure.
In the four years since, I have come to realize that success in rescue animal companionship is not measured by how much they end up loving you but by the simple fact that you stood by them when others would or could not. That you recognized that they were independent beings with heartbreaking histories over which you might have no control to alter for the better. That you loved them when they couldn't muster the capacity or the inclination to reciprocate.
And that by being present for them, you made good on the promise of unconditional care and love, which is the birthright of even the least adoptable cat in the shelter.
Got a Cathouse Confessional to share?
We're looking for purrsonal stories from our readers about life with their cats. E-mail [email protected] — we want to hear from you!