So, you want to learn more about your cat. You figure you'll buy a book or two to get started. Then you see there are approximately eleventy billion cat care books on the market and you have no way of knowing which ones are good, which ones are bad, and which ones are just plain ridiculous.
Well, fear not: I've read most of them, and here are the ones I think are the best of the bunch. Take yourself back to school with these seven excellent cat books and you'll be the talk of the kitty town.

The 7 Best Cat Care Books
1. Cat First Aid by the American Red Cross
Every cat caretaker should know the basics of first aid. Even if your cat never goes outside and you think she's safe from trouble inside the confines of your home, accidents and illnesses can happen. You've got to know what to do to stabilize your cat so you can bring her safely to the emergency clinic. The American Red Cross's guide, which comes with a DVD, is a great place to start.
---
2. Think Like a Cat: How to Raise a Well-Adjusted Cat — Not a Sour Puss by Pam Johnson-Bennett
Pam Johnson-Bennett is, in my opinion, the best cat behaviorist around. This book, plus her other works, Starting From Scratch and Cat vs. Cat will help you to understand cat behavior and learn what you can do to correct behavior problems in adult cats.
---
3. Complete Care for Your Aging Cat by Amy Shojai
What Pam Johnson-Bennett is to feline behavior, Amy Shojai is to medical writing. I used this book to guide me through Siouxsie's early "senior" years, and her tips helped me right through Siouxsie's last day on earth. Also check out Complete Kitten Care and Pet Care in the New Century for more well-vetted cat medical information.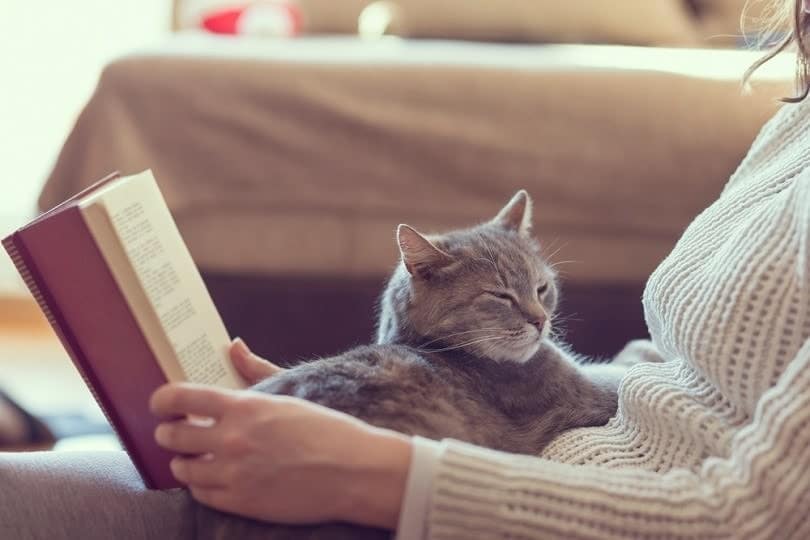 ---
4. The Cat Owner's Home Veterinary Handbook by Debra M. Eldredge, DVM, et al.
This book was published in 2007, so it's not full of the latest and most timely developments in the field of cat medicine. However, it is still an excellent guide to the basics of cat body systems and it will give you the information you need to ground yourself in the basics of feline anatomy and physiology. It also helps readers to understand a variety of illnesses from which cats can suffer.
---
5. Cats Are Not Peas: A Calico History of Genetics by Laura L. Gould
Many years ago, author Laura Gould adopted a calico cat who turned out to be male. This incredibly rare genetic phenomenon sent her on a search through the history of genetics — and, more specifically, the history of cat genetics. Gould makes complicated science understandable and provides a very interesting narrative of a new science in the making. If you enjoyed my articles on the genes that control cat fur colors and cat fur patterns, you'll probably enjoy this book.
---
6. Getting in TTouch With Your Cat by Linda Tellington-Jones
Linda Tellington-Jones' TTouch method focuses on using specific types of touch in specific patterns to deepen your bond with your cat and help her get through trying and stressful times. It's more than just massage or petting; it's a very conscious approach to touch. This 124-page book introduces TTouch and uses writing and photos to guide readers through various types of touches and how they can be used to help your feline friend.
---
7. Four Paws, Five Directions: A Guide to Chinese Medicine for Cats and Dogs by Cheryl Schwartz, DVM
You'll need to have at least some understanding of traditional Chinese medicine or acupuncture to be able to make sense of a lot of the content in this book, but there are some clear and understandable descriptions of acupressure and diet changes that could help you help your cat to feel her best. If you have an interest in traditional Chinese medicine or acupuncture, Four Paws, Five Directions is definitely worthy of a place in your library.
Do you have any favorite cat books that I didn't mention here? Please share them in the comments!
---
Read more about cat books:
Featured Photo by Dimitry B