Danielle Rothman's beloved cat, Petey, has never traveled well. The day her family got him, they had an unexpected kitty extra-cat-ion (or just go with extrication) on their car ride home.
"My mom decided to hold him in her lap," Danielle says. "But he crawled into the door of the car and got stuck. We had to take the car to the mechanic, and they took the door off to get the cat out."
They laugh about it now, but they learned their lesson: Petey prefers to stay in one place. So, when he needs vet care, Danielle arranges for a house call.
"This seemed like the kinder approach," Danielle says. "He's the classic definition of a scaredy-cat."
And the visiting vet wasn't fazed by Petey's aversion to strangers. "My husband had to catch him and put a towel over him to calm him down. The vet put him in the bathroom sink," Danielle says. "The vet was really knowledgeable, answered all our questions and got down to business."
Related: Mobile Vet Care — 4 Advantages and 1 Drawback
A house-call comeback
Mobile pet professionals are a growing trend. The house calls of 2020 are hip, in some cases high tech, and many say that they are affordable.
You can book appointments online or via an app. A medical clinic on wheels offering minor surgeries and X-rays may roll up your driveway. And when it comes to cats, house calls are usually win-win.
"If you have ever taken a cat to the veterinarian, it is noticeable how stressed they are. In their home, the cats are relaxed," says Dr. Karie Johnson, veterinarian and co-founder of the mobile clinic VIP Vet Visit in the south Chicago suburbs.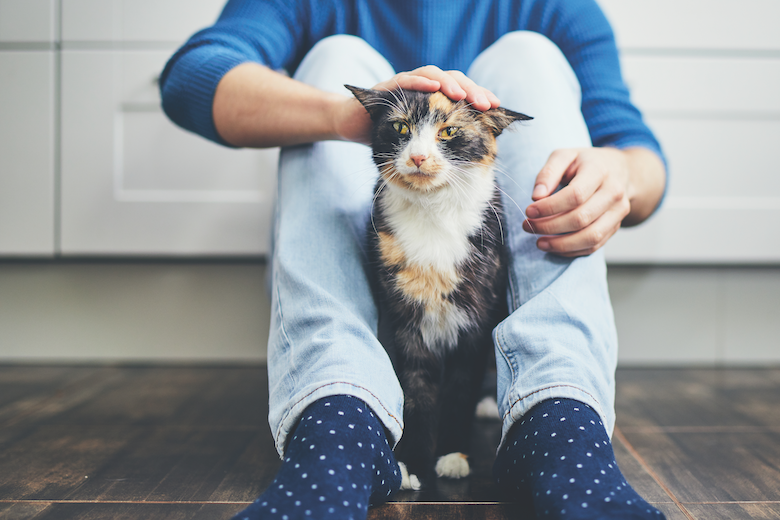 Better for your cat?
House calls could even help keep your feline friend healthier.
"The vet office is a stressful environment that can cause anxiety for a cat, which can weaken their immune system," Dr. Johnson says.
Veterinarian and owner of Vet At Your Door in the Portland, Maine, area, Dr. Deirdre Frey says she's seen cats come into animal hospitals so freaked out they've vomited or had accidents.
Dr. Frey fears some owners, hoping to avoid that kind of agony, may put off bringing their cat to the vet.
"I do feel like people may forgo either concerning symptoms or vaccines because they're weighing the stress it would put on the cat," Dr. Frey says.
And the more relaxed a cat is, the better exam a vet can perform.
Former Army veterinarian Turnera Croom, who now runs Dr. Croom Mobile Veterinary Service in Southwest Michigan, gets resourceful on cat house calls.
"We ask that the owner close off any major hiding places," she says.
Dr. Croom also uses a cat pheromone spray called Feliway. "It's supposed to smell like the natural scent of cat contentment, and it does appear to work a lot of the time."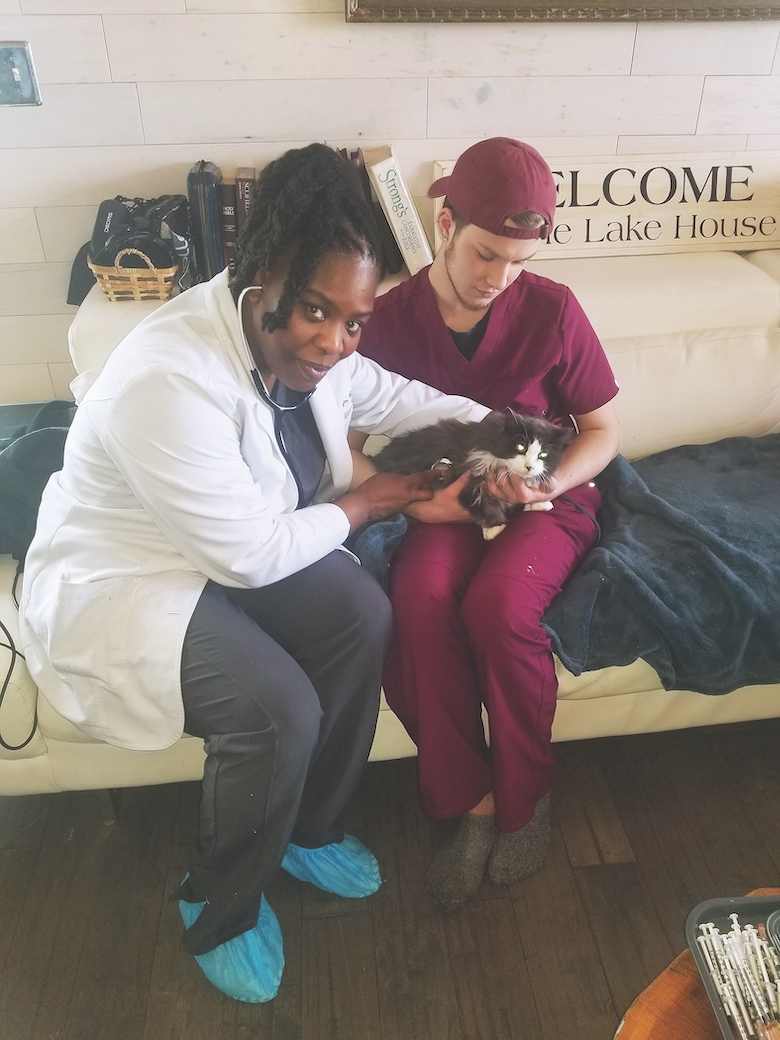 Time to say goodbye
Industry experts say in-home pet euthanasia is in huge demand.
Kelly Meister-Yetter says she was frustrated when her regular vets refused to come to her home to put her cat to sleep. "I didn't want my cat's last moments to be ones of fear."
So she searched online and found a vet offering house calls. "I thanked her profusely, a number of times, for being a mobile vet because putting my beloved cat down in her own home was really important to me," Kelly says.
Pet professionals on wheels
Vets aren't the only pet professionals on the move.
Your cat can sit on the couch while Caitlin Isbister from Pet Acupuncture Works in the Boston, Massachusetts area, stops by for a home-treatment session.
"When I'm treating cats, usually, the pet dad or mom will stay with the cat during the treatment," Caitlin says. "They also keep a hand on them to gently encourage them to sit with the needles."
And Linda Schmoldt is one brave house-call pro.
If you live in Manhattan, she will come to your place and bathe your cat. Linda's company, Spiffy Kitty House Call Cat Grooming, isn't afraid of a challenge.
"Lots of groomers are scared to groom cats," Linda says. "Cats move so fast and have seriously sharp teeth and claws. They're beautiful beasties."
If you're thinking, "Do cats need to be groomed?" Linda says some breeds need their day of beauty more than others.
"Old cats can get awfully greasy and sad looking," Linda says. "I restore them to their former glory.
And Persians, no surprise, need at a minimum to be groomed monthly, or you wind up with a knotted weirdo instead of a beauty queen. Siberians and Maine Coons and Ragdolls need help, a lot of help."
Is in-home care for your cat?
Danielle says she is sold on house calls for Petey. "He is important to us, so we prioritize his care. It was not as expensive as you think," Danielle says.
Top photograph: Elnur | Dreamstime.com
Read Next: Have You Ever Felt the Need to Break Up with Your Vet?