Cats and dogs are animals with "three legs and a spare," as Dr. Beth Galles and other veterinarians often say when encountering a tripod pet. But still, there are some kitties with special conditions — like severe obesity, arthritis or other mobility issues — who may struggle to walk well on just three limbs. That's where a prosthetic, otherwise uncommon with pets, may be helpful, Dr. Galles says.
Olive, a three-legged brown tabby, became a guinea pig for biological systems engineering students at the University of Nebraska-Lincoln. For their senior project, this group of students used a 3D printer to create a prosthetic kitty leg. Olive, who is missing part of her left foreleg, was a real trooper through the whole process.
Meanwhile, Olive — a rescue from the Capital Humane Society in Lincoln — found her forever home with Dr. Galles, whose family fell in love with the kitty as the veterinarian fostered her.
"Olive is the sweetest cat!" Dr. Galles says. "I brought her home to foster her during this project and after about one day, I knew my children would be devastated if she left again."
The project started in spring 2020, when an obese cat at the local humane society needed a front-leg amputation. Dr. Galles and
shelter staff, concerned that the cat couldn't walk on her own after the operation, contacted the university's engineering department to ask about making a kitty prosthetic. But then, the COVID-19 pandemic hit, and shutdowns derailed plans.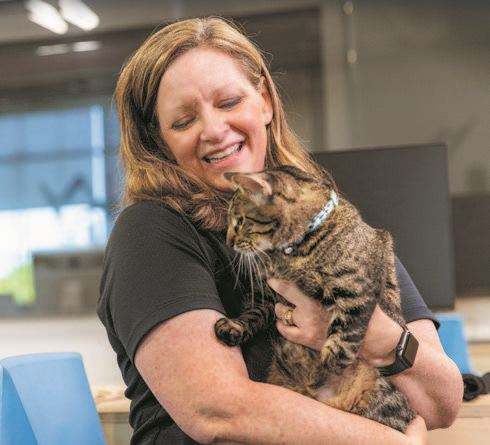 When Olive came into the shelter in the fall of 2020, the team revisited the idea of creating a ready-made cat prosthetic for cats that might have an unusually hard time missing a leg.
"In those cases, a temporary prosthetic may be very useful as we treat and optimize the animal for life on three legs, such as with losing weight or treating and controlling the arthritis pain and inflammation," Dr. Galles says.
Abby Smith, Harrison Grasso and three other students got started on the project with Olive early in 2021. They had regular hour-long sessions with her over a few months. Abby, who graduated in May, says the project sounded tricky. The students weren't expecting to work with animals, and nobody had much experience with cats.
"I think we got very lucky in that Olive is one of the sweetest cats I have ever been around," says Abby, who was surprised because she wasn't expecting a cat to be cooperative. "She was such a good sport throughout it all and was so kind to us. She never lashed out or anything at us, or Dr. Galles or the veterinary staff. … She was honestly an angel throughout the entire project."
The students used a 3D printer to make the prosthetic out of polylactic acid, after three or four iterations. It attaches to the cat's leg with Velcro straps and the help of a silicone sleeve. They printed out several prosthetics for the humane society, so the shelter will be prepared if a kitty needing the help comes.
Olive — whom her family calls Ollie — shares her home with her human family, which includes three young boys. She also lives with two other critters: a Beagle named Millie who she tolerates and a guinea pig named Halloween. She isn't much of a lap cat, but Ollie loves to play and sit with her family and watch birds.