Turns out, we're feeding our cats all wrong. And they're paying a price for it. To be clear, I am not diving into what we feed our cats; this is about how to feed cats.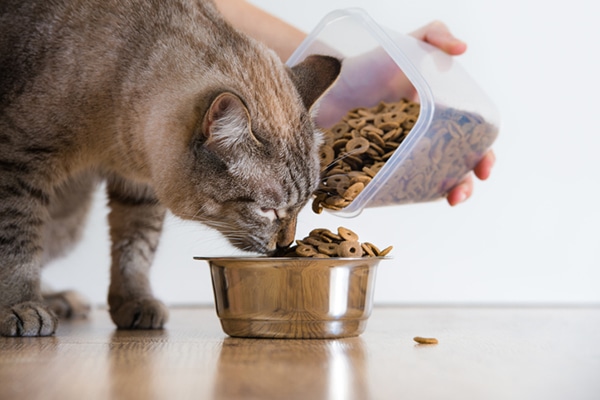 How we feed cats now — and what's so wrong about it
Most cat caretakers feed their cats from bowls. And most of those free feed, leaving food out 24/7. The idea is that cats don't naturally scarf down meals all at once — and that is true. They catch what they can when they can.
However, given the open buffet, most cats eat unnaturally large meals all at once and then return for even more. Perhaps, exasperating the issue is that most cats have little else to do but eat.
According to the American Veterinary Medical Association, the majority of people who have a cat actually have, on average, just over two cats. With two cats or more in a house, it's difficult to gauge which cat is eating more. Though you may figure it out when eventually the veterinarian says, "My, lovely Susie here has gained 2 pounds since her last visit."
And cats, being cats, are excellent trainers of humans; they train us to keep filling the food dish.
Feeding exclusively moist food doesn't solve the problem. Caretakers put down the food at prescribed times, the cats eat it and it's over. To survive outside, cats catch somewhere around eight to 13 small prey in a day. The edible contents of the average mouse or bird is about one to two tablespoons, not a heaping one-half cup at a time.
You see, cats are born with a prey drive and are hardwired to seek, hunt and pounce. In our homes, we don't give them the opportunity. Absolutely, having toys to chase or pounce is necessary. Still, it's not the same as hunting for a meal.
Researchers have studied how community cats and barn cats naturally spend time. According to "Behaviour and ecology of free-ranging female farm cats," International Journal Behavioural Biology Ethology, Panaman, R. 1981, outdoor cats rest or sleep a lot — after all, they are cats, at 62 percent of the day. Much of that resting time occurs after the series of seeking, hunting and feeding, which accounts for 19 percent. (The remaining time is spent grooming or playing.) Various other studies confirm similar data.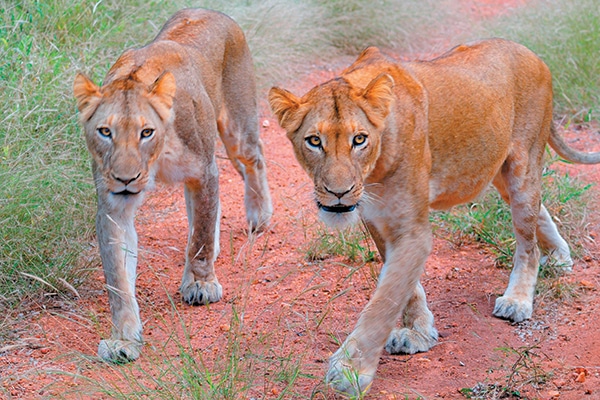 Cats are used to hunting for their food
Inside our homes, seeking the food is predictable and doesn't account for time or effort; hunting is not necessary, though certainly there's feeding — a lot of feeding. In part, it explains why 59 percent of cats are overweight or obese (Association for Pet Obesity Prevention).
I suggest that by offering food on a silver platter or bowl, we're not allowing cats to be cats. There's mounting evidence that demonstrates many animals would rather work for food — contra- freeloading — than have it offered freely. So far, studies have been limited to some zoo animals and lab rodents, but if the grizzly bears, meerkats and rats studied prefer to labor to get their meals, why not cats and dogs?
What's more, not being able to search out and capture a meal appears to be stressful to cats. Dr. Tony Buffington (then at the Ohio State University College of Veterinary Medicine and now a clinical professor volunteer at the UC Davis School of Veterinary Medicine and honorary research fellow at University of Bristol, School of Veterinary Sciences) discovered a dull, unenriched life is anxiety inducing in cats.
Feeding our cats appropriately is only one means to enrich lives, but just because a cat is scarfing down food doesn't mean there isn't mounting anxiety. In some cats, this chronic stress leads to what has been coined idiopathic feline lower urinary tract disease (FLUTD). Now Buffington calls this greatly stress-induced illness Pandora's Syndrome. Over the years, lots of medications have been tried and all without much success. However, Buffington discovered that providing structure and an enriched environment can solve the problem — or prevent it in the first place.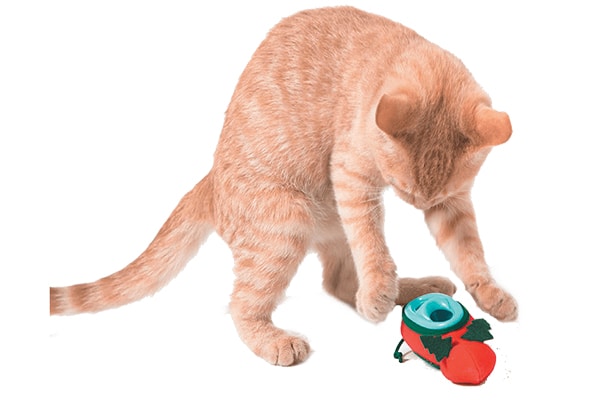 How to feed cats: activate their prey drive
Some veterinary behaviorists and cat behavior consultants have been talking about creating ways for cats to activate their prey drive indoors. Dr. Elizabeth Bales put all the science together and created the Indoor Cat Feeder.
The feeding system includes objects resembling mice, which kibble is deposited into. The dispensers consist of a soft outer skin to simulate prey and a BPA-free plastic inner container, which holds one-fifth of the cat's daily ration. There are two holes on the back of each food dispenser. The idea is to split a meal between the five dispensers and ultimately to hide them. Cats learn to hunt indoors by finding each food-filled dispenser, pouncing on it and manipulating each device to dispense the small meal. Use with kibble. The Indoor Cat Feeder isn't the only choice; there are lots of food puzzles available at most pet stores and online.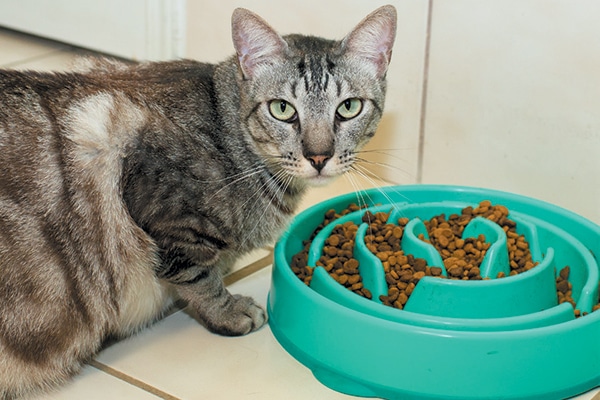 How to feed cats properly — what cat parents can do:
There are ways to encourage indoor cats to be cats:
Activate the prey drive, which all cats have, by playing with an interactive cat toy. Be sure to let the cat "catch" the feather, fabric or whatever is at the end of fishing pole-type toys. That can be a problem with the laser light. Yes, great exercise to chase the little red bug, but all those nerve endings which go from paws directly to the brain realize, "I've caught nothing, really." Since that may be a frustrating feeling — to never catch — I suggest dropping a piece of kibble or a treat on that little dot periodically. (Also be sure if children are playing with the laser light that there is adult supervision, so the children never shine the light in the cat's eyes or their own eyes).
Want your cat to stop waking you up overnight? Stop offering him attention when he dances on your tummy at 4 a.m. But also feed a snack before bedtime. Just like you may loosen your belt and take a nap following a snack, the same is true for cats. (Note: If the cat waking you up overnight is a new behavior, consult your veterinarian to rule out a medical cause).
If you feed kibble only, offer an occasional snack of moist food. The same is true if you are a believer in moist food — occasionally offer either kibble or hard treats. Cats become accustomed to specific textures, and often later in life may require a special veterinary diet, which may be a different type of texture than whatever you've been feeding for a lifetime. Convincing some cats to change their ways is challenging; they just don't want to try the novel-feeling product. However, it is possible that with prior positive experience to a different texture at least some cats may be more willing to give it a shot.
Hopefully, I've given you some food for thought when it comes to how to feed cats.
Tell us: How do you feed your cats? What do you think about this advice on how to feed cats?
This piece was originally published on January 31, 2018.
Read more about cat food and feeding cats on Catster.com: