Editor's Note: We're thrilled to welcome the wildly talented and wonderfully fashionable Kate Benjamin as our new style editor on Catster! You might recognize her from her work with Jackson Galaxy or her site, Hauspanther. If you've wandered over here from any of Kate's other haunts on the Internet, take a second and say hi in the comments!

++++
Every stylish cat lady knows that Halloween is the perfect holiday for awesome feline fashion finds. Black cats abound and cat costume accessories come out to play. Why not snap up some of these seasonal items and add them to your year round cat lady wardrobe?
I'm always on the lookout for cool cat couture to add to my other design finds over at Hauspanther, your ultimate source for all things cats and design. I've gathered some of my favorite cat-themed Halloween fashion finds here for you. These goodies are sure to make you the coolest cat on the block this Halloween, or any time of year! All of these are handmade, too, so you'll be getting something unique while supporting independent artists.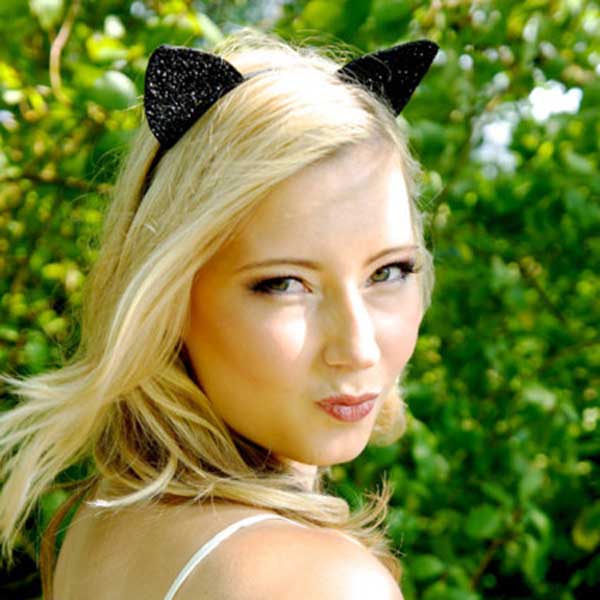 Looking for a quick and easy Halloween costume? Grab a pair of these adorable glittery cat ears from Fairy Rings Shop, put on your best cat eyeliner, and you'll be ready to party! These would be super-cute with that little black dress for New Year's Eve, too!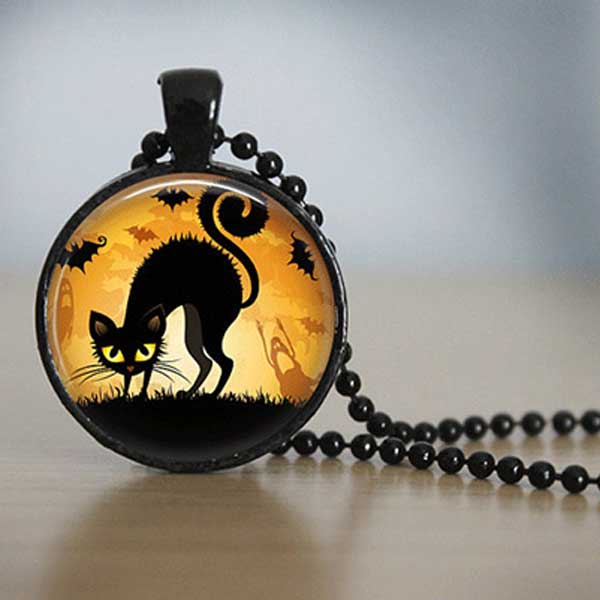 Add a touch of seasonal flair to your wardrobe with this glass pendant from Blue Rose Beadery featuring a fun Halloween black cat illustration. No need to wait until Halloween to break out the black cat jewelry; wear this one to work or to class anytime during the fall season. You can get matching earrings, too!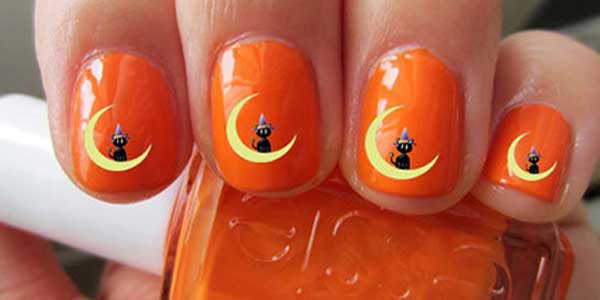 Give your fingertips some Halloween style with these awesome nail decals featuring little black cats sitting on crescent moons. You'll want to pick a bright base color to wear with these, like a deep orange for Halloween, or switch to a midnight blue or candy apple red for other occasions. Available in a pack of 50 decals from Nail Statement.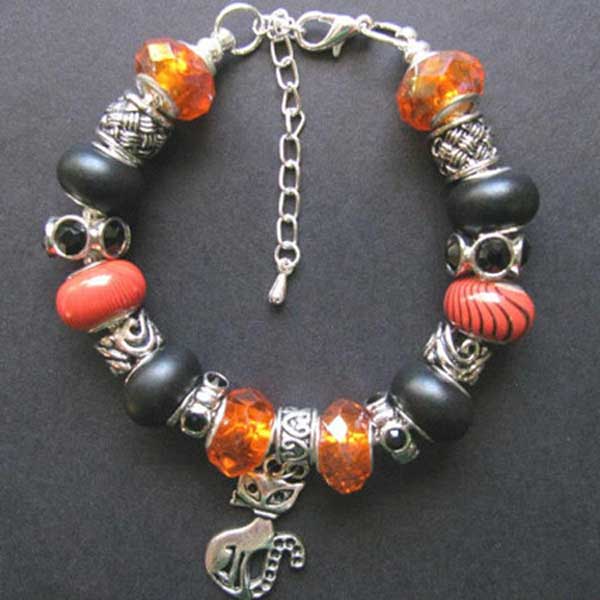 This lovely Halloween bling from Beaddazzled Designs by Mary Skyberg combines orange and black glass beads with silver accents and a hip kitty charm. This would make a great addition to your year round jewelry collection. Pair it with silver and black for an evening out on the town!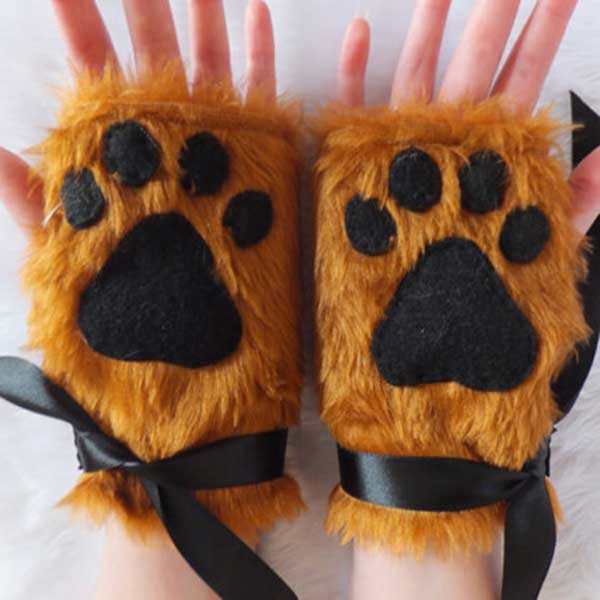 Complete your cat costume with a pair of furry cat paw gloves from Kitten Treasures. These fingerless gloves are tied with a satin ribbon and come in a variety of different colors. Adorable kawaii style!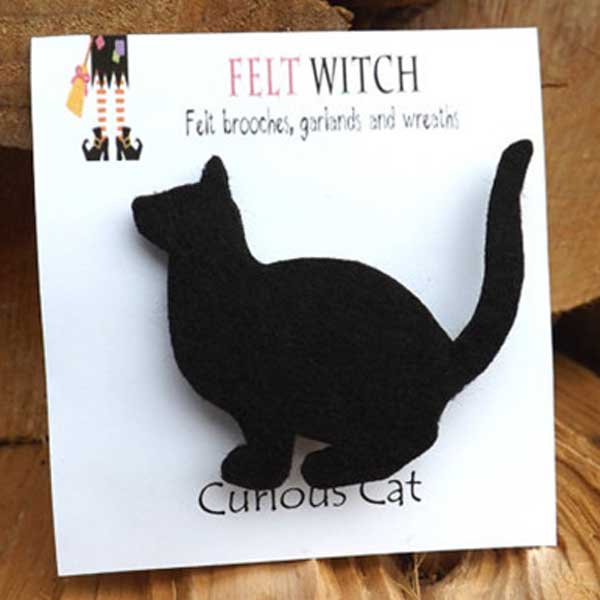 This curious cat brooch from Felt Witch will add just a touch of Halloween spirit to your wardrobe, for the holiday or anytime! Felt gives it a nice warm feeling. Wear it with a casual daytime outfit or add understated elegance to eveningwear.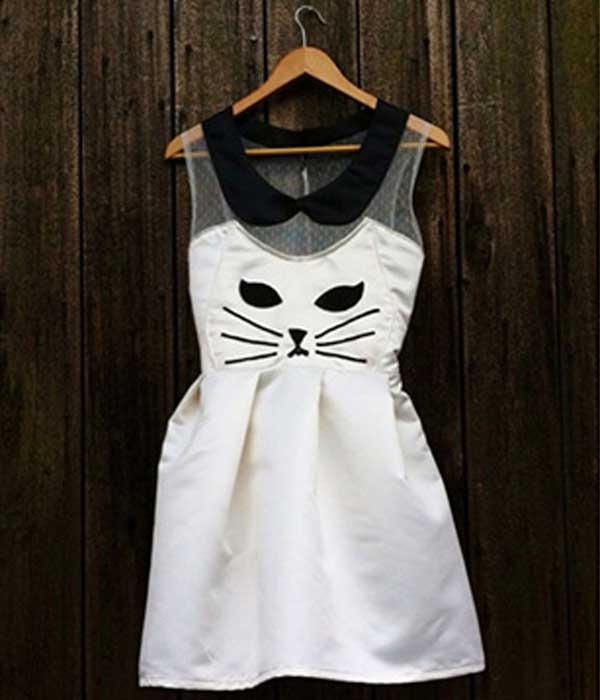 You'll be turning heads on Halloween or any other time in this Kawaii Kitty Cat Dress from The Dandy Lion Shop! I love the stylized cat face that makes a bold statement in an adorable way. This style is also extremely flattering to many different body shapes. Available in black or white and custom made to just your size.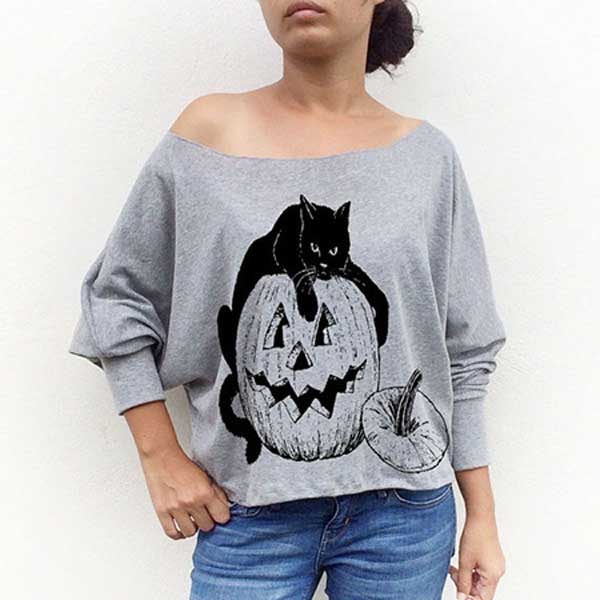 Snuggle up in style with this oversized off the shoulder sweatshirt featuring a Halloween black cat print from FunFamily2014. Casual comfort can still be stylish! Dress up that sweatshirt with some fun accessories and a new pair of boots and you'll be a feline fashionista!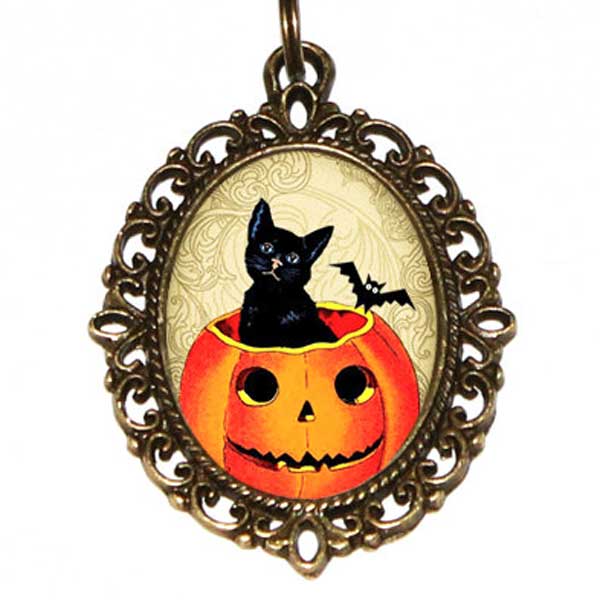 The Goblin Cave brings you more Halloween kitty bling with this lovely necklace showcasing an adorable illustration of a black cat in a jack-o-lantern and a little bat friend. This one definitely has more of a Halloween flair, but I say start the season early and celebrate those black cats all month long!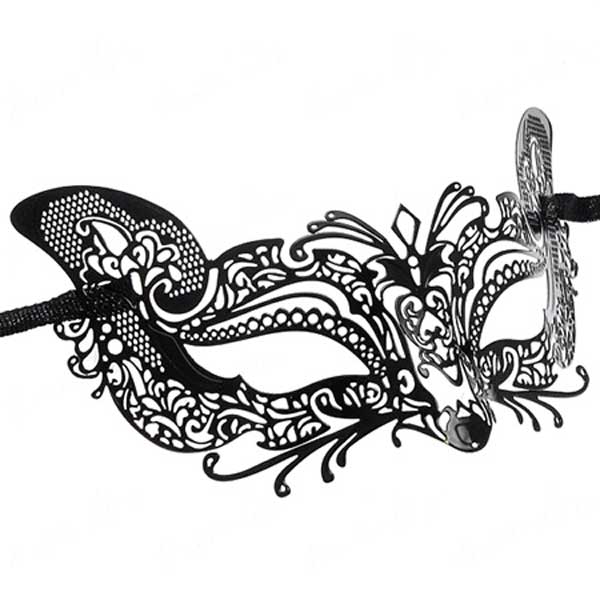 Glam it up this Halloween with this delicate laser-cut metal cat mask from 4everstore. The lacy look will give your costume an air of elegance. Perfect for any masquerade party, Halloween, Mardi Gras, or New Year's Eve.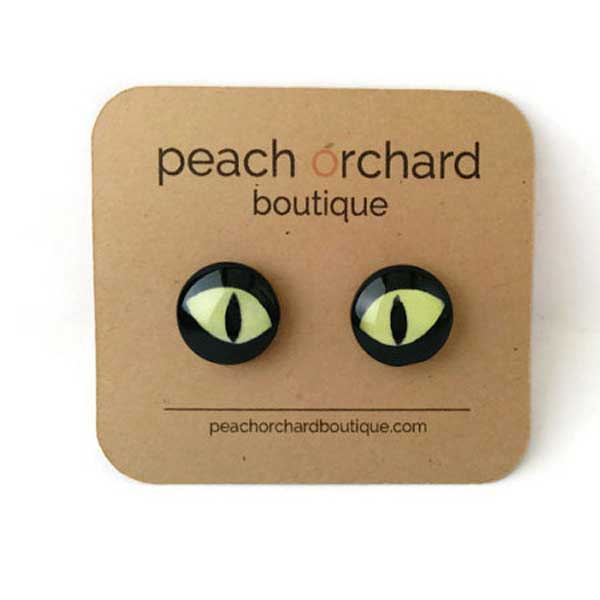 Make a feline fashion statement with these glow-in-the-dark cat eye earrings from Peach Orchard Boutique. Hand-painted glass cabochons measure about 12 mm each. Very eye catching! You could even wear these as pins on a sweater or jacket lapel, or add them to a hair bow. So many possibilities!
About the author: Kate Benjamin is the founder of the popular cat style blog Hauspanther.com. She specializes in helping people live stylishly with cats. You may have seen her on Jackson Galaxy's show My Cat From Hell. Make sure to check out Kate and Jackson's new book, Catification: Designing a Happy and Stylish Home for Your Cat (and You!).