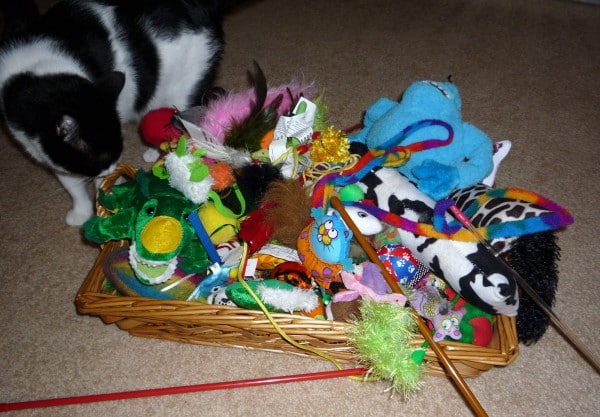 A little over a week ago, we started a contest to guess how many toys were in Pimp and Moo's toy basket and I can't believe how many responses we got! There were over 800 guesses… and can you believe that no one got it exactly right?
It's true! Most guessed 100 or less, but I counted today and the actual number surprised even me! My two boys have 176 toys! 176! That is 88 toys per cat. Can you say spoiled?
The closest guess without going over was actually pretty close. Brandi guessed 173, so she is the winner of our Ultimate Cat Lady prize pack! Big thanks to Sarah Donner (who is going on tour in June, so check her site for dates and see if you can catch her!) for offering up all the Lady Peanut goodies to give away.
Also, as a little side note, I decided Pimp and Moo have too many toys. I know, I know, kitties may not agree with that, but they don't need all these! I decided I'm going to pack up a bunch that are basically brand new that they don't use and donate them to my favorite local cat shelter, Cats Exclusive. The kitties there will surely love them and I would love for them to have them instead of being mostly ignored at the bottom of our basket.
In case you're wondering, this is what 176 cat toys looks like spread out and with Moo in the picture for size reference. That's a lot of toys!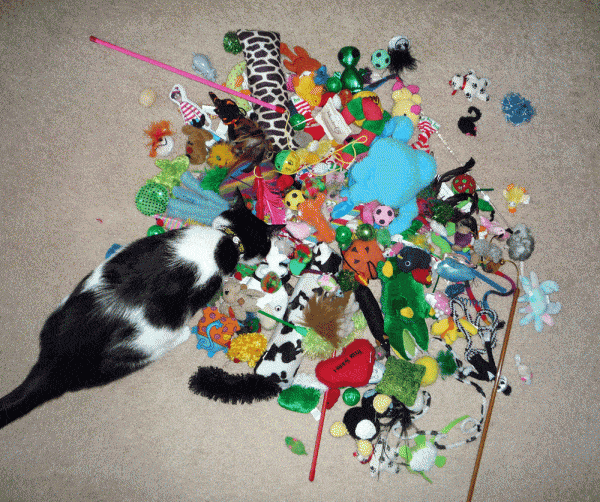 So, yay! Brandi wins a prize pack and some shelter kitties get some toys out of this. A win-win!