Zombies are top of mind for many at the moment, including me, as fans of AMC's zombie-drama The Walking Dead got a sneak peek at the new season last week at Comic-Con. The show is set to return for its fourth season on October 13.
While I'd never wish to be caught up in a herd of human walkers like the ones depicted on the show, I can't help but think that a swarm of damned kitty cats could be so much more adorable. Sure, they'd still tear you to pieces while nomming on your guts, but at least they'd be killing you with cuteness — much like these five zombie-themed items celebrating the feline undead.
How do you turn an illustration of a cat corpse into an adorable print fit for a mini-messenger bag? Leave it to artist Ella Goodwin, who walked down the aisle last summer in a kitten print wedding dress, to figure out how to make us squee instead of scream.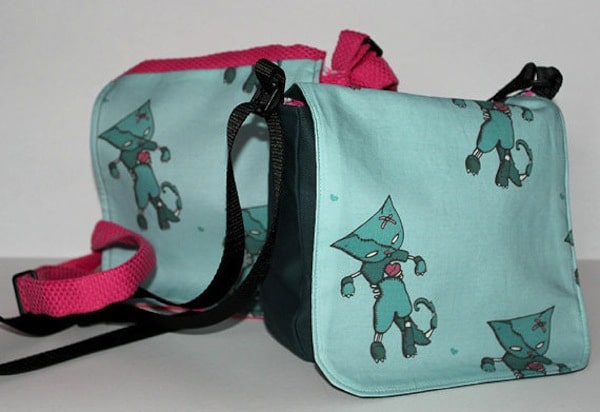 The sturdy shoulder bags, available in blue and hot pink, are fully lined and have a velcro closures to prevent any "unwanted escapees." I love how Ella uses pretty colors and hearts to turn her zombies into cuddly creatures who aren't afraid to make a drop-dead fashion statement.
Em & Sprout are known for their classically cute kitty gear, but these unique cat flats redefine the meaning of creepy cool.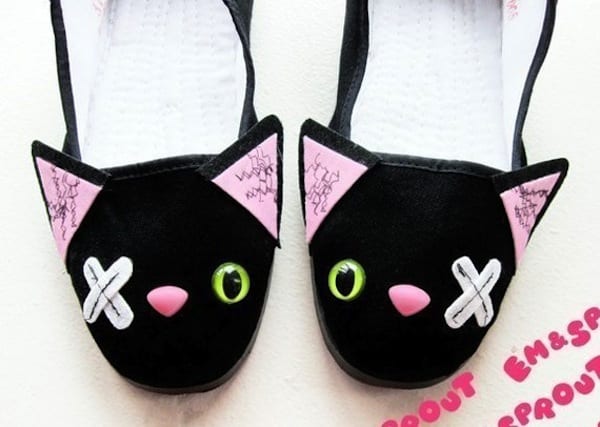 Shop owner Lindsey was inspired to give her pretty kitty shoes a morbid makeover to match her zombie cat Halloween costume. She liked how they came out, and decided to add them to her shop. The black cat flats feature a signature green eye and pink nose, but get the monster-movie treatment with a hand-stitched dead-eye and ears. As the designer herself says, they're "a little sweet and a little sick, just how I like it!"
If all the blood and guts of zombieland are too much for you to stomach, I'm pretty stoked on this sculpted soap, which is "part zombie, part owl, part cat … solid soap."
While staring into the hollow eyes of this zombie kitty might give you nightmares, this glycerin soap will wipe your mind clean of any frightening thoughts with its relaxing oatmeal, milk and honey scent. It also comes in a lovely hand-stamped box for all you soap snobs out there who take pleasure in the packaging.
Need some zombie-inspired artwork to liven (er, deaden?) up your living space? My pick is this provocative Persian, who is still pretty in pink despite her advanced stages of decay.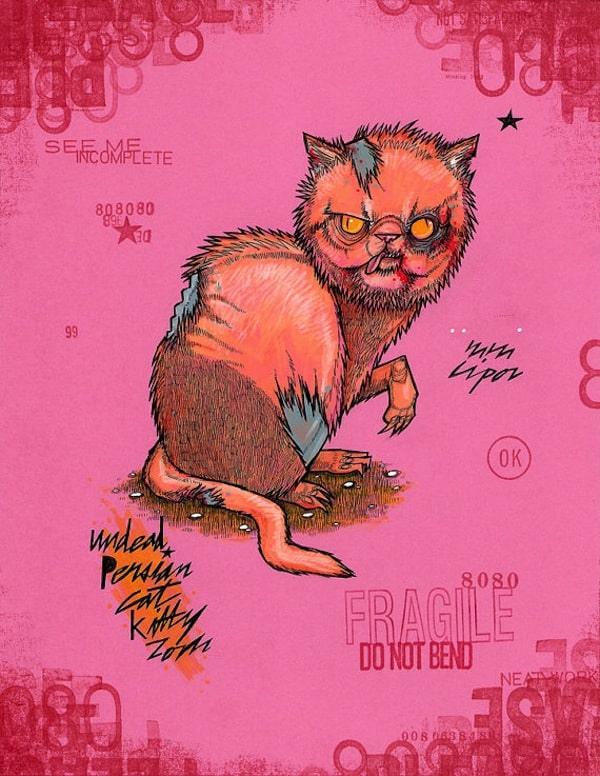 Artist Matty Cipov felt the need to create an undead version of the flat-faced breed, and believes that despite her bulging eyes, loose fur, and green skin, she's still a cutie at heart. I tend to agree, but don't take heed — despite her charm, this killer puss is still dangerous and hungry for your brains.
After you've floated away on a soapy sea of milk and honey with your zombie cat soap, come back down to earth with soothing cat head sachets from Creature Comforts by Felicia Rose.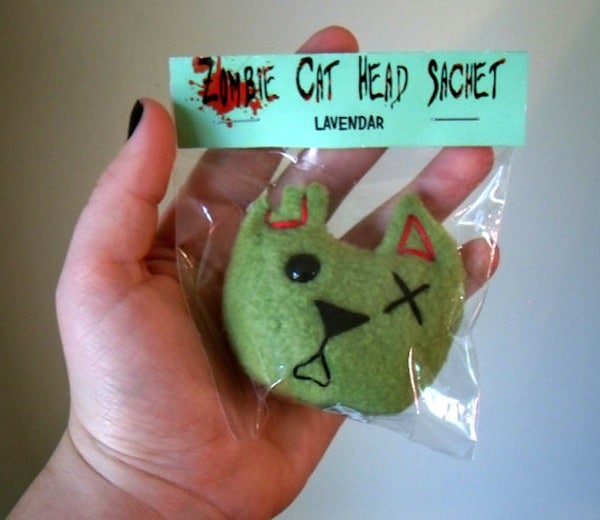 Forget sugar and spice and everything nice — this ain't your grandma's stinky old sachet. Stuff these little undead heads in your pillowcases, drawers, linen closet, or anywhere else you can use the stress-busting scent of lavender, along with the shock appeal of a disembodied cat head. It will teach anyone from snooping through your stuff again!
Looking for more cat style? Check these out: