---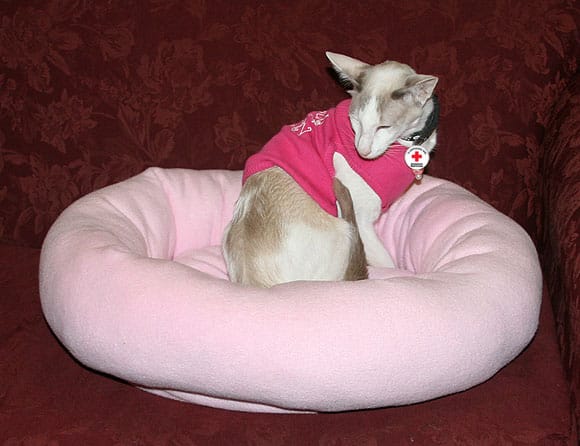 Hey, evrybuddy, Skeezix heer. Yesterday on my blog, I posted some fotos of my grate trip to vizit Catster HQ, and almost immeediutly, several cats asked abowt the Red Cross thingie on my collar. Sum cats thot it was just bling, like the pink charm frum my frends Finny, Buddy and Jazzy, or the "Dude" charm frum Jeter Harris. But no, yer wrong. This is a "Together Tag" and if I am ever lost, it will help me get back to my famly.
As many of yoo know, I am strikly an indoor cat. I've bin microchipped, but microchipping is not enough. The Food Lady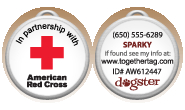 worries that most peeple hoo find lost pets don't know to take the pet to a vet or shelter to git scanned for the microchip. So she's always put ID tags on me as well. When she herd abowt the Together Tag pet ID and recovery service, she ordered tags for all of us rite away. Like low-tech ID tags, my Together Tag displays my name and my famly's contakt information. But that's not all. A URL is printed on the tag so that the person hoo finds yer lost pet can go online to get more information and let yoo know yer pet has been found. For example, maybe yer not reachable by phone because yer home was destroyed by fire, flood or tornado. The person hoo finds yer pet can go to togethertag.com and git in touch with you. Pretty neet, eh? Well, Together Tags offer even more than that.
When yer pet gits lost, the Together Tag pet recovery service leeps into action to help you recover yer lost pet. It automatically alerts yer local shelters and Together Tag members that yer lost. It also offers a tool with wich you can automagically create and print Lost Pet posters… and more! Heer's whut happens win yoo enroll, and how Together Tag works:

Enroll online (add info and photo for each pet)
Create your pet's tag
Receive tag, attach to pet's collar
Update profile and contact information online ANYTIME for FREE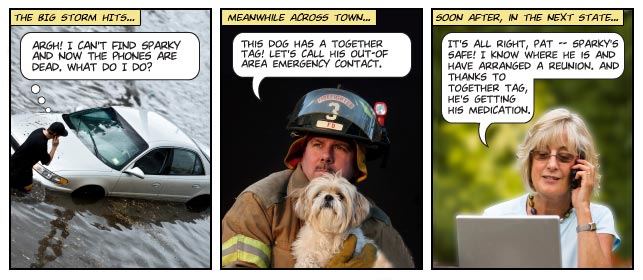 If Your Pet is Lost
Report your pet as lost – include last seen information
Notice is sent to area shelters (from our network of over 5,000 shelters nationwide)
Notice is sent to Together Tag members in your area
Notice is sent to participating members of Dogster/Catster (a community of over one million pet lovers)
Use our tool to quickly and easily create and print "lost pet" posters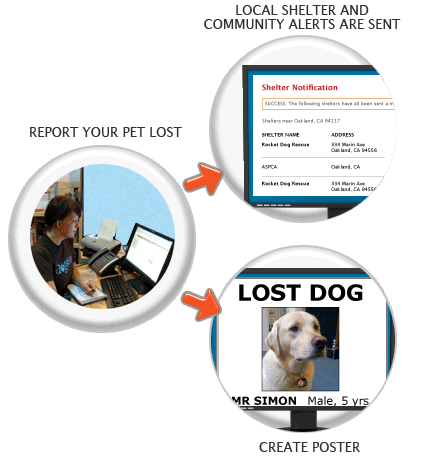 Still not convinced? Right now, $5 from every enrollment purchased, will be donated to the pet safety program at the American Red Cross. How can you say no to that?