---
It is with great restraint that we resist falling into the gutter and making the obvious puns. We're too classy for that!
And so is Howard Stern, apparently.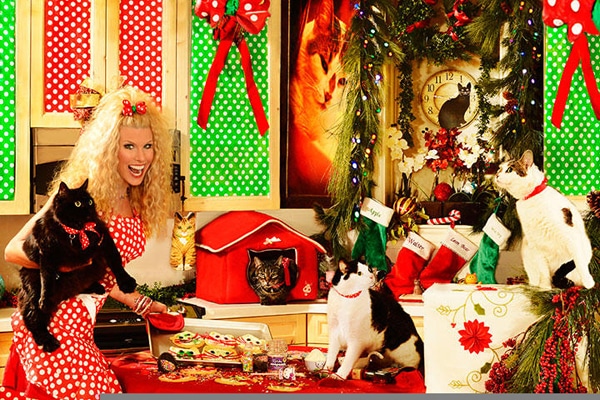 The shock jock, known for saying outrageous things on his outrageous radio show, actually has a soft spot for animals. Stern and his wife, Beth Ostrosky Stern, share their home with four rescue cats: Apple, Walter, Leon Bear, and Charlie Boy. So we guess it's no surprise then that the kitties are featured in Stern's wacky Christmas cards. Stern himself is absent from the crazy cat scene, but maybe that's because he was on the other side of the camera. With the halls decked like presents wrapped in polka dot paper, Stern's wife serves kitten-shaped cookies to the family's clowder of cats. Along with several pieces of cat decorations, the card sends a very clear message of festive feline affection.
Even though Howard Stern is not present in the photo, he didn't mind sharing it with his 400,000 Twitter followers.
According to Beth, the couple will be spending the holidays at home in New York … with their four cats. We wonder what the cats will be getting for Christmas?
How many of our Catsters sent out holiday cards featuring their kitties?
Image via Pawnation