SuperZoo is a pet industry trade show that takes place in Las Vegas every summer. Yep — Vegas in summer. Aside from the 100-plus degree temperatures, it's always a great show for pet lovers like me.
This year, there were more than 1,000 exhibitors — that's a lot of products to see in just three days! Here are a few of my favorites:
Catit Senses 2.0 Play Circuit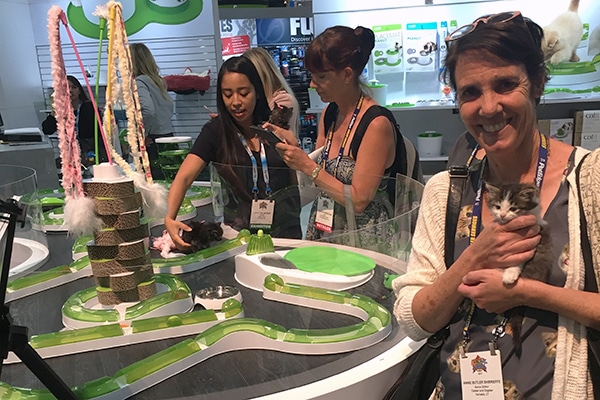 One of my first stops was the Catit booth, where the company was featuring the Senses 2.0 Play Circuit, which is a series of interconnecting closed tracks. Each circuit consists of a ball that zips around the track like a rollercoaster. The peek-a-boo cover lets your cat chase and swat the ball. Depending on how many of the individual circuits you have, you can make 100 different layouts to keep your cat entertained. This was pretty cool in itself, but the best part for me was the group of rescue kittens who were "demonstrating" the Play Circuit.
Meeting Ricky the Rescue Cat and Surfin' Jack at Lucy Pet Products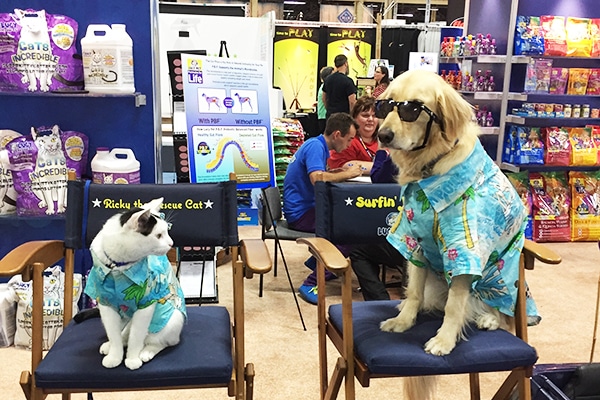 Another fun stop was at the Lucy Pet Products booth. I checked out some of their cat and dog products like the Cats Incredible litter and Formulas for Life food line. And best of all, I got to meet Ricky the Rescue Cat and his canine buddy, Surfin' Jack. Ricky serves as the feline ambassador of good will for Lucy Pet Products, while Surfin' Jack is the spokesdog and chief product coordinator who has his own line of shampoo and leave-in conditioner for pups.
They're both also core members of The Lucy Pet Foundation. The goal of the foundation is to have spay/neuter and adoption mobile clinics in every major city in the country. What a pair! Surfin' Jack was sweet and friendly, and Ricky is the most easygoing cat I've ever met. He rode through the halls in his Ammonia Patrol jeep and didn't seem a bit upset when the jeep was involved in a minor accident.
Seeing Jackson Galaxy and Checking Out His Petmate Products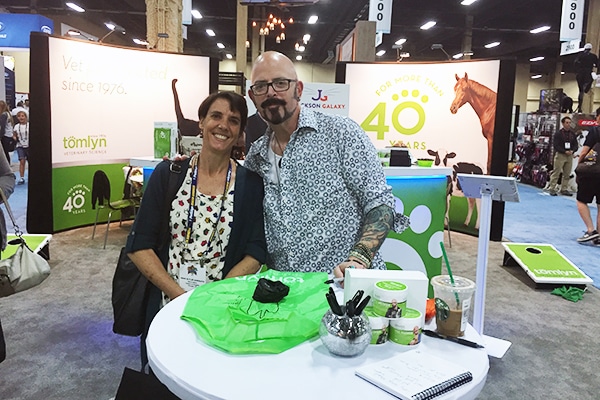 Jackson Galaxy has teamed up with Tomlyn Veterinary Science. I just happened to notice him as I walked by the Tomlyn booth. I've met Jackson a couple of times, but I decided to stand in line to get our picture taken and to have him sign my tote bag!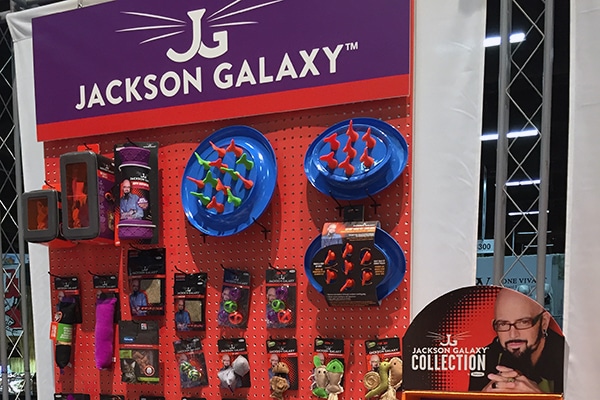 I also checked out some of his cool products at the Petmate booth. I get a lot of his toys for my own cats and foster kittens. He really knows cats and what they need to be happy and healthy.
Hanging Out with Catster Feline Design Columnist Kate Benjamin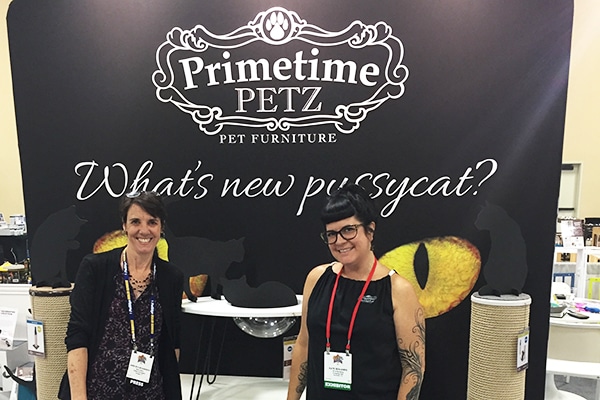 I also spent a few minutes hanging out with Kate Benjamin, Catster magazine's Feline Design columnist, and taking a look at some fun new cat furniture from Primetime Petz, including the Nest Egg that you can see behind us.
Cruising with Manny the Frenchie, Halo's New Spokesdog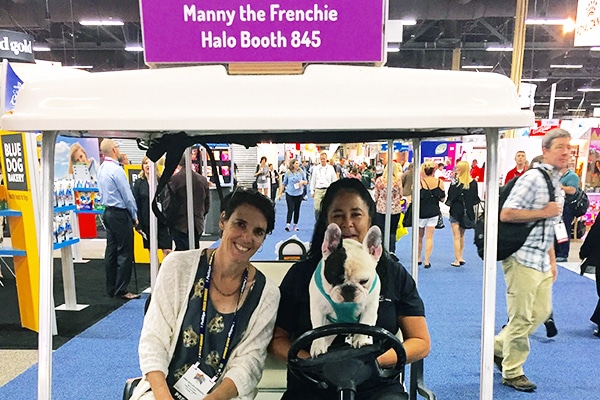 While visiting the Halo Purely for Pets booth, I learned that Manny the Frenchie (of Instagram fame) is now Halo's new spokesdog. I managed to hitch a ride with him and got a copy of his book, Manny the Frenchie's Art of Happiness, signed by Manny himself! I also found out that Lil BUB has officially agreed to endorse Halo. Unfortunately, she couldn't make it to SuperZoo. Maybe I'll get to meet her next year!
Fun Cat (and Dog!) Beds from Yeti Pet Cave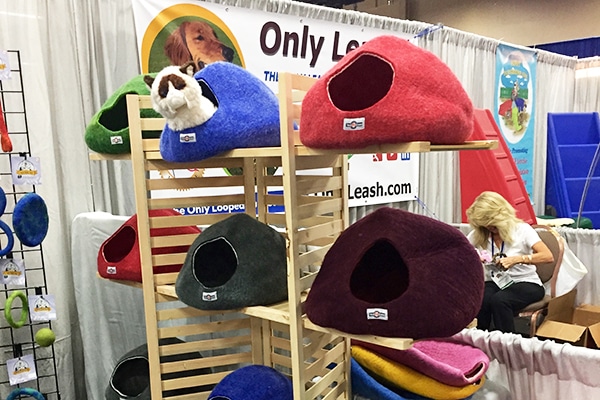 At one point while wandering around the show floor, I stopped in my tracks as soon as I saw these cool cat caves and dog beds from Yeti Pet Cave. The pom-pom bed is geared more toward dogs, but cats and small dogs can both enjoy the cat caves.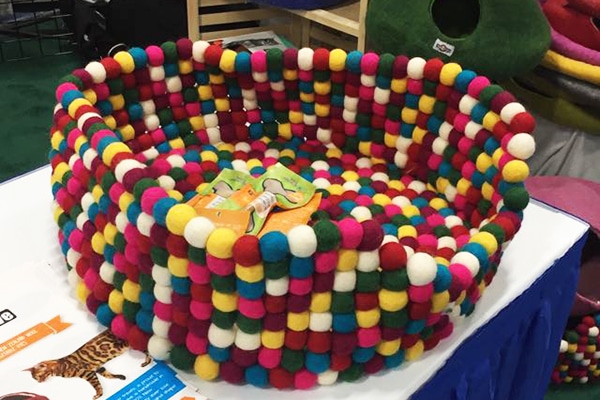 Each is handmade in Nepal, supporting local and independent artisans. They're made from 100-percent New Zealand wool, and if they ever lose their shape, you just toss them in the dryer and they'll return to their original shape!
Cool Cat-centric Products at the Fringe Studio Booth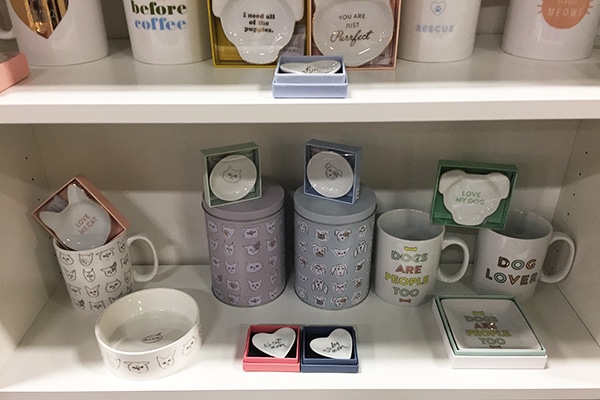 One of my last stops was the Fringe Studio booth. Fringe is a wholesale stationery and gift design studio that creates great products for both pets and their people.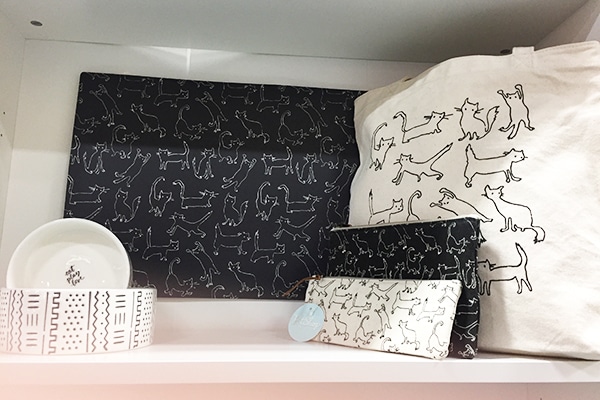 I couldn't get over all of the cute stuff — water bowls and treat jars for pets; cat- and dog-themed mugs, ring holders, tote bags and little knick-knacks for pet parents.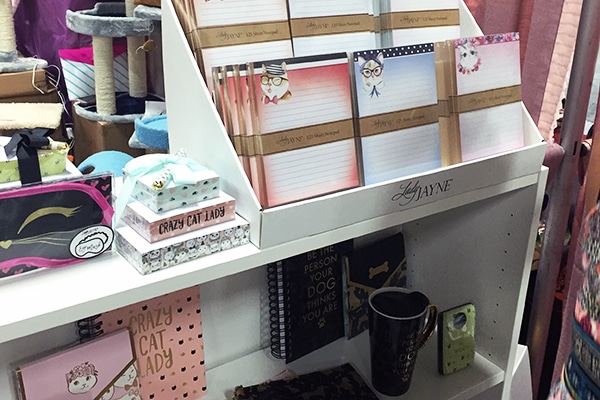 Also part of the Fringe Studio booth was Lady Jayne, which featured a selection of adorable cat and dog notebooks and notepads.
While SuperZoo is exhausting, there's so much great stuff to see and so many people to meet. I came home with lots of samples for my own kitties along with great product ideas for the magazines. It's quickly becoming my favorite business trip.
Thumbnail: Photography courtesy Annie Butler Shirreffs.
Stay tuned for more from Senior Editor Annie Butler Shirreffs on Catster.com's What's Mew at Catster column and on social media with #WhatsMewatCatster.