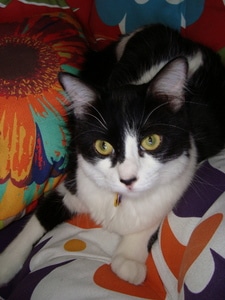 Last Wednesday morning, Claire Nelson of Reading, Penn., woke up in the wee hours of the morning feeling very ill.
I was having chest pains and was walking around my apartment about 4 a.m. on Wednesday, said Nelson. She knew that chest pain is nothing to take lightly, so she called her doctor and made an appointment for first thing that morning.
Nelson was prepared to take it easy and wait for her appointment until her cat, Rusty, began acting strange.
Rusty is normally a very laid-back, relaxed cat, but he wouldn't settle down," Nelson said. But that day, "if I lay on the bed, he'd jump onto my chest, hitting me with his paws and meowing. If I sat in a chair, he'd jump up and put his paws on my chest. I would try to ignore him and go back to sleep, but he'd only get louder.
Rusty's odd behavior made Nelson think her problems were serious enough that she shouldn't wait any longer, so she got on a bus to go to the hospital. At the second stop on her trip, her chest pains got worse and she almost passed out.
"I knew I wouldn't make it if I waited," said Nelson. She called 911 and was taken to the emergency room by ambulance. When she got there, doctors ran tests and saw that she was having a heart attack.
So did Nelson.
I'm a retired critical care nurse, she said. I knew when I saw the EKG what was happening to me, and when I got to the hospital and they called for atropine, I realized that Rusty had saved my life.
Nelson adopted 10-year-old Rusty from the Humane Society of Berks County two years ago. As she toured the shelter, none of the cats she saw made an immediate impression. But then "the technician said, 'Come meet this cat. No one looks twice at him because he's a little older.' He started purring and rubbing against my ankles, and that's when I decided to take Rusty home. And I'm lucky I did."
Through her week-long hospitalization and implantation of two coronary stents, she thought less about her own recovery than she did about Rusty's well-being. The cat was fine, though; a friend had a key to her apartment and looked after him while Nelson was in the hospital.
We've all heard about pets knowing when someone is seriously ill even if that person doesn't, but we didn't expect to hear it in our own backyard, said Karel Minor, executive director of the Humane Society of Berks County. That Rusty's an adopted cat just makes the story even better."
Dr. Alicia Elwell, the Humane Society's staff veterinarian, said it's certainly not impossible for cats to detect health problems in human beings."It's unclear why some animals appear to be able to predict or detect imminent changes in human health," Elwell said. "It's entirely possible that Rusty was so familiar with Claire's body language, rhythms and behaviors that he knew something was seriously wrong before she did. Either way, it's certainly a blessing in this case.
Now that Nelson is back home and recovering well, Rusty's behavior has returned to normal. He hasn't left my side, but he's much calmer. I think he knows I'll be all right," she said.
Nelson says she hopes her experience will prompt other people to adopt animals from shelters.
I feel like I rescued Rusty when I adopted him, and now he's returned the favor, she said.
[Source: The Mercury]