I recently went to Austin, Texas, to visit my dad and stepmother who retired and moved there a few years ago. Not only did I get to visit family and see the sights, but I had some fun animal adventures, too!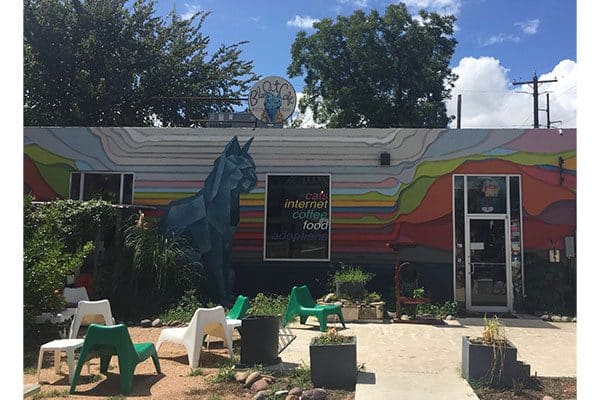 So many cat cafes are popping up across the United States. I wasn't aware of the Blue Cat Café in Austin, but, luckily, an Instagram friend told me about it, so this was one of my first stops. I've been to a few cat cafes, but it was fun taking my dad to his first one!
Located in the heart of downtown Austin, Blue Cat Café is the first cat cafe in the state of Texas. The main goal is to find forever homes for stray and shelter cats. For a $5 cover charge, you can get as much kitty therapy as you need from the adorable, adoptable cats while you enjoy great food and coffee, along with the fun and clever decorations.
When we arrived, we were greeted at the front desk by Max. He's a Russian Blue and is the cafe's namesake. While he was very sweet and let me pet him, he made it quite clear that he was in charge.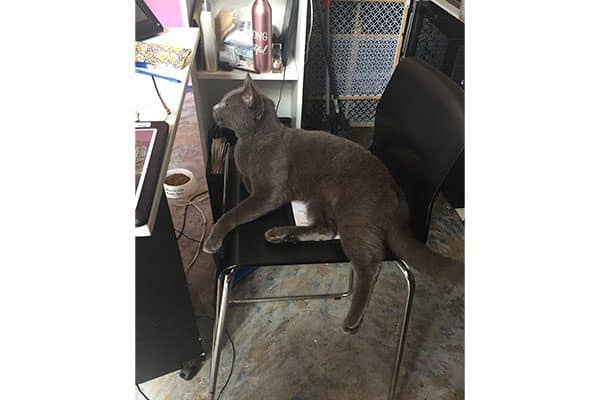 First, we wandered around and took in the feline atmosphere. The cafe has everything a cat could want – fluffy pillows, cat trees, boxes, catwalks, shelves and hidey-holes. The walls are covered with whimsical cat-themed art, and there were lots of comfy chairs and sofas for the humans – assuming the feline residents are willing to share them.
Then we zeroed in on the cats. Most were very friendly and walked right up to us, looking for head scratches or some playtime. It was late morning, so my dad and I were the only ones there. A few of the cats were relishing the quiet time and hiding up on the wall shelves or snuggled up in boxes. They all looked so happy and comfortable – whether they were sprawled across the furniture or climbing up and down the cat tree.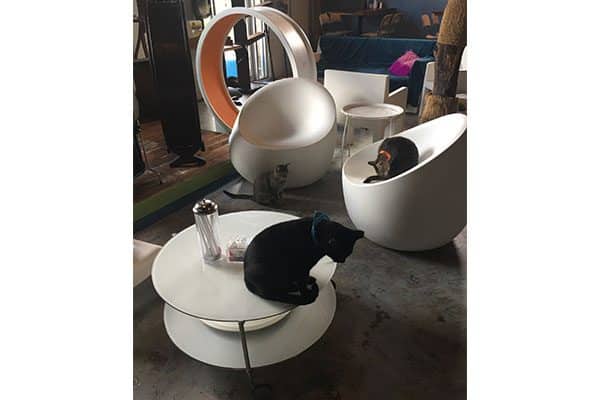 The cafe also has lots of merchandise – books, T-shirts, cat toys, tote bags and other fun cat-themed items. There is definitely something for everyone (including cats!) at the cafe.
For more information about Blue Cat Café, visit bluecatcafe.com.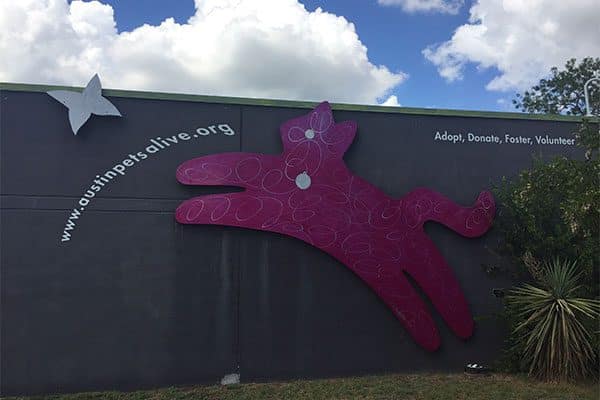 I've been following Austin Pets Alive! since the organization's beginning. When my dad moved to Austin, I insisted that he go check it out and volunteer. He ended up doing write-ups for adoptable cats and kittens as well as occasionally transporting sick or neonatal kittens from high-kill shelters to APA!.
APA! is known for its comprehensive, innovative programs designed to save animals most at risk for euthanasia. We were able to get a personal tour and learn about some of the programs. On the cat side, programs include the FeLV Adoption Center; the Neonatal Kitten Program; the Ringworm Ward; and the Barn Cat Program.
We were able to check out two of these programs firsthand:
The FeLV Adoption Center provides a home for cats who have been diagnosed with feline leukemia (a virus that impacts the immune system and can significantly shorten the cat's life span). The ultimate goal of this program is to find each FeLV cat their own home. Because FeLV is contagious, the cats need to be kept isolated from the other cats in the shelter. So, APA! created a special place these kitties can call home until their forever family finds them. We met several of these cats, and they enjoyed the attention and chin scratches we gave them.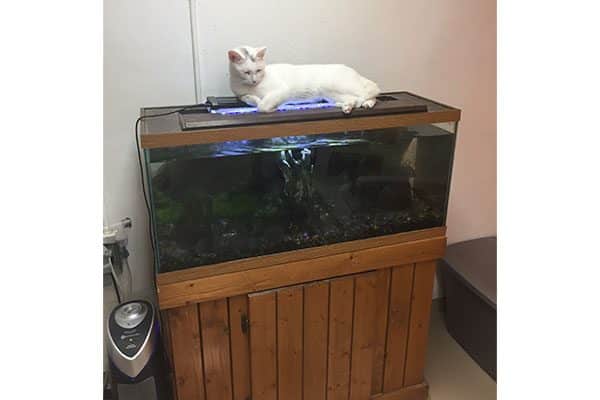 The Barn Cat Program provides homes for unsocialized or feral cats who are not suited to be indoor pets and have no desire to be lap cats. Most of these are former street cats who are used to outdoor life and prefer little to no human contact. But just because these cats can't go into a typical home environment doesn't mean they still don't deserve a chance.
APA! places hundreds of barn cats each year, helping to contribute to Austin's no-kill status. The cats are sterilized, vaccinated, microchipped and adopted out to families who appreciate these "working cats" for vermin control and who can provide a relatively safe environment like a barn, stable, garage or warehouse.
This program is a win-win for both the cats and adopters. The cats are cared for and thrive in their outdoor homes, while the adopters enjoy having healthy cats around who can tend to any critter problems they might have. We saw about five of these barn cats while we were there. Of course, most of them were hiding in their shelters, and those who were wandering around the enclosure gave us suspicious looks, but I managed to say hello and make kissy noises to some of them.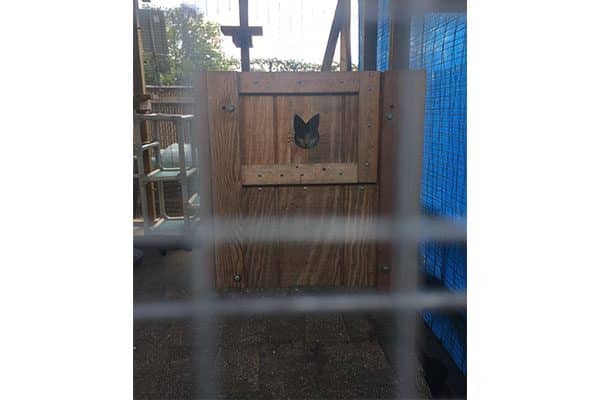 Visiting APA! was a wonderful experience — I learned so much and got to visit a lot of lucky animals. For more information on this amazing organization and its innovative programs, visit austinpetsalive.org.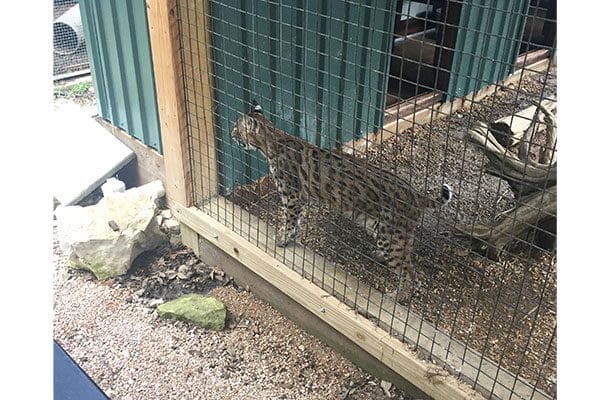 My last animal adventure was a trip to the Austin Zoo. The mission of this rescue zoo is to assist animals in need through rescue, rehabilitation and education. The animal residents include former circus animals, monkeys from laboratory research centers and exotic animals that were kept as pets.
My dad volunteers there and gets to do fun stuff like cut up meat and vegetables for the animals or hose down a group of alpacas.
I, of course, made a beeline for the big cats – and there are quite a few of them. I "met" two bobcats, three tigers, four lions and three cougars. All of these big cats have large habitats that include sheltered areas and lots of enrichment – like cardboard boxes to destroy, swimming holes and pools, fountains and grassy areas. And I heard that there are a couple of cougars who enjoy playing soccer with pumpkins!
When I walked by the bobcat enclosure, one was lounging in the shade, while the other was intently staring and chattering at a peacock strolling by. It was a really hot day, so the tigers were mostly napping under trees on the outskirts of their enclosure, but I managed to get a glimpse of those gorgeous stripes! The lions weren't very active, either, but I got to see them sunning themselves and lounging on the big rocks in their enclosure. One of them was lazily playing with a large rubber ball under the shade of a tree. Our last stop was the cougar enclosure. The three we saw arrived at the zoo when they were 3 weeks old, after their mother was killed by a hunter. They're older now and absolutely beautiful. My dad was actually at the zoo the day they arrived as cubs.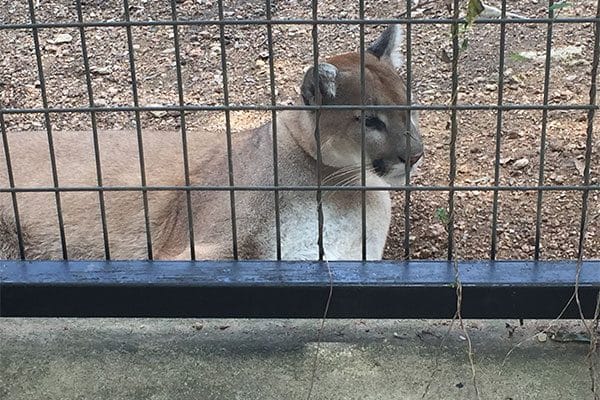 Austin Zoo was really a great place to visit. You can tell how much the staff members love every single animal in their care. The zoo has lots of educational seminars and benefits, too. And while I was sad that many of these animals have had a pretty rough life and aren't in the wild where they belong, I was comforted by the fact that they're so well taken care of. For more information, visit austinzoo.org.
I had such a great time in Austin and wish I could have stayed longer. It was definitely easy to see why Austin has a reputation for being one of the most animal-friendly cities in the country.
Tell us: Have you had your own Austin animal adventure?
Thumbnail: Photography courtesy Annie Butler Shirreffs.
Read more cat news on Catster.com: