When you think of New York City, you probably think of the world-class metropolis and cultural mecca. You think of iconic architecture and other landmarks but you probably don't think of feral cats. Why would you? Ferals don't strut their stuff on Broadway (except in the musical Cats). They don't beg like human homeless people. For the past 13 years, on my many trips into the city from the 'burbs, I've never seen a feral cat. Urban ferals live, suffer, and die in the shadows far from human contact.
Feral cats don't know what a polar vortex is but they know what it feels like to be cold and hungry, like the estimated half a million ferals in New York City.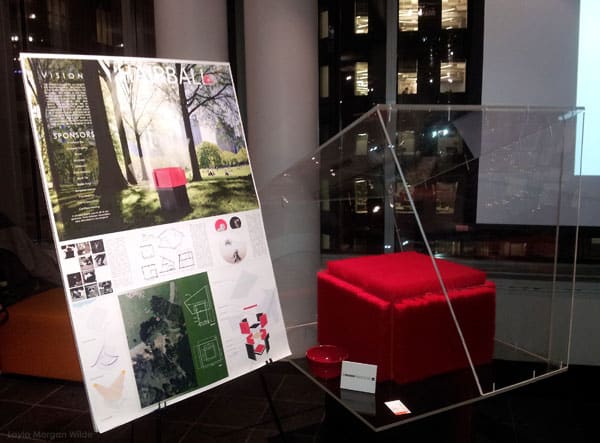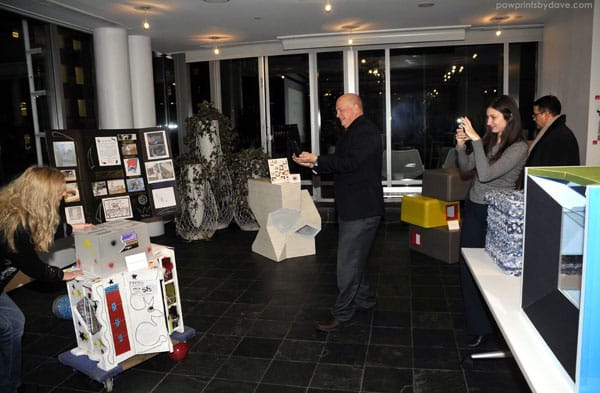 Luckily there are big-hearted feral cat lovers who bring a ray of warmth and hope. These dedicated volunteer caretakers feed feral colonies daily, monitor their health, and have them spayed or neutered through trap-neuter-return, commonly referred to as TNR, a humane and effective way to manage feral cat colonies and reduce their numbers over time. New Yorkers are known for being bold and brash, but this shows they have huge hearts.
Caring for feral cats costs money, so four years ago NYC-based architect Leslie Farrell came up with a novel way to raise money. Architects for Animals enlists architectural firms to design and donate innovative feral cat habitats. The unique designs are showcased in an exhibit paired with a wine-and-nibbles benefit. After the public viewing, the feral shelters are donated to community cat caretakers and placed in locations throughout the city.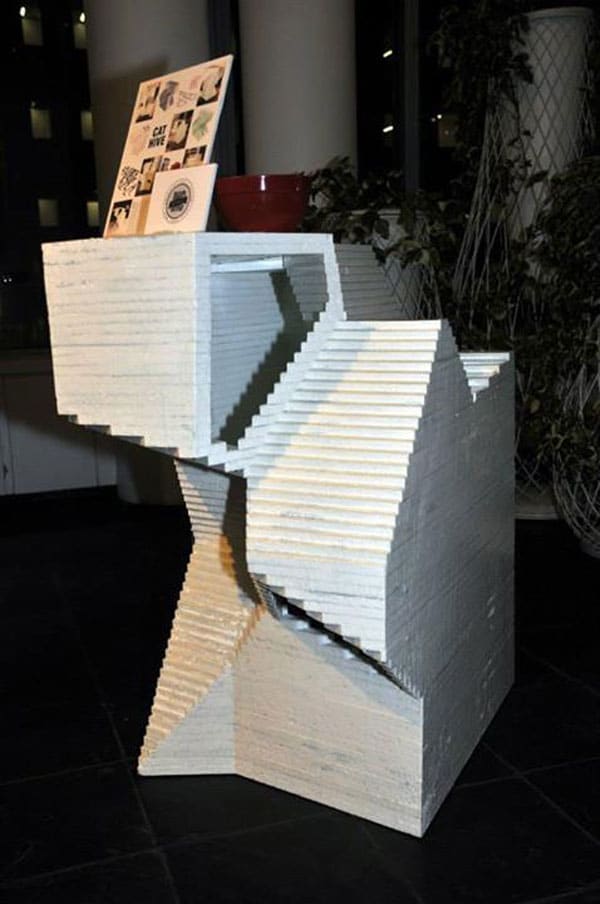 The event on Jan. 30 was the place for serious cat lovers to see and be seen. This year the event benefited Mayor's Alliance for NYC's Animals, a coalition of 150+ rescue groups and no-kill shelters working for animal welfare in the city. Feral cat experts were on hand to explain all aspects of TNR and feral cat care. The stars of the evening were the architect's shelter designs, each as individual as a paw print. Here are pictures from the event.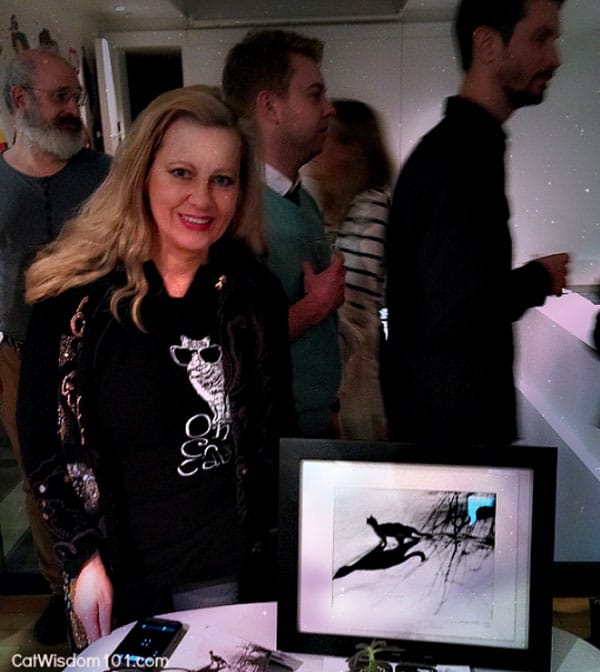 It was my second time attending and it has become one of my favorite cat-related benefits. Take a glamorous space (donated by Steelcase) overlooking Columbus Circle in Manhattan; add a room full of men and women who adore cats; and mix in good food (vegan this year) drinks, art, fab raffle prizes, and twinkling city lights to make a purrfect recipe for fun. I happily donated an image of mine for the raffle (the 2013 CWA Muse Medallion winner for best black and white photography).
1. The Cathaus, an Art-Deco-inspired creation of painted styrofoam shipping containers by Francis Cauffman Architects, was the people's choice favorite.
2. A clever design by Carlton Architecture made of recycled carpet layers opened up like a book and featured a tiny, kitty-sized window.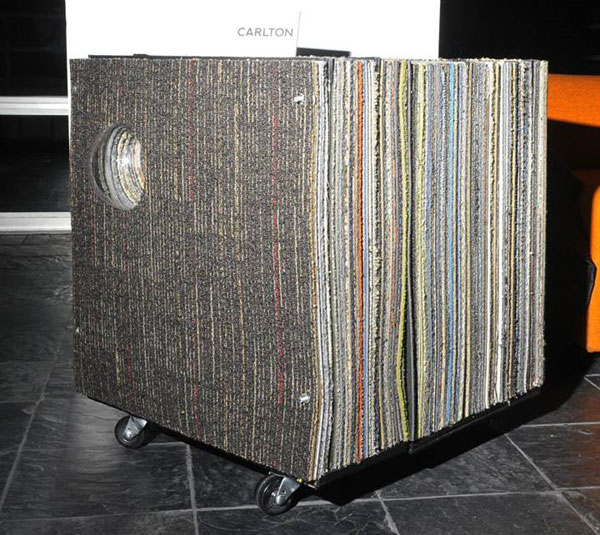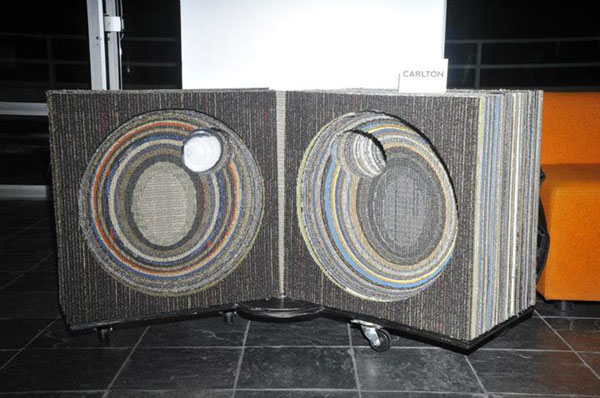 3. Zimmerman Workshop Architecture + Design featured a cozy, textured blue box as pretty as it was functional.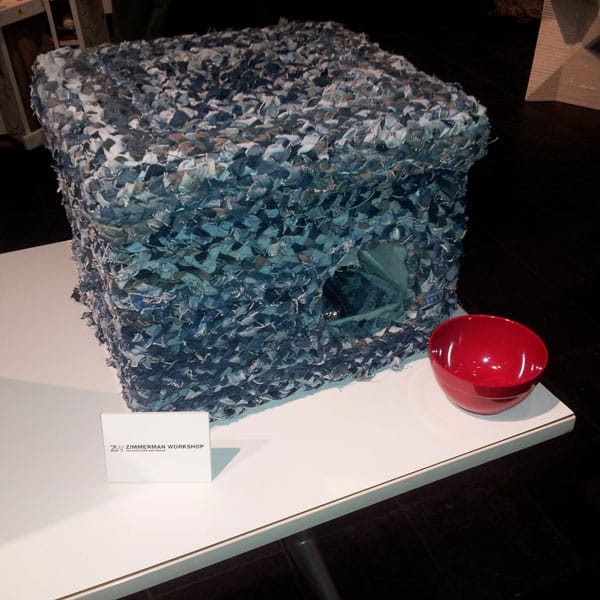 4. This organic-looking rock made of Fiberglas was designed by the husband-and-wife team of Elham Valipay and Haleh Atabaki from Mish Mish,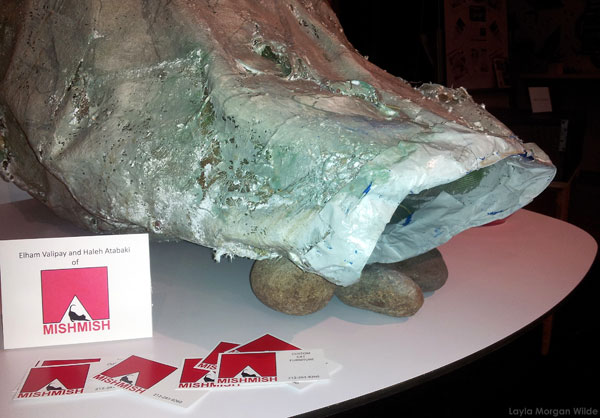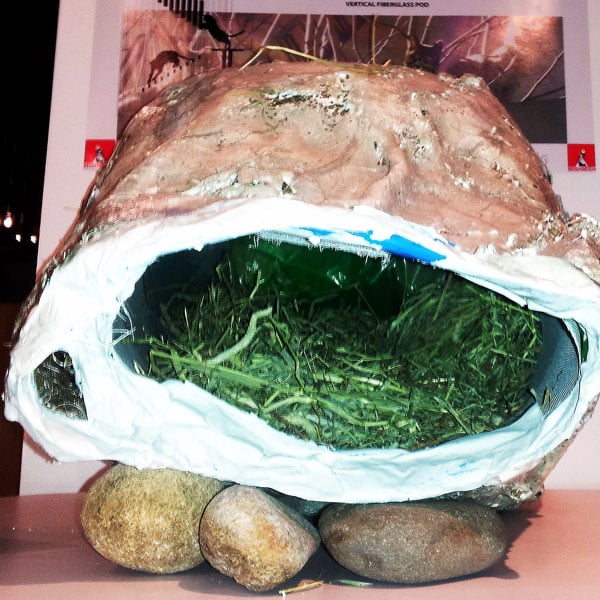 5. The "Time Machine for Kittens" by TWO ONE TWO Design was a stylish transparent cube with beautiful graphics.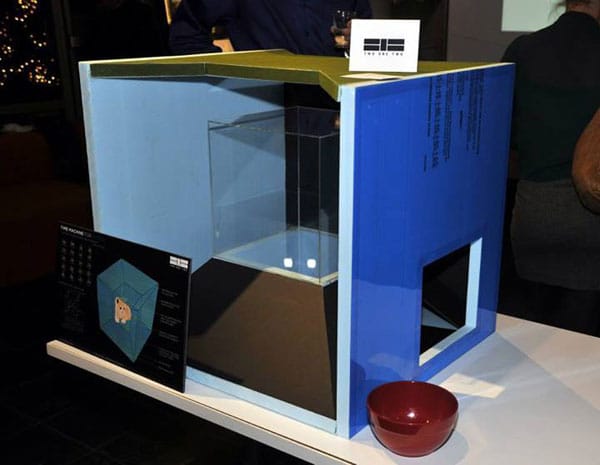 6. The visually stunning "Hairball" by M Moser Associates looked like carpeting from a distance and begged to be touched but was in fact durable, waterproof material.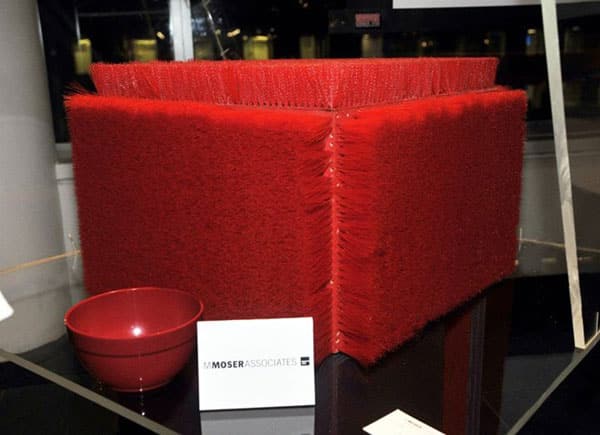 7. "Feral Vernacular" by deSoto studio Architects.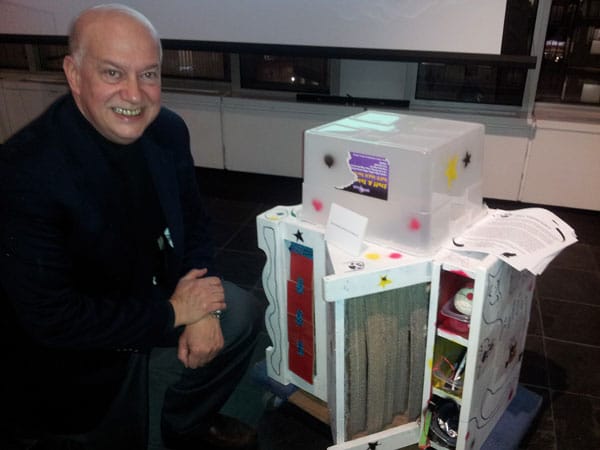 The crowd was a mix of casually dressed, die-hard TNR advocates, corporate suits, creatives of all ages, and an equal gender divide. I noticed the guests were more savvy about cats than last year, which I chalk up to education, more social media and the excellent outreach programs of the Mayor's Alliance. Everyone wanted to share stories about their cats (and share photos) bonding over our mutual interest. The number one question was: how many cats do you have? One man, resistant at first, shared sheepishly, "I have five cats."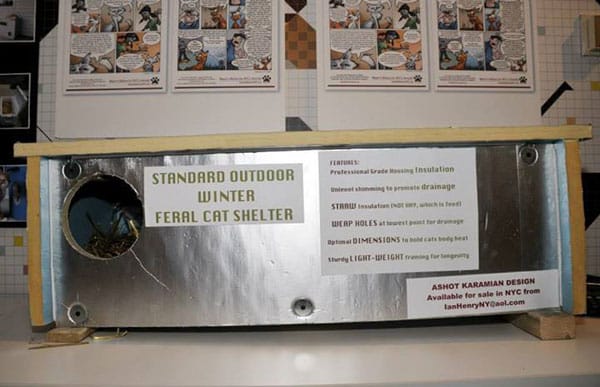 "Five? That's nothing, I have ten!" said a woman from Long Island. It was heartening to see men show unabashed passion for their cats as equally as any crazy cat lady. (And isn't that term ready to go the way of hula hoops and Edsels?)
By the end the evening, we piled into the elevator like old friends. Connie Shannon, the transport coordinator from the Mayor's Alliance said she'd be back first thing in the morning to deliver the new shelters to undisclosed locations (for safety concerns). "That's the best part. To see the shelter in place and being used by the cats," she said.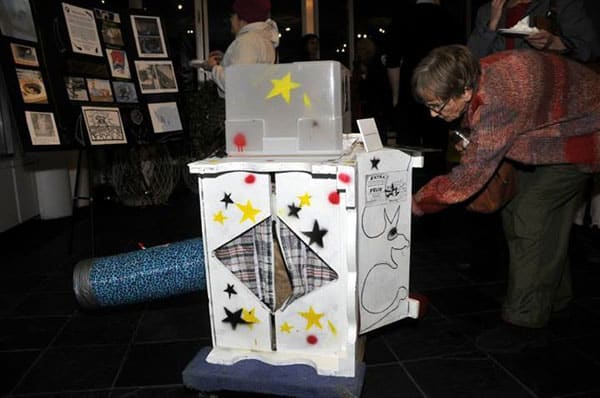 I found the shelter designs more practical than last year with a better marriage of form and function. Architect John deSoto brimmed with excitement and said, " This is so inspiring. I already have ideas for next year."
One idea and one action at a time is how meaningful change happens. Let's hope next year will be better for ferals everywhere.
<p ">About the author: Layla Morgan Wilde is a holistic cat behaviorist, an award-winning writer/photographer and founder of the premier online magazine Cat Wisdom 101. A passionate advocate for cats, she founded the Toronto-based Annex Cat Rescue in 1997. In addition to her blogging at Cat Wisdom 101, she blogs at Boomer Muse and contributes to Petfinder.com and Nordic Spotlight. Wilde is a professional member of the Cat Writers' Association. She lives in Westchester County, NY, with four cats.